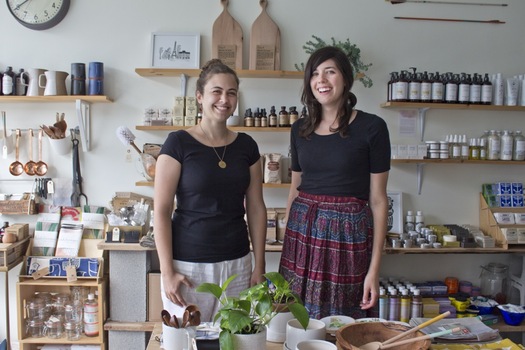 The owners of the Fort Orange General Store in Albany -- Caroline Corrigan and Katy Smith -- announced today that they're closing the store. From the announcement:
It is a bittersweet moment today that we announce that as of mid-June, we are saying goodbye to our beloved neighborhood shop, Fort Orange General Store. Keep an eye out for an announcement of our last official day, yet to be determined. You can be assured that the decision to move on was not easy, and was not due to lack of community support. Quite the contrary, Fort Orange was a successful and warmly welcomed venture from the start. For that, we thank you all!
Among many reasons, at the beginning of the year our Katy was diagnosed with cancer. She's doing just fine, but she will continue to need to take some serious time off to heal. Since the shop's inception, we have also both kept our full-time jobs outside of the shop, and are happily looking forward to focusing solely on our primary careers (in design and healthcare, respectively).
Later in the announcement Corrigan and Smith mention that they're open to selling the business to the right person, and include info about how to make serious inquiries.
A lot of people will be sorry to see Fort Orange close. It's a beautiful shop with a delightful selection of items, many of them with a local connection. And it seemed to fit so well along that section of Delaware Ave.
Earlier on AOA: Follow up: Fort Orange General Store
Hi there. Comments have been closed for this item. Still have something to say? Contact us.