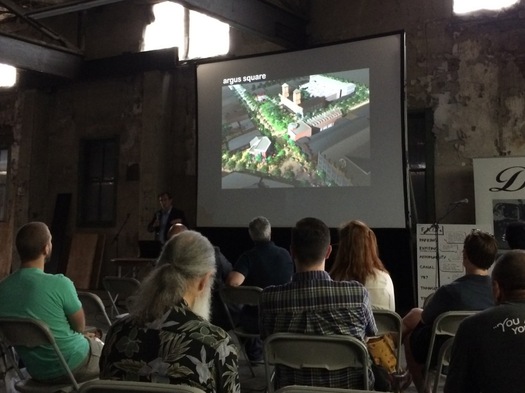 The latest chunk of the Rezone Albany project has been released and there are two public meetings this week to discuss the installment: Module 3: Return of the Rezone.* The events:
+ Wednesday, May 11, First Presbyterian Church of Albany (326 State Street) 6-8 pm
+ Thursday, May 12, Albany Public Library Delaware Ave Branch (331 Delaware) 6-8 pm
A meeting about zoning might sound like a ticket for the train to Snoresville, but zoning touches on a lot of topics that people regularly get fired up about, including what sort of development should go where and what it should look like. Rezone blurbage:
ReZone Albany is a major initiative to update and streamline the City's antiquated zoning code. This two year effort - funded largely by the New York State Energy Research and Development Authority (NYSERDA) - is designed to reduce make the City a better place to live, work, invest, and play. The project will create a new Unified Sustainable Development Ordinance (USDO) that:
+ Is simpler, more user-friendly, and highly illustrated
+ Is better aligned with the City's Albany 2030 planning priorities,
+ Promotes energy conservation and sustainable development,
+ Reduces burdens on small business owners,
+ Streamlines the City's procedures for reviewing and approving new development, and
+ Protects established neighborhoods.
This is the first major revision of the city's zoning almost half a century. An example of how this process is already affecting things: The new mixed-use overlay district that's been applied to the Warehouse District has smoothed the way for residential conversion projects there.
West Hill/West End
Another planning event: The city of Albany is starting work on a West Hill/West End neighborhood plan this weekend with a party at Swinburne Park Friday from 5-7:30 pm. And then on Saturday, April 14 there will be a neighborhood planning summit at Philip Schuyler Achievement Academy (676 Clinton Ave) from 9 am-4 pm. "This event will include a review of neighborhood assets, walking tours, as well as resident input, ideas & vision for the West Hill/West End Neighborhood Plan."
____
* It's possible it's just called "Module 3" and we got this mixed up with the sequel of a different franchise.