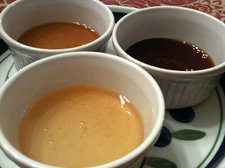 Agricultural fact of the day: New York State produced almost 3.6 million pounds of honey in 2015, according to numbers from the federal government.* That's up almost 9 percent from the year before.
New York's total ranked 10th among all states last year. (It ranked #13 last year.) And it's by the far the biggest producer in the Northeast. (Next up is Maine at #31.)
The state's production was valued at a little more than $10.5 million. The average price per pound that New York producer were able to get was $2.94. (The national average $2.09.)
From a Cuomo admin press release touting the numbers:
According to the State Department of Agriculture and Markets, New York honey fetches higher prices because the state's beekeepers produce not just Clover, but also niche varieties like Wild Flower, Basswood, and Locust. The Department also credits favorable weather last summer and early fall for the higher production and prices.
Also:
Honeybees are critical to the New York State economy. They pollinate nearly half a billion dollars' worth of farm crops each year, from apples to pumpkins. In addition, New York bees often travel the country during colder months, pollinating crops that grow in year-round climates.
It's nice that they get to travel.
Here are a listing of some honey producers in the area.
By the way: The nation's two leading honey-producing states are North Dakota and South Dakota -- and it's not even close. North Dakota produced 36.2 million pounds of honey last year, according to the USDA. That was almost a quarter of the national production. And South Dakota's production represented 12 percent of the national total.
* The numbers include producers with five or more bee colonies.
Earlier on AOA:
+ Sweet: Record maple syrup production in New York State
+ Beekeeper Lloyd Spear retiring from retail business (2013)
+ Beekeeping in Center Square? Really? (2008)
photo: Daniel B
Hi there. Comments have been closed for this item. Still have something to say? Contact us.