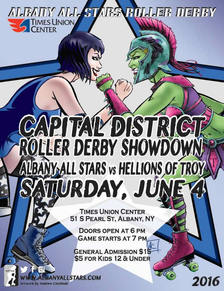 Check it out: The Albany All Stars and The Hellions of Troy will be facing off at the TU Center on June 4. It's the first time the two local roller derby orgs will go at it against each other on the track.
There is, of course, some history here. Back in 2008 the Albany All Stars Roller Derby had its first official bout at the Washington Ave Armory. And it was successful, drawing thousands of people. But later that year there was a derby schism and the Hellions of Troy broke off into their own org. Since then the two derby orgs have been operating in parallel here.
Both groups are now part of the Women's Flat Track Derby Association, and they're separated by a just a handful of spots in the WFTDA rankings.
The bout at the TU Center will be a home game for the All Stars.
Doors open at 6 pm, the first whistle is at 7 pm. Tickets are $15 / $5 for kids 12 and under.
There will be music from Diva & the Dirty Boys, along with activities and a raffle. A portion of the proceeds will go to the Food Pantries of the Capital District. A non-perishable food item will get you entered in a drawing for a prize.