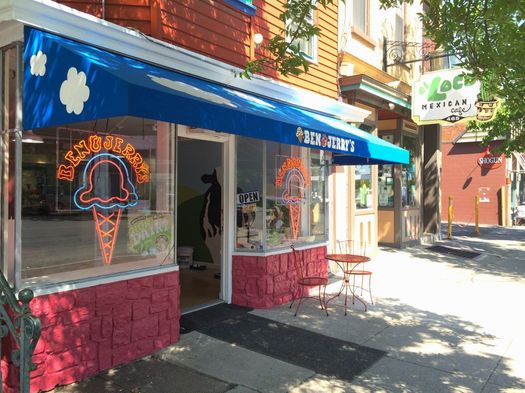 The Lark Street Ben & Jerry's has re-opened -- and it's on Madison Ave now. Specifically, it's at 467 Madison Ave, which is right next to El Loco and just east of Washington Park. (It's the former Little Moon storefront.)
The store opened this past Saturday, and there will be a grand opening set for sometime in the near future. Hours are noon to 11 pm every day.
Rich Wilson, who owns the franchise with business partner Mike Sperduto, was in the store this afternoon working on the wall art when we stopped in for a few minutes. Some of the furniture is yet to arrive, but there's ice cream in the cooler and they're scooping. Wilson said they're enjoying the feel of the new space and the extra work space it affords.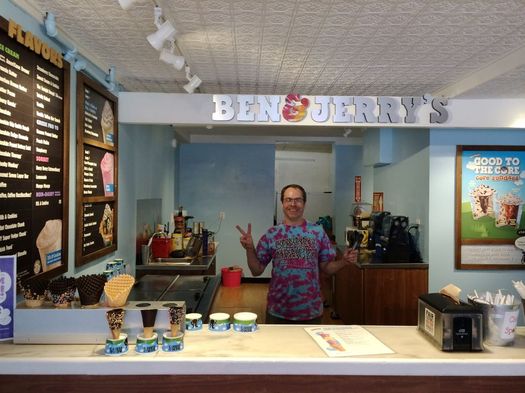 Rich Wilson
This Ben & Jerry's has been in the neighborhood for 30 years. It closed its longtime spot on Lark Street around the beginning of this year after there was a problem getting necessary repair for the space. The franchise is now in a building owned by the same people who own El Loco next door. Wilson said El Loco owner Patrick Noonan helped with fitting out the new ice cream shop space. [Table Hopping]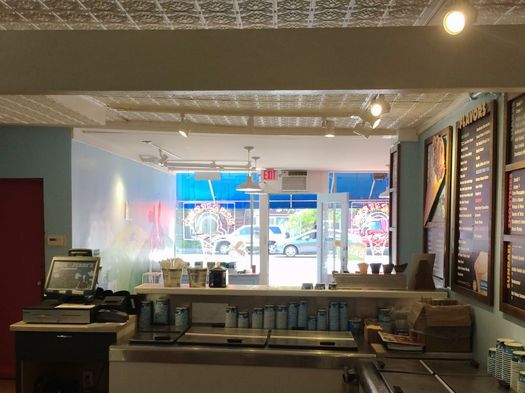 "We're back in the neighborhood," Wilson said with a smile Monday as a couple of customers walked in from of the sunny, warm afternoon, "and happy to serve the neighborhood."
Earlier on AOA: Thinking about the future of Lark Street
Find It
Ben and Jerry's
467 Madison Ave
Albany, NY 12210
(518) 599-5508
Hi there. Comments have been closed for this item. Still have something to say? Contact us.