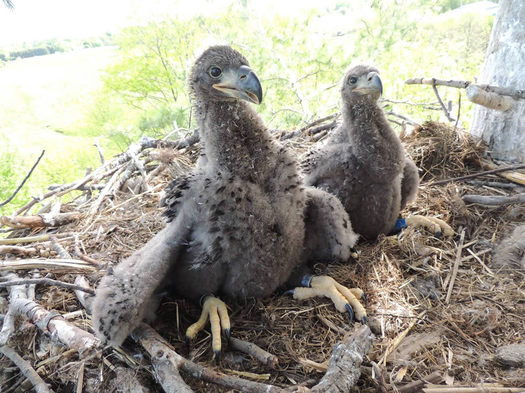 That pic above is a pair of bald eagle chicks that biologists from the state Department of Environmental Conservation recently banded in Albany County. From a DEC Facebook post:
Using band data, DEC biologists can track the birds age, movement and dispersal activity. The silver band is a federal ID band that is tracked by the U.S. Geological Survey (USGS) while the blue band is a New York State ID band.
From a distance you can sometimes see the colored band and at least know that that bird was born in New York. With a good spotting scope it's also possible to read the letter and two digit number code when the bird is perched. That data can be reported to DEC biologists and we can track their movement.
That link above includes more photos of the chicks and their nest.
Bald eagle populations had been almost entirely wiped out in New York State by the 1960s, in part because of an insecticide called DDT that weakened the shells of birds of prey. (Museum specimen collections such as the one at the New York State Museum helped biologist figure that out.) The pesticide was banned in the early 1970s. And in 1976 a program aimed at re-establishing bald eagles in New York State started relocating young eagles from other parts of the county, and it helped rebuild the population in the state -- and it's still growing.
Earlier on AOA: What, your job doesn't involve baby bears?
photo: NYS DEC
Hi there. Comments have been closed for this item. Still have something to say? Contact us.