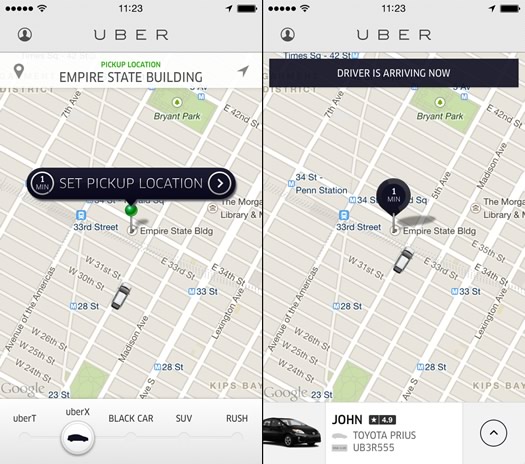 It's been more than two years since a local campaign started to get "ride sharing" services such as Uber and Lyft to come to the Capital Region. And, as it turned out, a big obstacle to those services operating here and in other non-NYC parts of the state is the way New York's laws are configured.
But now the state legislature is on the verge of removing that obstacle. Probably. Maybe.
Here's the situation -- and a glimpse at one possible related future.
Wait, so what is the problem again?
Uber and Lyft don't currently operate in New York State outside of NYC because of the way the state's insurance laws are configured. Boiled down, the problem is that the ride sharing services need to buy insurance for participating drivers, but they can't currently do that without the state legislature passing legislation to specifically allow "transportation network companies" to buy such group insurance plans.
So, the bills currently in the Assembly and state Senate would open the way for this happen, and they would require the companies to have two levels of coverage:
+ When participating drivers have the apps on, but don't have passengers, there'd be liability coverage of $50k per person and up to $100k per incident.
+ When participating drivers are on their way to pick up passengers, or have passengers in their cars, there would be liability coverage up to $1 million.
If both chambers pass their bills (and the bills match up), and Andrew Cuomo signs the legislation, Uber and Lyft would be eligible to buy the necessary insurance.
That's it? There's gotta be more to it?
Of course there is. When the state legislature first picked up the issue of opening the way for ride sharing companies to operate around the state, the proposed legislation dealt with a range of topics --including permitting, vehicle inspections, and driver licensing -- that could have set up a statewide system for regulation.
All that stuff has been pushed to side in the interest of getting the bills through the legislature and addressing the insurance issue, which was the biggest obstacle.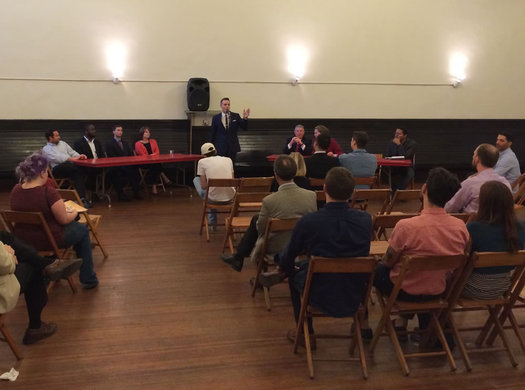 Vic Christopher talking to the crowd at the event at the Takk House in Troy this past Wednesday. He and Matt Baumgartner started a campaign more than two years ago to get Uber operating in the Capital Region.
So, what are the odds the legislature gets this done?
At an event in Troy this past Wednesday intended to local highlight support for Uber and Lyft, local Assemblyman John McDonald said he was "very hopeful and cautiously optimistic" the legislature would get this done before the session ends June 16. But: "I've learned after my 17 years in government that nothing's certain until it's done."
Josh Gold, Uber's New York policy advisor, told us at that same event that he thinks there's a decent shot this gets done because there's popular support for opening the way for the services, and focusing on the insurance issue by itself is less contentious than the previous package of proposed regulation.
So, if this legislation goes through, Uber and Lyft can start operating?
Yes... sort of. It's up to local municipalities. Cities and towns could basically do nothing and let the services start operating, or they could take a range of actions to impose varying levels of regulation.
That will be an important part of all this to keep an eye on when (if) the whole process gets that far. And given how many local municipalities the state has, it could be a significant snag.
What about regular taxis?
As you know, taxi services in the Capital Region don't have a good reputation. There's ample evidence of that. So the hope among local officials and business owners who have customers/clients who use taxis has been that introducing Uber and Lyft to this area will provide a much needed alternative and competition.
It will be interesting to see how the local market shakes out. McDonald said that local taxi companies have told him that 80 percent of their business is non-emergency medical transport -- and that demand from other types of riders is inconsistent. (Of course, you have to wonder how much demand might potentially be there if people felt more confident about calling a cab.)
The Albany convention center and the Schenectady casino are both set to start operating within the next year, so they could be sources of additional business for companies that provide rides on demand -- whether it's a traditional taxi or something like Uber. And McDonald said he thinks the overall pie will grow and there will be enough to go around for everyone.
"As I always say, take a 12-inch blueberry pie and make it a 20-inch pie. Everyone will have enough. No one will walk away hungry."
What about making the taxi situation better?
Parallel to the push to open the way for Uber and Lyft, John McDonald has also proposed legislation that would allow CDTA to handle many of the administrative duties regarding taxi service that currently are handled by local municipalities in the region. And if that happens, it opens the way for regionalizing taxi service -- both the rules and fare system -- which should make things easier for riders and taxi companies.
"One of the things I've learned in sitting down with municipalities, sitting down with the local police chiefs, sitting down with the taxi operators, is that there really is no full circle of accountability," McDonald said Wednesday of the current situation. "There's really no process for people to complain. And more importantly for the taxi operations, they're running in different municipalities and everyone has a different set of rules. It doesn't make sense."
And the future?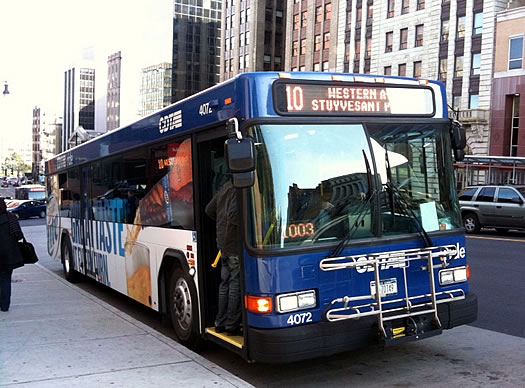 Things could get interesting if CDTA is allowed to take on some of this administration and taxi service is regionalized. With a little bit of imagination, you could see one version of the future in which CDTA acts as the clearinghouse for all sorts of local transportation options: buses, taxis, maybe car share.
And in this speculative future, why not a CDTA app (or apps) that you could open on your phone and see a whole range of transportation options? You could be standing at the corner of State and Pearl in downtown Albany and be shown the bus lines (both local and BusPlus) running nearby that could take you to your destination (and you could pay the fare with your phone or smart card), along with the price of the taxi fare (with a button to order a taxi and pay for it), and the locations of nearby car share stations.
There a lot of reasons why the future won't necessarily play out like that. Getting a bunch of different systems to work together is always hard. But the popularity of Uber and Lyft suggest the world is moving in that general direction -- where a car is not necessarily something you own, but rather one of multiple options for getting from here to there.
Earlier
+ A few more thoughts about the push for Uber, Lyft, and similar services upstate
+ An attempt to hail Uber for the Albany area
+ Four trends shaping the way people will get around the Capital Region in the future
Hi there. Comments have been closed for this item. Still have something to say? Contact us.