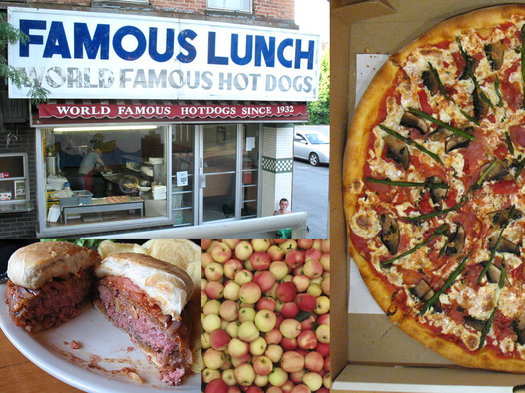 By Daniel B.
It's You're New Here Week on AOA. All this week we'll have stuff to help get you acquainted with the Capital Region -- whether you recently moved here, or just want to see this place through new eyes.
You're new here? Well, about nine years ago, I was new here, too.
We relocated from Berkeley, California and I knew the transition would be challenging. Our old apartment had been just a few blocks from Chez Panisse and the famous gourmet ghetto. Good food was the air we breathed, and local, seasonal, sustainable was a mantra everyone took to heart.
Back in 2007 Albany had no Whole Foods or Trader Joe's. There was no place to get a reliably good cappuccino. Heck, I couldn't even find a grassfed hamburger.
So I plunged myself into the quixotic task of attempting to improve the region's food culture. Without a culinary background, I figured the best path to this goal was through consumer education. And that began a nine-year journey which started with an avalanche of Yelp reviews, spawned a food blog, led to a writing gig with AOA, and landed me my dream job of working for Yelp.
And over that time I've learned a thing or two about how to best enjoy the food of the Capital Region.





Take it on its own terms
We're not New York City. We're not Buffalo. We're not Montreal. That said, our pizza, Buffalo wings, and bagels are some of the best in the world. Are they the very best? No, they aren't. But that's OK, because compared to what's made in most of the country we're living in a pizza paradise.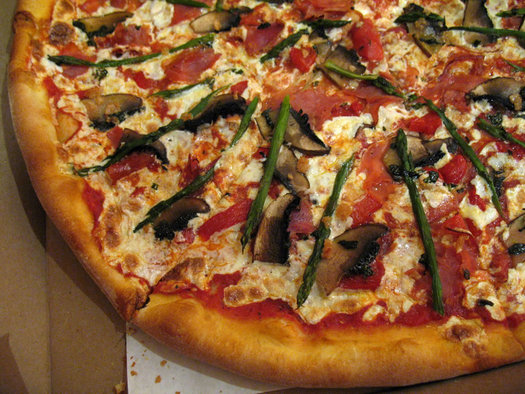 Marisa's Place won the 2012 Tournament of Pizza with its rusticana pizza.
You can't look for that New York City slice, because you just aren't going to find it. Marisa's Place in Guilderland will probably be the closest you'll get. And it's delicious, but it's not quite the same.
My favorite pizza place is Marino's in Schenectady. They call it an upstate interpretation of a downstate pie. And it has more of everything. More crust. More sauce. More cheese. And it's fantastic. Especially the sausage with onions and peppers. Even their vegetarian-friendly white pizza with broccoli, garlic, and ricotta is delicious.
It took me a while to learn how to be flexible with my expectations about food. And in those early days I might have dismissed this pie for its excess. But you know what? It's still a well balanced pizza.
The good food needs to be found
Most restaurant menus here are shockingly long. And they're often full of stinkers. But many are sprinkled with hidden gems. Part of the secret in finding the good food in the Capital Region is about knowing what to order where, and diverting from those few dishes at your peril.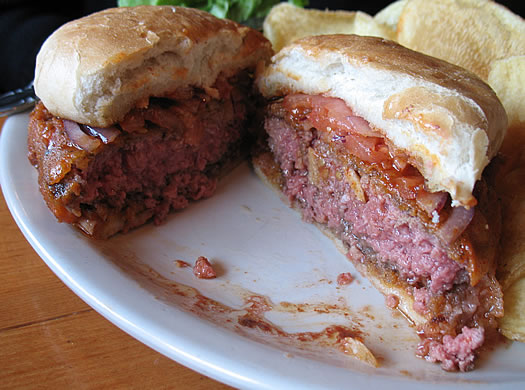 A Buffalo burger at Swifty's.
Take Swifty's in Delmar. It's fine. However, the deep-fried Buffalo burger is magnificent. It may very well be the best thing I've ever eaten. And if I were going to die tomorrow, I'd want to go out with this taste on my lips. This phantasmagorical creation really should be nationally famous. But even this burger needs to be ordered with the medium hot-sauce, because if you ask for it hot, the chili flakes in the sauce really detract from the experience.
Taverns. Fish Fry. And mini hot dogs.
Yes, we have fancy restaurants and ethnic places. Some of them are even quite good. Peck's Arcade in Troy is the best pick for a great, upscale meal out. And we're lucky to have a Chinese restaurant like Ala Shanghai in Latham which makes soup dumplings with such a flavorful broth that is better than many of the much more famous places in Flushing, Queens.
However, fancy food and authentic ethnic restaurants can be found almost everywhere these days. If you really want to try what makes Albany special, you need to find the establishments that are part of the region's DNA.
More than a restaurant culture, the Capital Region has a tavern culture. These are small neighborhood establishments, with a bar and a kitchen. Often they will have separate entrances. But always they will have simple comforting food in the form of pizza, wings, and mozzarella sticks with raspberry sauce.
Raspberry sauce? If it sounds unappealing to you, I get it. I've been there too, and it took me a while to wrap my head around this regional variation. But it works because here in the Capital Region the vast majority of mozzarella sticks are delightfully herb-free (so as not to clash with the raspberry sauce). And as a result, the combination of golden fried breading, molten cheese, and bright fruit combine to form an Americanized version of brie en croute.
To taste the best example of this in the region, you'll want to head to Ralph's Tavern in Colonie where the sticks are hand cut and breaded. These sticks are also aggressively seasoned, and that interplay of sweet and salty is what makes them just so darn irresistible. Plus, Ralph's melba sauce has actual pieces of fruit in it, with a true raspberry flavor and enough acidity to cut through this plate of deep fried cheese.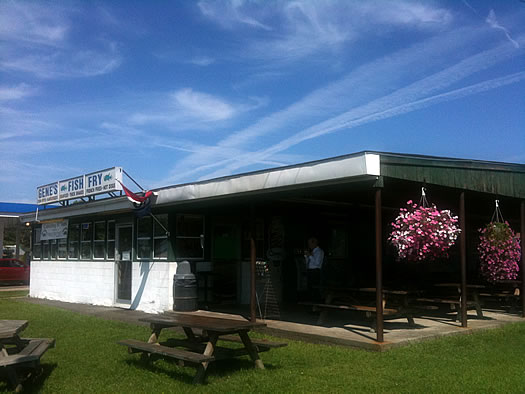 Gene's Fish Fry in East Greenbush.
Speaking of deep fried things, we also have a unique version of fish fry.
Ours is a foot-long piece of breaded fish served in an ordinary hot dog roll. The form is kind of brilliant since it maximizes the ratio of crispy fried bits. And because it sits in a hot dog bun, the fried coating doesn't wilt from the condensation formed when it's put on a plate.
Ted's is everywhere and they make a fine version of this regional specialty. But one day you should make the trip out to East Greenbush to try Gene's during the summer and Off-Shore Pier in the off season to try the best of our classic fish-fry shops.
Even more classic are the mini-hot dog counters.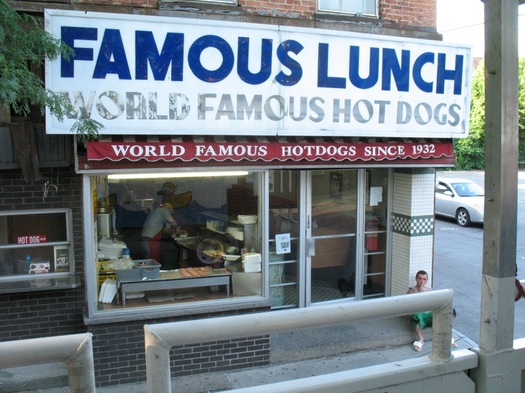 While our fish fry may be long, our hot dogs are short. Welcome to the land of the three-inch wieners. Everyone has a favorite spot, but the epicenter of this phenomenon is the Watervliet-Troy-Cohoes triangle. During the summer, Gus's outdoor seating in Watervliet is hard to pass up, but those in the know go for the sausage sandwich with onions and peppers there, over the mini pups with the works.
I have always been partial to the counter at Famous Lunch in Troy, preferring it's "zippy sauce" over Hot Dog Charlie's and other outposts for this chili-powder based, ground-meat topping.
Gorgeous and enterprising farms
But the Capital Region is more than just gloriously good and greasy foods. We're surrounded by farms. And autumn is our best season. Getting out into the orchards for apple picking is an annual mandate. And no trip would be complete without apple cider donuts.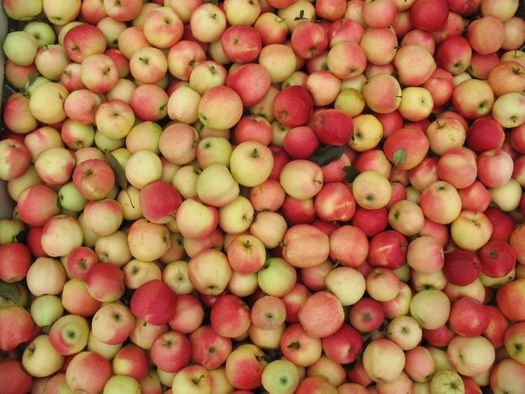 But our farms are expanding to offer more than just seasonal produce and apples. Golden Harvest in Valatie has a farm distillery on premise that makes an amazing vodka out of apples (not to be confused with apple-flavored vodka) among other marvelous spirits. Indian Ladder Farms in Altamont just opened up a farm brewery and cidery where it is brewing beverages from farm-raised ingredients. And Heather Ridge Farm in Schoharie County has a cafe where Chef Rob Handel is doing amazing things from scratch for brunch every weekend, in addition to periodic dinners as part of the farm's supper club.
All of this is just the tip of the iceberg.
Explore the towns, villages, and hamlets
At its heart, Albany is a small town. But within an hour drive of Albany there are countless towns, villages, and hamlets. And all of them have some kind of culinary discovery that's awaiting you. Despite my efforts to uncover all the good things to eat in the area, every now and again, I discover a classic institution that was hiding in plain sight for all these years.
As you're driving along, exploring the area on your own, be on the lookout for restaurants that look like they should be condemned, yet still have a parking lot full of cars. You can bet that there's something inside that's worth your while.
Happy hunting.
Daniel B. is the proprietor of the FUSSYlittleBLOG.
____
More You're New Here:
+ You're New Here: Hiking
+ Drawing: You're New Here Week local food and fun package
+ You're New Here: Kid-friendly destinations
You're New Here Week on AOA is sponsored by Linium, CDPHP, Columbia County Tourism Department, Albany County Convention & Visitors Bureau, and the Downtown Albany Business Improvement District.
Say Something!
We'd really like you to take part in the conversation here at All Over Albany. But we do have a few rules here. Don't worry, they're easy. The first: be kind. The second: treat everyone else with the same respect you'd like to see in return. Cool? Great, post away. Comments are moderated so it might take a little while for your comment to show up. Thanks for being patient.