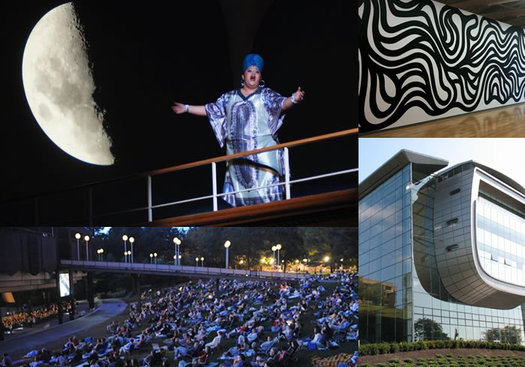 By Mary
It's You're New Here Week on AOA. All this week we'll have stuff to help get you acquainted with the Capital Region -- whether you recently moved here, or just want to see this place through new eyes.
I'm not new here.
I haven't been new here since the late 70s, when a Bell System transfer brought my 3rd generation Brooklyn family to the suburbs of Saratoga Springs. In Brooklyn, my field trips were to Lincoln Center, BAM, and the Museum of Natural History. Nature was the Bronx Zoo and the Brooklyn Botanic Gardens. I saw my first Broadway show when I was 10. In Wilton, we had a mall with an arcade and a Montgomery Ward.
My parents weren't artists -- but the arts were important to them. Movies, music, theater and art were all a part of what made a person well rounded and more interesting. They were also a source of great joy. As a little kid, if you offered me ice cream or theater tickets -- I'd take the tickets every time. (And I love ice cream.)
So when we headed north, my parents scratched the surface to try to uncover what the area had to offer arts and culture-wise. My dad would drive my mother and all six kids to Albany once a month to see ESIPA - the resident theater company at The Egg back then. There was SPAC in the summer, and a drama club visit to a pretty well-worn Proctors that made me happy in ways I had no words for at the time. There were arts and culture to be had in the Capital Region back then, but you had to work a lot harder for it than you do today.
Today it's everywhere. I can't even get to it all. So here are a few things I'd recommend.





This by no means a comprehensive list, but it's a bunch of places for you to get started.
Schenectady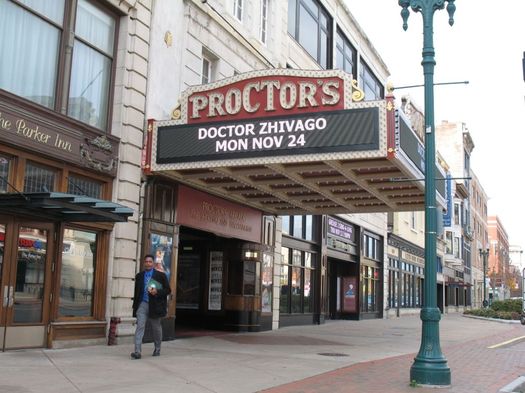 Today, Proctors is a gem. The recent restoration makes the theater itself every bit as fascinating as the variety of shows it hosts. Big Broadway tours, small comedy nights, improv, film festivals, game tournaments, farmers markets -- you never know what you'll wander into there. Every inch of the building gets used in creative ways.
A few years ago Proctors ran a Charlie Chaplin film festival where I saw Limelight for the first time, and The Great Dictator on the big screen. At a screening of All About Eve in the GE Theater at Proctors, I couldn't get over how much funnier it seemed on a big screen.
One cold February night this year, we caught a screening of The Triplets of Bellville with live orchestra and Foley artists. Last year I sniffled through the gorgeous touring production of Peter and the Star Catcher, and sang (quietly, I promise) along with Kinky Boots. There is absolutely something for everyone here and it is such a great addition to the quality of life in the Capital Region.
The Mop & Bucket Improv Company, a Friday night staple at Proctors (disclaimer: I'm a MopCo member) has become so successful they just bought a building and in the fall they'll have a new improv club and training facility on Jay Street. (Improv is really growing in the Capital Region -- Albany Improv, made up of improvisors from other companies, including Sorry Not Sorry, held the area's first improv festival at The Madison Theater in Albany in April)
If you're into jazz, or cabaret, there's also The Van Dyke in Schenectady, an intimate space to see a show. (And if you're looking for another cabaret spot, you can also take a short drive to Helsinki Hudson which has touring music acts, and a cabaret series run by Broadway's 54 Below, which has brought some of the theater's most talented performers to the region.)
Albany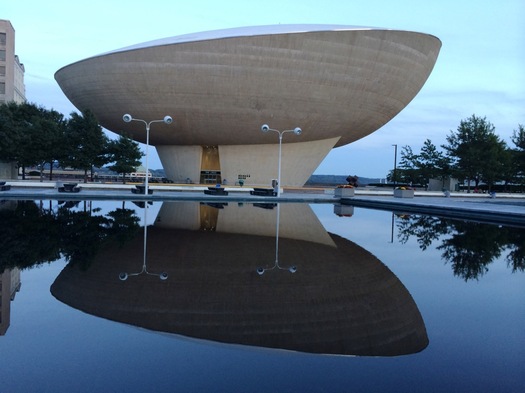 The Egg
So many people come to Albany to work during the day, and then head home at night. But Albany has always been an arts destination for me. When I lived in Saratoga, I'd make regular trips to Capital Rep. The Rep always has a diverse season -- a musical, something family friendly, old favorite, challenging work and, more recently, a new play festival. And more and more they're making use of talented local actors, helping them make their way to the professional world.
The Spectrum was also a destination for me in my Saratoga days. It was well worth driving 40 minutes to see a great movie and eat a mint brownie. Now it's a five minute drive -- so easy that I have to cut back on the mint brownies. Bonus: The Spectrum is now screening plays from London's National Theater along with Broadway productions and opera. I caught Helen Mirren's The Audience at The Spectrum while the show was still running on Broadway.
And now we have The Madison in Albany, an independent movie theater and performance venue, showing films and running special events from concerts and festivals to film screenings with director talkbacks and plays.
I'm still going to The Egg, but now it's for music shows like Nellie McKay or Lyle Lovett and John Hiatt -- which was equal parts hysterical interview by Lovett and intimate concert. It's a great space to see intimate shows by performers that can pack much larger theaters. (The Lovett/Hyatt show seriously felt like I was just hanging out in their living room.) The Egg also brings in wonderful dance companies like Ellen Sinopoli and the Ajkun Ballet.
Visits to the State Museum were a childhood staple, and I still go to see the mastodon, Sesame Street, and the A Train -- but they're always changing things up. (Right now you can see pieces from the Metropolitan Museum of art in the Imagining the American West exhibit and work by up and coming artists in the Best of SUNY exhibit.) And the museum is free.
The Albany Institute of History and Art has always been an interesting destination, but events like their recent 50 Objects exhibit and the addition of Cafe Crisan at the Institute have made visits even more fun. (Thursday night date night idea -- free admission at the institute and dinner at Crisan Cafe. I'm just sayin'.)
We have quite a number of beautiful old theaters in this region. In addition to Proctors and Troy Savings Bank Music Hall (mentioned below), there's the gorgeous Palace Theater in Albany. It brings in everything from rock shows to comedy. But my favorite events there are the films. Every year I look forward to their holiday screening of It's a Wonderful Life. (Because, yeah, I'm that girl.) The Palace has also been working with Park Playhouse -- the wonderful free summer theater in Albany's Washington Park -- to do musicals outside the summer season. And I'm hoping their new partnership with Cohoes Music Hall will also help keep that space alive.
Troy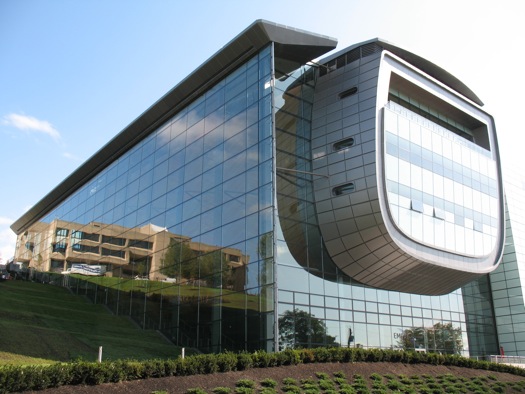 EMPAC
What's not happening in Troy right now? Films, concerts and performance art at EMPAC. Circus at the Gasholder Building. Interesting shows at the acoustically stellar Troy Savings Bank Music Hall. I've seen all sorts of music and acts there with the music hall's eclectic programs -- Elvis Costello, Postmodern Jukebox, Craig Ferguson, Lisa Loeb, Elvis Costello, and Ira Glass -- just a few of the great shows here in the last couple of years.
Another fun thing I've seen popping up lately -- the Collar City Players Shakesbeer series, readings of The Bard's plays in Troy pubs and wine bars.
Saratoga Springs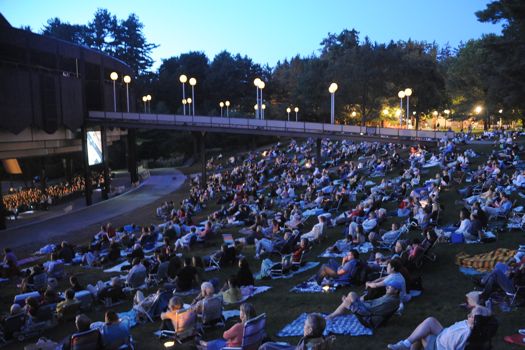 Taking in the orchestra on the lawn at SPAC
It's just a 45 minute drive for me to get to SPAC in Saratoga Springs for a picnic on the lawn and an orchestra concert. One of the best summer nights I can remember included gorgeous weather, good wine, and Gershwin on the lawn there. SPAC is also where I was introduced to the ballet. A friend in high school went every year and insisted I give it a try. I wasn't sure it was for me -- I didn't think of myself as a dance person. The curtain went up and all that was over. I was hooked.
I was also very fortunate to grow up doing theater in a little black box space at the famous Caffe Lena. I didn't know it was the famous Caffe Lena -- I just knew it was a place where this lady named Lena directed plays for young people. Folk music greats were in and out all the time, but I was oblivious. Folk music greats are still performing there today. (The space is currently undergoing renovations -- in the meantime, shows are being hosted in a few spots around town.)
Arts day trips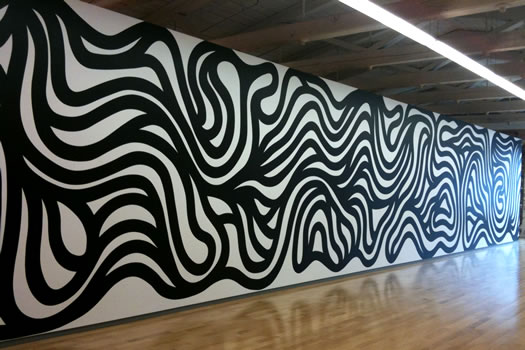 One of the works in the Sol Lewitt installation at MASS MoCA.
And, of course, there are day trips to wonderful places like MASS MoCA, The Clark, Tanglewood, Williamstown Theatre Festival, the Mac-Haydn, and Barrington Stage. I'm leaving lots of place out, but there are so many awesome experiences just a short drive from here.
Summers for me are not complete without a trip to WTF. There are big stars and stars in the making, and in the past few years they've been mounting shows that head off to Broadway. A few years ago I saw Chita Rivera and the late Roger Rees in a chilling production of The Visit that later headed to Broadway. There are moments from that play that I will never forget.
A visit to Berkshire Theater Festival is always on my summer to-do list. (I try to go early and check out the Berkshire Botanical Gardens.)
Community theater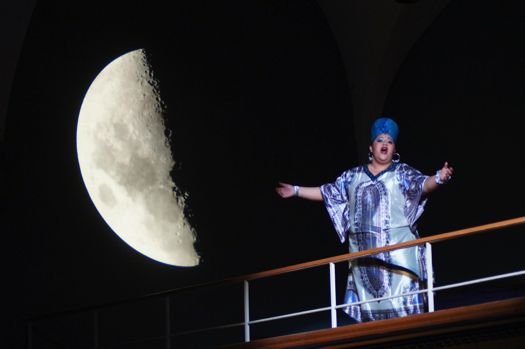 Dashira Cortes as The Moon in Caroline or Change at SLOC in 2014. / photo courtesy of SLOC
This region is teeming with arts talent. And some of the best work I have seen in the Capital Region has been done by people with day jobs. The nature of community theater has changed -- maybe not everywhere, but here in the Capital Region. When I leave the area, I realize how spoiled I am.
This is a great place to see tomorrow's Broadway stars. Former Matilda and current Fun Home star Gabby Pizzolo, Capital Region actor Charlie Franklin in The Book of Mormon, and Richard Gatta, the dance captain for Steve Martin's Bright Star, all started out performing here.
But there are plenty of others who could easily go pro, but don't want to live the lifestyle. You can see these people performing in local theaters season after season. An incredibly moving production of Caroline or Change at Schenectady Light Opera Company stands out as one of the most beautiful shows I've seen. Anywhere. A hysterically funny Avenue Q directed by the talented Jeffrey Hocking. In the last few weeks I saw a thought provoking production of Claybourne Park at Schenectady Civic Players and laughed until my sides hurt at Albany Civic's Laughter on the 23rd Floor. Home Made Theater has been producing shows in Spa State Park for more than 25 years, and opens an adult production of Shrek this season that boasts some of the region's best talent. There are new companies sprouting up all the time -- Local Actors Guild of Saratoga, Confetti Stage, and Troy Civic -- more than I can name.
Is every community show stellar. Of course not. But more often than not you'll be delighted, and in many cases, you'll be blown away.
Do I still go to New York City for music, theater and art? Yep. Like a swallow to Capistrano. A chubby, nerdy, pasty, little Amtrak-loving swallow. But to say I can find what I need in the arts here is an understatement. Outside of my family, the theater, art and music I've found here have made this place my home.
Mary Darcy is a co-founder of All Over Albany.
More You're New Here:
+ You're New Here: Day trips
+ You're New Here: Perspective with distance
+ You're New Here: Food
+ You're New Here: Hiking
+ Drawing: You're New Here Week local food and fun package
+ You're New Here: Kid-friendly destinations
You're New Here Week on AOA is sponsored by Linium, CDPHP, Columbia County Tourism Department, Albany County Convention & Visitors Bureau, and the Downtown Albany Business Improvement District.
Say Something!
We'd really like you to take part in the conversation here at All Over Albany. But we do have a few rules here. Don't worry, they're easy. The first: be kind. The second: treat everyone else with the same respect you'd like to see in return. Cool? Great, post away. Comments are moderated so it might take a little while for your comment to show up. Thanks for being patient.