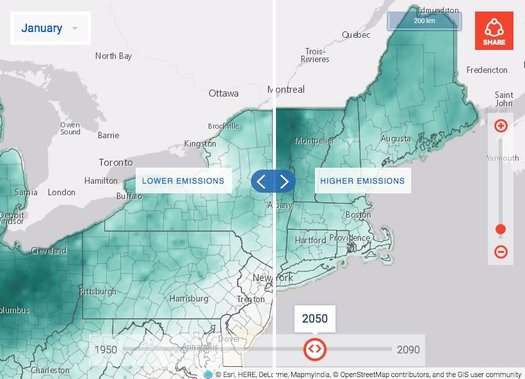 We've had an unusually dry summer so far, and it's been somewhat hotter than usual, too. And while any one year isn't necessarily a sign of some broader trend, this summer is in some ways an example of what the future summers here might be like because of climate change.
We were thinking about that today while looking around the federal government's new Climate Explorer website. It takes projections based on climate change models and greenhouse gas emission scenarios and makes them easy to map and graph for locations around the country. For example: Here's the page for Albany County.
So, what sort of future are the models pointing toward for our area?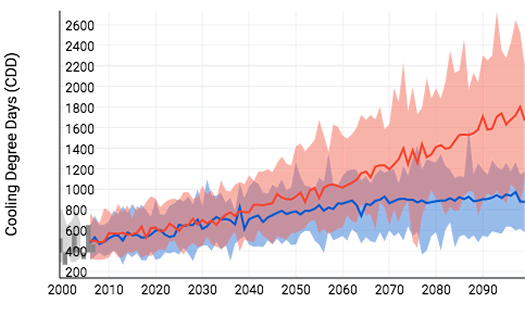 This is projection of cooling degree days (a measure of how many days are above 65 degrees and by how many degrees) for Albany County under two scenarios, if emissions stop rising (blue) and if they continue increasing as they have been.
Well, even under the scenario in which emissions stop increasing (which seems... unlikely), the model indicates the daily maximum average temperate will probably rise a few degrees between now and 2050. And while that might not seem like much, it could mean summers in which the average daily max temperature here is closer to 85 instead of the upper 70s (as is typical now) -- and winters with an average daily max temperature closer to 40 than 30.
Another interesting angle is precipitation. The model used by Climate Explorer projects this area will get more rainfall on average over the course of the year -- but in the form of wetter winters and possibly somewhat drier summers. There's also a projected rise in the number of days with rainfall above 1 inch.
Earlier on AOA: A future of more extremes