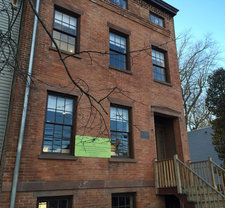 A company called Black Heritage Tours is starting a new history tour of the Albany area, Hudson Valley, and New York City that's focused on African Americans, Native Americans, and the Dutch.
The company already operates tours in the Netherlands. From a Dutch consulate website description of the new tour here in New York:
Founded in Amsterdam in 2013, Black Heritage Tours - New York State focuses on the transnational history of the region, and demonstrates the influence that the Dutch, Native American and African cultures had on New York. While we often think of New York as a "free state," slavery wasn't abolished in New York until 1827, and its blows were felt long after that.
This three-day, two-night tour of New York's Hudson Valley, which includes hotel accommodations and transportation, will provide a glimpse into our past, answering questions about the history of slavery in New York, and bringing to light the extraordinary experiences of the men and women who helped shape this region. The tour begins in Albany, with stops at Crailo Historic Site, Ten Broeck Mansion, the Stephen and Harriet Myers Residence, which was a stop on the Underground Railroad, and the African Burial Grounds. Tours will proceed along the Hudson River to New York City, with additional stops in Harlem and Brooklyn.
As an adult, [company founder] Jennifer [Tosch] attended University of California, Berkeley where she studied Dutch Colonial history. She traveled abroad to trace her family's own diaspora, and during her studies in the Netherlands, she was surprised to discover large voids in the historical narrative. 'Where were the positive narratives about the presence of Africans?' 'Where were their contributions celebrated?' Similar to her childhood, Tosch recognized gaps between her experiences and the story being told by the predominant culture. She founded Black Heritage Tours to combat that "single story" approach to history and reclaim her heritage.
The first New York tour is this August 5-7. It will repeat October 28-30 and December 9-11. Tickets are $555 and include the tour, transportation from Albany, accommodations, and breakfast and lunches.
Earlier on AOA: Stephen & Harriet Myers, station agents for Albany's portion of the Underground Railroad
(That's the Myers house on Livingston Ave in Albany in the photo.)