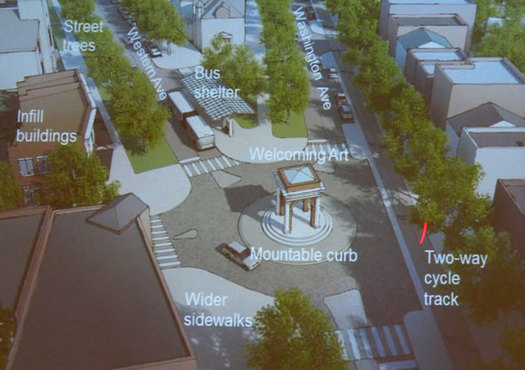 The ReZone Albany project was focused on the neighborhood surrounding UAlbany's downtown campus last week, a process that culminated in a few "big ideas" for the neighborhood and a bunch of renderings imagining how the future could play out there.
The focus on the neighborhood at the heart of the city was prompted in part by UAlbany's planned $60 million renovation of the former Albany hight school building at Western and Lake into the home of its new engineering college. As Jason King of Dover, Kohl -- the consultancy heading up last week's program -- said in reference to the investment and its potential spillover effects: "That makes this one of the most promising parts of the city."
Let's have a look at those ideas and renderings...
Renderings -- look up
This whole post is basically just slides from the final presentation, and they're above in large format -- so click or scroll all the way up.
The proposed big ideas
Those five "big ideas" from the presentation:
Focus efforts, create a center and gateways
Identify opportunities to leverage institutional investment into private investment in the surrounding areas. Attract businesses that meet day-to-day needs of students, visitors, employees and residents.
Restore "great streets"
Safe, comfortable and interesting, "road diet," safe crossings, trees, protected bike lanes, street furniture (benches, trash), bulb-outs and planters
Add destinations and connections
Upgrade appearance of buildings and streets and sidewalk cafes, brew pub, hardware shop, grocery stores, public art, community gathering places, and institutional expansion that supports surrounding areas. Quail as the "Commercial Heart."
Prepare for more transit
Crate a "complete place" that will compete better for [bus rapid transit], streetcars, bus stations, shaded sidewalks, bike lanes, additional parking (as necessary).
Strengthen adjacent neighborhoods
Brand area, new light poles for banners and flower boxes, a management district, upgrade and rehab student housing and integrate with neighborhoods.
_____
Earlier on AOA
+ Thinking about the future of the neighborhood around UAlbany's downtown campus
+ Looking at the future of UAlbany's downtown campus -- and the neighborhood around it
+ A few versions of the South End's potential future
+ Thinking about the direction of Central Ave
Hi there. Comments have been closed for this item. Still have something to say? Contact us.