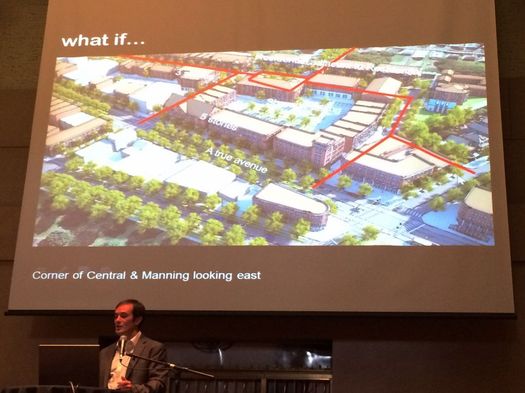 One of the most interesting parts of the ReZone Albany project has been the series of events focused on the futures of specific neighborhoods around the city. The last one, about the neighborhood around UAlbany's downtown campus, was just this past week. Here's a recap of the ideas that came out of that.
These events have been interesting because they've been opportunity to hear what members of the public think about these neighborhoods right now -- what they hope for these neighborhoods in the future.
Another interesting part of the series has been to hear the perspective of the consultants heading up the sessions. The reps from Dover, Kohl -- which is based in Miami -- have had a chance to get to know Albany over the past year. But they also bring a national perspective to what's going on here because they do similar projects all over the country.
So after last week's event at UAlbany, we took a few minutes to talk with Jason King -- the firm's senior project director -- about how he sees things here in Albany. Some of the things he said we suspect will have you nodding your head. And we're guessing some of you will also hear some things with which you disagree.
Here are a handful of quick clips from the interview.
On the potential of the neighborhood around the downtown UAlbany campus
"The university is going to invest the $60 million in turning the Schuyler building, the high school, into the college of engineering. So that makes this one of the most of the most promising parts of the city."
On Albany's advantages compared to other cities around the country
"The reality is, in terms of quality of life, in terms of the man-made environment, Albany offers a lot."
On embracing deliberate growth in Albany
"You're like Europe. I mean, really, the architecture is good enough, the street design and the park design is good enough to compare to Europe. But you're not Asia, which is just exploding and just like crazy population [growth]... It isn't bad being the Europe of the United States."
On Albany's allocation of projects
"The mayor is very conscious of do a plan in one spot, make sure you do a plan in another. If you do an investment in one part of the city, make sure you do one in another."
On getting the word out about Albany
"I always invite family members of mine from Rhode Island, and they see Albany and they're like, wow, that's terrific, honestly ... They always have a good experience. So, how do you get the word out?"
Hi there. Comments have been closed for this item. Still have something to say? Contact us.