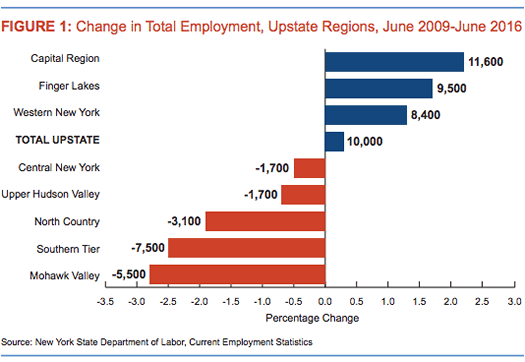 The Capital Region led Upstate New York* in employment grown between 2009 June and 2016 June -- that's from a new report by the state comptroller's office. The Capital Region* was up 2.2 percent over that period, while all of Upstate employment was up just 0.3 percent. It was one of just three (of eight) regions Upstate to see employment growth.
So... good for the Capital Region, right? Yep, but it's not all great.
Here are a few more interesting bits from the report about jobs Upstate...
All graphs are clipped from the OSC report.
The total number of Upstate jobs is down
In 2008 Upstate employment hit 3.05 million jobs. By February 2010 to the total had fallen to 2.9 million. And as of this past June the number was slightly above 3 million again. OSC says Upstate has regained 79 percent of the number of jobs lost during and after the recession.
What's up -- and down
The sectors with the largest employment growth between 2010 and 2015 Upstate: leisure and hospitality (that includes food service) with almost 26,000 jobs, and education and health services with more than 20,000 jobs.
What's down? Government -- down almost 34,000 jobs, or close to 6 percent. ("Government" includes everyone who works for some layer of government -- so everyone from staff in a state office, to municipal trash truck drivers, to public school teachers.)
Swapping larger for smaller
In the Capital Region, the sector with the largest increase in jobs was leisure -- with 5,729 jobs that had an average annual income of $19,800.
The sector with the largest decrease: government, with more than 5,000 jobs lost that had an annual average income of $55,800.
As of 2015, government jobs represented 22 percent of all jobs in the Capital Region, the most of any category. For Upstate has a whole, government represented 21 percent of all jobs, again the largest slice of the pie.
Wage growth
A generally good thing: Wages in the Capital Region were up more than 12 percent between 2010 and 2015 (inflation was 8.7 percent). Every region of Upstate posted gains that exceed inflation except for the Upper Hudson Valley.
_____
* Upstate is defined by OSC as everywhere that's not NYC and Long Island and not Westchester, Rockland, or Orange counties -- and also, in some cases, Putnam.
** In this case, OSC considers the Capital Region to be the counties of Albany, Columbia, Greene, Rensselaer, Saratoga, Schenectady, Warren, and Washington.
_____
Earlier on AOA: 5 bits about jobs in the Capital Region -- and how much they pay