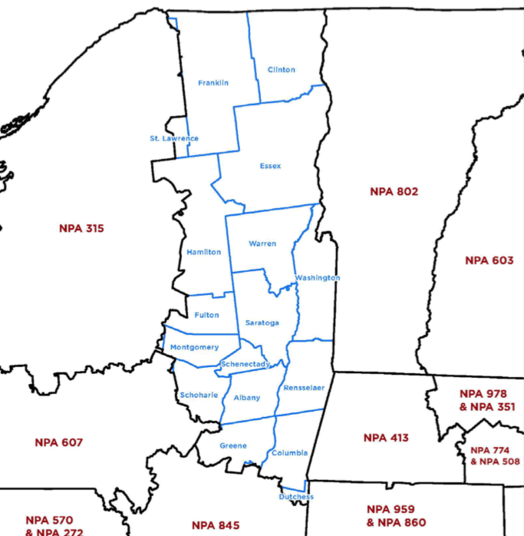 The state Public Service Commission has approved a plan to add a second area code to the region currently covered by the 518 area code. The prompt for the addition: 518 is projected to run out of phone number sometime next year.
There were two potential plans on table for alleviating the number crunch -- adding the new code in an "overlay" to the existing 518 region, or splitting the 518 area into two parts with one side keeping 518 and the other getting a new area code.
The pick of the overlay option isn't a surprise. When officials presented the options earlier this summer, it very much sounded like things were headed in that direction. From a PSC press release announcing the pick Wednesday:
The Commission examined both "geographic split" and "overlay" options. Based upon its review, the Commission determined that an overlay is the preferred option because it is easier to implement from a technical standpoint and less expensive from a customer standpoint, especially for business customers who could be forced to change signage and branding in the event of a geographic split. An overlay occurs when a new area code is superimposed over an existing calling area, and, by definition, it results in more than one area code serving the same calling area or region. Under an overlay plan, existing telephone numbers remain unchanged, and all new telephone numbers would be assigned the new area code.
So, bottom line, what does this mean for actually using a phone here? Not that much. It's just that starting sometime in the next year or year and a half, every time you dial a local number you'll have to dial 10 digits instead of 7. (A change most people probably won't even notice for many calls because the dialing is done by a mobile phone or some other system.) And anyone getting a new number will get the new (not yet announced) area code.
Even so, a moment to reflect on the end of 518, one of the nation's original area codes, as an only-code... Now, move over, you're getting a sibling.
Hi there. Comments have been closed for this item. Still have something to say? Contact us.