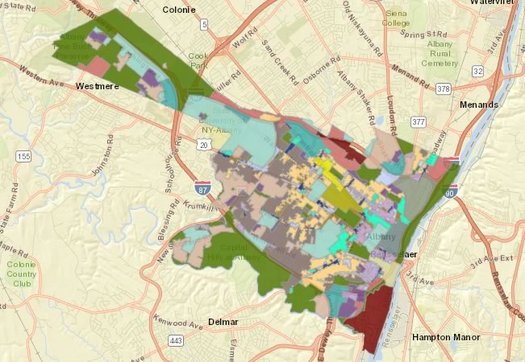 The big ReZone Albany project has reached another big milestone: a draft of the city's new zoning map.
The proposed map incorporates the new types of zoning districts included the comprehensive overhaul of the city's zoning rules -- the first since the 1960s -- that's currently in progress. (Here's the current zoning map.)
We've embedded the proposed map and the current map in large format if you'd like to compare (somewhat) side by side.
Zoning might sound like a really boring topic. And it's certainly complicated. But the issues it deals with cover many things that people regularly get fired up about: How can buildings or properties be used? What sort of new buildings can be built? What should projects look like? And so on.
The goal of ReZone Albany is to better match the city's zoning rules with how buildings and neighborhoods in the city are actually being used -- and to help encourage future use and development in a way that fits with the goals in the Albany 2030 comprehensive plan.
For example: The rezone process has produced a handful of "form-based" districts around the city -- the Warehouse District, the South End, Central Ave, the midtown area around downtown UAlbany campus -- with rules that are focused on how those areas look and feel. (The overlay district for the Warehouse District has already smoothed the way for the approval of residential conversion projects in the changing neighborhood.)
If you'd really like to dive into this, here's a video of a presentation the lead consultant on the project gave to the Common Council. The presentation includes an overview of the project, but also specifics like new rules for converting single-family residences to multi-unit residences, uniform business closing times in some areas, street-level commercial use of some residential buildings, and how far new buildings should be set back from the street.
The ReZone Albany project is still taking feedback from the public. And the goal is to have the project finished by the end of this year.
Hi there. Comments have been closed for this item. Still have something to say? Contact us.