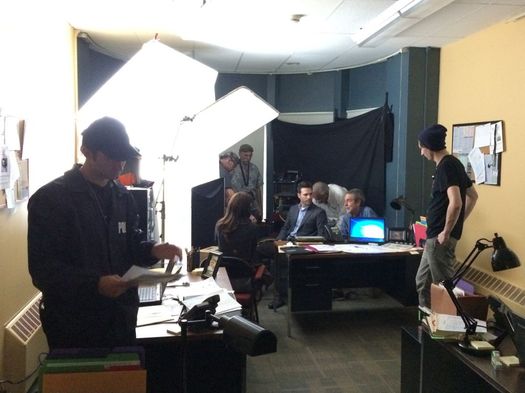 You might have seen -- or heard -- that a film was shooting in downtown Troy this week.
The production for Derailed has been shooting in and around the Sage Troy campus this week, and was set to film in the Monument Square area Thursday evening. It's also planning to shoot in locations in/near Albany and Saratoga Springs.
Here are a few bits about the movie, and a quick chat about what's been drawing film productions to this area...
Derailed
The film is a thriller/mystery involving a train crash, lost memory, and catfishing. Here's a quick plot overview shared by Sage this week:
The film is set in Albany, New York and follows the story of Nicole Barrow who is the survivor of a train derailment that caused her to lose her memory. She has a doting husband who is primed to run for Attorney General. In the film, Barrow is a Geography Professor at Russell Sage College and her love for cartography and old maps is something that she did not lose in the crash. Barrow's regular visits with a hypnotherapist reveal disturbing flashes of a raven and a mysterious man who has been buried alive. As she scrambles to put the pieces of her mind back together, the beautiful Terra Incognita map display in Boston leads her to recall a man she knows she's loved but can't quite place. Is this man tied to her flashbacks? Barrow is in a hunt to track the mystery of her former self and find the man she truly loves before all of the clues are buried by her husband...forever.
It's directed by David Jackson, and the lead actors are Hannah Barefoot and Thomas Beaudoin.
The production is classified as "modified low budget" by the Screen Actors Guild (so, an independent film with a budget under $700k).
What's been drawing film productions here?
When we stopped by the set at Sage Thursday afternoon to gawk a little bit we ended up talking with Steven O'Connor -- the president of Upstate Independent Filmmakers Network, and a location scout for the film -- about what's been drawing film productions to this area.
What brought this production to this area?
I think it was the availability of great locations. The script itself is about a college professor, a professor of history, so we wanted a historical-looking college. And we just had a variety of them in the area to look at: Emma Willard, RPI, [Sage].
Aside from the college locations, you can find anything within a short distance from our production office on Broadway in Albany. We have everything within five miles, with the exception of the Saratoga railway -- we needed a private railway to film a train crash.
How many different spots around this area are involved in the production?
Off the top of my head, 15 different locations. Some of them we're at for a matter of hours, others, like this one, we're at for days. We have a couple of private homes in Albany and Delmar, one we'll be at for a whole week, the other for two days.
It depends on the scene. We filmed down the street here at Washington Park -- that was a few hours. Here [at the Sage campus], four days. When we go to Saratoga, probably a day.
But the days are long. We start at 6 [am] and might not be done until 9 [pm]. They're long days.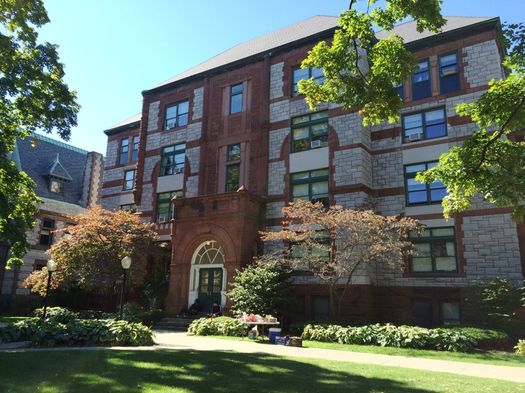 Sage's Gurley Hall was housing the shoot Thursday afternoon.
There have been a lot of films that have shot in this area in recent years. What do you think it is about this area that's drawing productions?
It's the tax incentive. We have a higher tax incentive in the upper Hudson Valley that we didn't have before. You get a higher tax incentive on your production costs.
We also have a couple of production facilities in the area, because you have to one day of principal photography at a production facility that's approved by the governor's office for film, and we have a couple of them so we can film that one day here and be eligible for the credit and the higher incentive.
As a SAG actor, most of my work used to be down in the [Hudson] valley -- Kingston, Poughkeepsie, New York City. Eighty percent of my work was down there, 20 up here. Now it's flipped, both in front and behind the camera.
In terms of locations, is there something about this area's that particularly attractive?
It's the variety of architecture -- everything from Victorian colleges to something that still looks futuristic even thought it's not that new anymore, like the Empire State Plaza. We have a river. Within a couple of miles we can cross into Rensselaer County and be on a farm.
So, we're very eclectic around here, with our architecture, our geography.
And I think a lot of it is the attitude of the people up here. Having a film company come into town is kind of unique. I mean, in LA they're probably like, oh my god, they're doing another film, the freeway's going to be tied up.
Here, especially at the campus but also any of the people we've met on the streets in Troy have been so friendly, so receptive, no complaints about anything. Just curiosity. And very respectful, not trying to come over and barge in on the set and talk to actors or anything.
So, I'd say this region has it all for a filmmaker.
____
Earlier on AOA: Movies that filmed in -- or were set in -- the Capital Region
Hi there. Comments have been closed for this item. Still have something to say? Contact us.