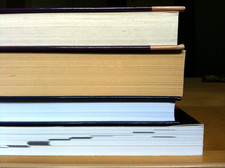 Val emails:
I'm looking for some good used bookstores in the area - particularly ones that have a good selection of children's books.
It looks like this question was asked once before but it was 4+ years ago and it seems that a few of those places have closed since then. :(
We're especially interested in the the part of Val's question about children's books -- we're curious if there's some place that specializes in used books for kids.
Got a suggestion for Val? Please share! And a sentence or two about why you're suggesting a place can be a big help.
Hi there. Comments have been closed for this item. Still have something to say? Contact us.