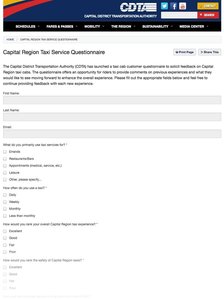 CDTA has posted an online survey looking for feedback and ideas about taxi service in the Capital Region. Blurbage:
The questionnaire offers an opportunity for riders to provide comments on previous experiences and what they would like to see moving forward to enhance their taxi experience.
"We see this as a chance to receive feedback on what people want to see from this industry moving forward," said CDTA Chief Executive Officer Carm Basile. We are excited to enhance the menu of mobility options across the Capital Region."
In addition to the customer questionnaire and common ordinance, CDTA will focus on adding other customer support systems, including a new web page with detailed information about local taxi services and the integration of its call center for taxi services.
We skimmed through the survey and we're guessing it would probably take most people no more than five minutes to complete.
But, you might be thinking, CDTA is the bus org -- why is it focused on taxis?
Because it's also now in position to create a regional taxi system for the Capital Region thanks to a new law that passed during the last state legislative session. The legislation allows local municipalities to opt-in to a setup in which CDTA would serve as an administrator for taxi (and taxi driver) licensing and a common complaint system. The idea is to create common standards across municipalities for taxi companies, drivers, and riders.
Or, to boil it way down, the goal is to create a common taxi system here that's less confusing and doesn't routinely disappoint people.
So this survey is one way to speak up about what you'd like to see. If past surveys are any indication, people have a lot to say about taxi service in this area.
Hi there. Comments have been closed for this item. Still have something to say? Contact us.