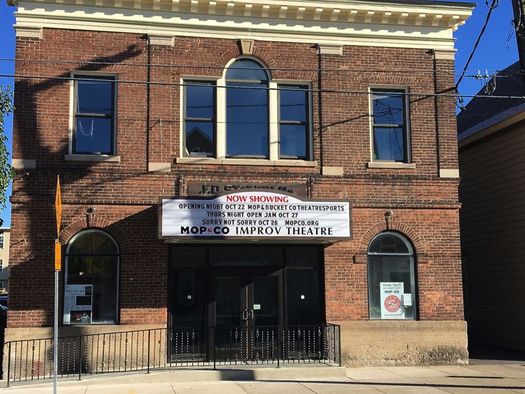 Two things we should disclose before you start reading this post.
1. One half of AOA performs with the Mop & Bucket Company. (Hint: It's not Greg)
2. The Mop & Bucket Company advertises on AOA.
MopCo, the long-standing Capital Region improv company, now has its own theater -- a renovated former firehouse (and onetime strip club) on North Jay Street. It's sharing the space with its sister company, Koppett, which uses improv to train employees of companies such as Facebook and Apple in creativity.
In addition to its own improv shows, MopCo will use the new theater to host other improv troupes, classes, readings, music performances, story nights, and a wide variety of other special events.
MopCo officially opens the new space this Saturday with a TheaterSports show by its house team.
The company has been playing at Proctors for many years. For the last two years it worked on growing the business in a small rented space on Union Street while it searched for a permanent home.
The founders considered different areas in the Capital Region, but eventually found that home right around the corner in a broken down building in Schenectady's Little Italy.
MopCo founder Michael Burns says the location is perfect -- in the middle of what he says is a growing arts district in Schenectady. The building, he says, was a diamond in the rough.
"I was looking at this building for years," says Burns. "Great bones, the right size, and just where we wanted to be."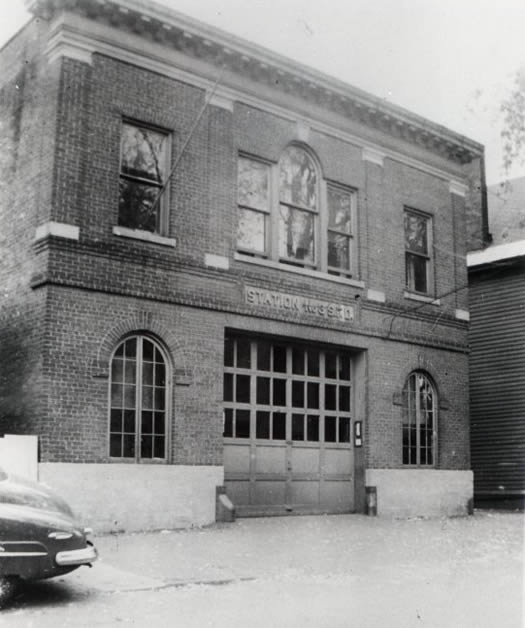 The building itself -- a brick firehouse at 10 North Jay Street -- was used as a strip club for many years before closing in 1997. The space has been empty ever since. Transforming it, says Burns, was a labor of love.
"Downstairs was a complete gut -- including a couple of large sections of floor that had to be replaced. All new systems, new roof -- pretty major surgery," Burns says.
So out went the stripper pole and hot tub, replaced by 75 seats from the old Caffe Lena black box theater, a lighting grid, desks, space for classes, and a concession stand with a panini maker. (Because everything is funnier with panini.)
An improv company in a former strip club. If the move sounds familiar, you might have seen the recent Mike Birbiglia movie Don't Think Twice, in which improvisors find a home in a renovated porn theater. It's also the story of Upright Citizen's Brigade, the NYC-based improv school and performance troupe that got its start in 1999 in a defunct strip club shut down during Rudy Giuliani's anti-porn crusade. Any resemblance, says Burns, is purely coincidental. It's not what they were looking for, it's just what they found.
Burns and his wife and partner, Kat Koppett, are excited to be a part of the growing Schenectady's growing arts scene.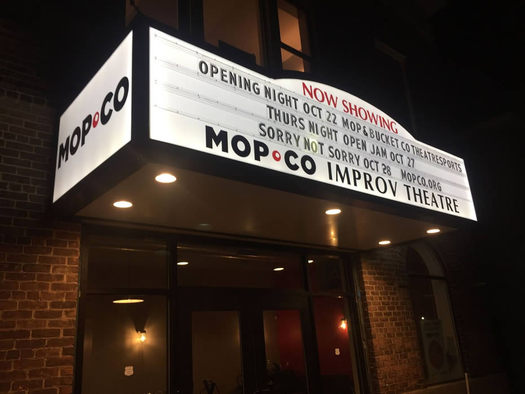 "I think we fill a gap -- offering a different product as well as training for performers and non performers. The unique size of the room fills a gap as well. We've had a lot of interest in rentals for meetings, arts clinics, and performances," says Burns.
They're looking forward to being a space for community, entertainment, and education, Burns says.
"We want to build a culture of people who not only love performance improv, but are inspired by the power of improv in their personal and business life."
Photos
There are a handful of photos of the theater, before and after, above in large format -- click or scroll all the way up.
Earlier
+ The Capital Region's theater district
before photos and historical photo courtesy of MopCo
Find It
The Mop & Bucket Co.
10 N. Jay Street
Schenectady, NY 12305