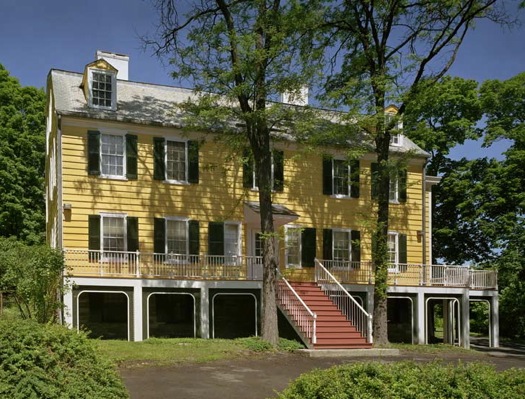 This weekend is overstuffed with fun-sized Halloween goodness -- including zombies, witches, haunted houses, scary movies, music, theater, burlesque, and hockey. And that's just the beginning.
After the jump, an overflowing basket of weekend goodies for you to choose from. Pick your favorites. And take some extras to share with your little brother.
Doing something you don't see on our list? Drop it in the comments so the rest of us can see.
And whatever you're up to, have a fantastic weekend.



Troy Night Out
Friday: This month, Troy Night Out has a Halloween theme.
+ The Arts Center of the Capital Region hosts a "Spirits, Spooks & Spells" show with magician Jeffrey Jene
+ The Screenprint Biennial exhibit opens at The Arts Center. The exhibition "showcases a range of screenprint-based art applications, from framed, edition prints, to installation, sculpture, video, ephemera, and posters."
+ There's the Mysteries and Mayhem historical tour of the Collar City. ($15/$10)
+ Slidin' Dirty hosts its two-year anniversary block party (it has an 80s Halloween costume theme).
+ The TNO after party is at Takk House with food and drink by The Ruck 9 pm-midnight
Halloween parties and fairs
BOO-jolais Wine Celebration
Friday: The annual wine celebration by the Alliance for Positive Health has morphed into a Halloween event at the Washington Avenue Armory. Boo-jolais includes wine tastings, food samplings, entertainment, and a silent auction will be paired with an evening of fun, excitement, and mystery. Friday at 5:30pm --Tickets start at $90.
Mad Hatter's Ball
Friday: 90 State Street hosts the Mad Hatter's Ball to benefit Ronald McDonald House Charities. It's a formal masquerade event with entertainment by DJ Kip Chapman and VJ Roy Buckley. Food and drink provided in ticket price. Friday at 7pm -- $105 per person (21 and over)
Hemlock's Bicentennial Be'WITCH'ing Ball
Friday: Hemlock's Bicentennial Be'WITCH'ing Ball on River Street in Troy is a celebration of all things witch. Events include pagan ritual music by the VaVa Voodoos, tarot card readings, fortune telling, food, costume competitions, Scary Larry's Psycho Sideshow and more. Friday 6-8 pm -- free admission
Monster Mash & Bash
Saturday: The State Museum hosts its annual Monster Mash and Bash, a kids Halloween Celebration. Games, crafts costumes, movies and more. Saturday 11 am to 4 pm -- free admission.
Saratoga Fall Festival
Saturday: Saratoga Springs celebrates Halloween with its annual family fall festival downtown. Pony rides, a rock climbing wall, petting zoo, arts and crafts, circus acts, balloon animals, trick or treating, and the annual rolling of the pumpkins down Caroline Street. Saturday 11 am to 4 pm -- free admission
Pure Poe: Three Stories from a Master Storyteller
Saturday: Three Edgar Allen Poe stories come to life as Wynn Harmon reprises his role as the author at Capital Rep in Pure Poe. Saturday 11 am -- $11 / $9 for kids 17 and under
Colonie Center Spooktacular
Saturday: Colonie Center hosts a Spooktacular Halloween Bash for kids. There will be pumpkin decorating, a reptile show, balloon animals, and a costume contest. Saturday 11am to 1pm -- free admission
Lark BID Halloween Party at Washington Park Lakehouse
Saturday: The Annual Lark BID Halloween Party returns to Washington Park Lakehouse. Food, open bar with beer wine and cider, and a costume contest. Saturday 8pm to midnight -- $35 advance, $45 at the door
Halloween Under The Big Top: Freak Show Edition
Saturday: The Barrel Saloon & Texas BBQ hosts Halloween Under the Big Top a
costume party in a heated tent in a lot across from the Barrel Saloon in Albany's Warehouse District. Costume contest with a prize, a professional photographer, DJ, complimentary beer and wine. A 21-and-over event. Saturday 9:30 pm -- $30 ahead / $40 at door
FLESH MOB Zombie Halloween Party
Sunday: Death Wish Coffee presents the Zombie Flesh Mob Halloween party at Putnam Den in Saratoga Springs, with special effects make up artists, horror films, creepy music and a costume contest. Sunday 5-10 pm -- free admission (21+)
Halloween tours
Murder at Cherry Hill
Friday-Saturday: Historic Cherry Hill is offering spooky tours and stories of the 1827 murder that resulted in two trials and a public hanging. Saturday & Sunday at 5:30pm and 7pm -- $18
Ghost Tours of Knickerbocker Mansion (and Soup Dinner)
Friday: The Knickerbocker Manson hosts a
soup dinner and ghost tours of the mansion. Reservations recommended for groups of eight or more. Friday dinner at 5 pm and tours starting at 6 pm -- $8 for dinner / $7 for the tour
Ghosts of Albany Walking Tour
Friday-Saturday: Ghosts of Albany is a historic walking tour of Albany with a paranormal twist. Tour meets at 40 Lodge Street, outside the Hilton Albany. Friday at 7:30 pm, Saturday at 7:30 pm and 9:30 pm -- $20
Schenectady candlelight walking tours
Friday: Candlelight walking tours of Schenectady's historic Stockade neighborhood. Choose the Colonial or Victorian tour. (Check for availability. Fridays through October 28.) Friday 7 pm and 7:30 pm -- $12
The Spirits of Rensselaer: RPI's Historic Ghost Tour
Friday: The Spirits of Rensselaer Historic Ghost Tour leaves from the RPI Union patio on 15th Street. Friday at 7 pm -- $5, free with RPI ID
Ghosts in the Yaddo Garden Tours
Friday: Take a ghostly tour of the Yaddo Gardens in Saratoga Springs. Friday from 5-6 pm -- $10 / under 12 free
Ghost Tours at Fort William Henry
Friday-Sunday: Fort William Henry in Lake George is holding ghost tours of the fort. Friday-Sunday at 7:30pm and 9pm -- $17 / $8 kids 15 and under
Fort Ticonderoga's corn maze
Saturday-Sunday: Fort Ticonderoga's annual corn maze is in the shape of a fort. Try to find your way out while looking for history. Saturday and Sunday 10 am to 5pm -- $20 / $9 kids ages 5-12 (4 and under free)
Halloween scares
Tru-Terror Haunted Attraction
Friday-Monday: The Viaport Rotterdam Mall is hosting a Tru-Terror haunted attraction with a 10,000 square foot haunted house that includes a blackout maze, butcher shop. The mall is also hosting Halloween activities for kids Friday -Sunday, 7pm to 10pm -- $20
Saratoga Scare Fair
Friday-Saturday: The Saratoga County Fairgrounds transform into a teen/adult haunted house for the Saratoga Scare Fair. Friday and Saturday 6:30 pm to 10 pm -- $10 (every weekend in October)
Field of Horrors
Saturday: The Field of Horrors returns to Brunswick. There's a Trail of Terror Hayride, a paint ball gallery, and other haunted attractions. Saturday 6:30-11 pm -- $25
Double M Haunted Hayride
Friday-Sunday: The Double M Haunted Hayrides in Ballston Spa are back for the fall. Attractions include the Haunted Hayride, a Museum of Horrors, and a Schadenfreude Circus. various times and prices
Stage
Unelectable You
Friday: Proctors hosts Second City's political satire show Slate Presents: Unelectable You. Slate and Second City team up "to take aim at the election, the candidates, the spin, and even Slate itself." Friday 8 pm -- $20 and up
Farragut North
Friday-Sunday: Curtain Call presents Farragut North, political drama written by one of the creators of the US version House of Cards. (The play was adapted as a film starring Ryan Gosling and George Clooney a few years ago.) Friday and Saturday 8 pm, Sunday 2 pm -- $20
Heathers: The Musical
Friday-Sunday: The Local Actors Guild of Saratoga presents Heathers: The Musical -- based on the 1989 film -- at The Saratoga Arts Center. Friday and Saturday at 8 pm, Sunday at 2 pm -- $20
Sweet Smell of Success
Friday-Sunday: The Not So Common Players present the musical The Sweet Smell of Success, based on the 1957 movie of the same name. Friday and Saturday at 8pm, Sunday at 2pm -- free
Songs for a New World
Friday-Sunday: Park Playhouse presents "Songs for a New World" at the Cohoes Music Hall -- it's a song cycle by Jason Robert Brown. "It's about hitting the wall and having to make a choice... or take a stand... or turn around and go back. These are the stories and characters of today, the Songs for a New World." Friday-Sunday various times -- $25 / $15 for 18 and under
Lysistrata
Friday-Sunday: Steamer 10 theater presents Lysistrata, the bawdy Aristophanes comedy about gender relations and anti-war sentiment that was first performed in 411 BC and still resonates today. Friday and Saturday at 8pm, Sunday at 3pm -- $20 / $10 for seniors
Shrek The Musical
Friday-Sunday: Saratoga's Home Made Theater presents Shrek: The Musical. The show stars some of the region's best talents including Marc Christopher, Brittany Leigh Glenn, and Michael Bellotti. Friday and Saturday at 8 pm, Sunday at 2 pm -- $26 and $29
Bing Bamboo Room
Sunday: The Bing Bamboo Room burlesque performs its Horror Scopes Halloween show at The Low Beat. Sunday 7 pm -- $12
Comedy
Pretty Much the Best Comedy Show
Saturday: Capital Rep hosts this month's Pretty Much The Best Comedy Show with headliner Andy Sanford. Saturday 8 pm -- $15 advance / $20 at the door
Joe Torry
Friday-Sunday: Joe Torry headlines this weekend at The Funny Bone at Crossgates. Friday-Sunday -- various times and prices
Matt Bergman/Jaye McBride
Friday-Saturday: The Comedy Works in Saratoga Springs presents Matt Bergman and Jaye McBride. Friday and Saturday -- various times and prices
Mopco Improv Theatre Opening Weekend
It's the first official weekend of MopCo's new North Jay Street theater in Schenectady.
+ Friday: Fringe Friday, featuring guest improvisors Sorry Not Sorry and house team MopCo Rebels. Friday 8 pm -- $10 / $6 for students and seniors
+ Saturday: The Mop and Bucket Company competes in TheaterSports. Two teams compete with improvised scenes, games and songs based on audience suggestions. Saturday 8 pm -- $15 / $6 for students and seniors

Music
Friday: Sister Sparrow & The Dirty Birds at The Egg
"[F]iery brass- and gospel-infused R&B." 8 pm -- $29.50
Friday: Archie Fisher at Old Songs
Traditional Scottish ballad singer. 7:30 pm -- $20 / $5 12 and under
Friday: MIRK at Parish Public House
With Sirsy and Erin Harkes. 8 pm -- $10
Friday: Helga Davis at MASS MoCA
"Helga Davis ... responds to Nick Cave's Until with an intimate performance, solo with her loop station, inside the exhibition." 8 pm -- $20 ahead / $26 day of
Friday-Sunday: Musicians of Ma'alwyck shows at three venues
The chamber ensemble will be performing this weekend at the First Reformed Church in Schenectady, Siena College, and the Schuyler Mansion. Friday-Sunday various times and prices
Saturday: Gov't Mule at The Palace
Rock. 8 pm -- $32.50 and up
Saturday: Patti LaBelle at Proctors
"[T]he legendary queen of rock and soul." 8 pm -- $25 and up
Saturday: Eileen Ivers at The Egg
"[O]riginal musical star of Riverdance, and nine time All-Ireland Fiddle Champion." 7:30 pm -- $34
Saturday: Vijay Iyer and Craig Taborn at EMPAC
"Two of the most progressive voices in American jazz piano join forces for a performance that blurs the line between composition and improvisation."
Saturday: Clutch at Upstate Concert Hall
Rock. With: Zakk Sabbath (Zakk Wylde performing all Black Sabbath set), Kyng. 8 pm -- $29 ahead / $32 day of
Saturday: Upstate's Alright at Pauly's and The Low Beat
Punk and underground bands from all over upstate New York. Also: a punk flea market. starting at noon -- $15
Saturday: Eastbound Jesus Halloween Hoedown at The Hollow
With: The Good Time Charlies. 8 pm -- $12
Saturday: The Jazz Ambassadors at Troy Music Hall
"The official touring big band of the U.S. Army." 7:30 pm -- free, but ticket required
Saturday: River City Slim & the Zydeco Hogs at Old Songs
Cajun-zydeco dance. 7 pm -- $15
Sunday: Albany Pro Musica at Troy Music Hall
A cappella show. 3 pm -- $25 and up
Pollyween: Two Face
Saturday: Sean Desire of Bell's Roar has put together Pollyween, a quarterly dance party and art show. This month the show is at 38 3rd Street in Troy. Saturday 9:30 pm -- donations of $5 to $20 go to support Art Funds Tour grants for artists
Film
Film Columbia
Monday-Sunday: The Film Columbia film festival wraps this weekend. As in years past, the festival will be screening many notable films set for release this winter and into next year. There are also talks, panels, and other events. (Many of the screenings and events sell out.) Friday-Sunday various times -- $12 day films / $16 evening films.
Haxan: Witchcraft Through the Ages with Live Music
Saturday: It Came From Schenectady presents a screening of Haxan: Witchcraft Through the Ages, a fictionalized 1922 documentary about the history of witchcraft, with musical accompaniment by Andrew Alden Ensemble. Saturday 7 pm -- $15 / $10 for students with ID
Rocky Horror Picture Show
Saturday: The Linda is hosting two screenings of The Rocky Horror Picture Show with shadow cast, The Whip It Outskirts. Saturday 8 pm and midnight -- $12
NT Live: Frankenstein
Sunday: The Spectrum is screening the National Theater Live production of Frankenstein. Sunday at 11 am -- $15
Little Shop of Horrors/ The Exorcist/ The Witches/ Susperia
All weekend: The Madison is screening some movies that are in keeping with the Halloween spirit:
+ Little Shop of Horrors - Rick Moranis, Steve Martin, man eating plant, crazy dentist
+ The Exorcist - Linda Blaire, pea soup, insomnia inducing 70s demonic possession flick
+ The Witches - Little kid is turned into mouse.
+ Susperia-- Ballerina realizes her dance school is a front for something sinister and supernatural.
Hockey
RPI/Union
Friday-Saturday: The men's hockey teams from RPI and Union face off against each other twice this weekend. -- Friday at 7 pm at the RPI Field House and Saturday at 7 pm at Union's Messa Arena
Albany Devils Hockey
Friday-Saturday: The Albany Devils are at home at the TU Center for two games against Toronto. Friday at 7pm, Saturday at 5pm
Head of the Fish Regatta
Saturday-Sunday: Watch the boat races on Saratoga Lake this weekend at the annual Head of the Fish Regatta. With more than 160 teams and around 2,500 boats from across the northeast it's one of the largest regattas in the country. Saturday and Sunday -- free admission
Albany Comic Con
Sunday: The Albany Radisson hosts the Albany Comic Con comic book and collectable show. Sunday 10 am to 5 pm -- $8 in advance / $10 at the door
Anne Fadiman
Friday: Journalist Anne Fadiman will be at UAlbany as part of the NYS Writers Institute visiting writers series. She'll be talking about her 1997 book The Spirit Catches You and You Fall Down. "Fadiman's book reflects on the clash between Western medicine and the holistic healing traditions of a Hmong refugee family from Laos over the care of their epileptic child." The talk is part of the "New Americans" series. Friday 7:30 pm, downtown UAlbany campus, Page Hall -- free
Museums/galleries
Breathing Lights
Friday-Sunday: The Breathing Lights exhibit continues this weekend. The public art project is illuminating windows in hundreds of vacant homes in Albany, Schenectady and Troy (the slowly pulsing lights will be active from 6-10 pm each night).
Nick Cave Until
Saturday: MASS MoCA recently opened Until, a new immersive installation by artist Nick Cave. Blurbage: "Through exuberant, politically charged materials, Cave probes issues relating to gun violence, race, and gender inequality. Wrapped in bright glitter, the work is sharp and also painfully beautiful."
The People's Art
The State Museum recently opened The People's Art: Selections from the Empire State Plaza Art Collection, which includes works by artists such as Mark Rothko, Jackson Pollock, Helen Frankenthaler, Franz Kline, David Smith, and Alexander Calder. (On display through September 3, 2017.)
Hudson Valley Ruins
Also recently opened at the State Museum: Hudson Valley Ruins. It includes more than 80 photographs by Robert Yasinsac and Thomas Rinaldi of "forgotten historic sites and cultural treasures in the Hudson River Valley." (On display through the end of 2017.)
The Art of Seating
The Albany Institute of History and Art recently opened The Art of Seating: Two Hundred Years of American Design. Blurbage: "The chair is experienced not only as a functional item, but as sculptural in view--the chair as art. Each of the more than forty chairs in the exhibition was chosen for its beauty and historical context with important social, economic, political, and cultural influences." (On display through December 31.)
Alexander Hamilton
The Albany Institute of History and Art exhibit on the life of Alexander Hamilton and his time in Albany continues. Hamilton, who has experienced a resurgence in popularity due to Lin Manuel Miranda's award-winning musical based on his life, married Elizabeth Schuyler at the Schuyler Mansion in Albany and visited the city often after that. The exhibit highlights objects related to Hamilton, including a portrait from the permanent collection of Union College. (On display through December 31.)
A More Perfect Union
The Tang presents: A More Perfect Union -- a new exhibit featuring Mel Ziegler's Multi-Year Project Flag Exchange. The installation includes 50 American flags collected by Ziegler, who traveled the country trading new flags for tattered ones flying at homes and public locations. (Runs through January.) free admission (suggested donations of $2-$5)
Sculpture parks
Maybe you'd like to explore some sculpture parks around the region.
Day trips
Explore some waterfalls, head for The Berkshires, The Catskills, or Columbia County. Or check out a state park.
Markets
Farmers markets
This is a great time of year to visit the farmers markets in the Capital Region.
+ Troy Waterfront Farmers Market is in Riverfront Park. Saturday 9 am-2 pm
+ The Saratoga Farmers' Market is outdoors at High Rock Park. Saturday from 9 am-1 pm
+ The Delmar Farmers Market is at Bethlehem Central Middle School. Saturday 9 am-1 pm
+ The Schenectady Greenmarket is at its outdoor location around City Hall. Sunday from 10 am-2 pm.
+ The Spa City Farmers' Market is outdoors to the lawn at the Lincoln Baths. Sunday from 10 am-3 pm
The Madison, The Spectrum, Troy Music Hall, and The Mop & Bucket Company advertise on AOA.
Say Something!
We'd really like you to take part in the conversation here at All Over Albany. But we do have a few rules here. Don't worry, they're easy. The first: be kind. The second: treat everyone else with the same respect you'd like to see in return. Cool? Great, post away. Comments are moderated so it might take a little while for your comment to show up. Thanks for being patient.