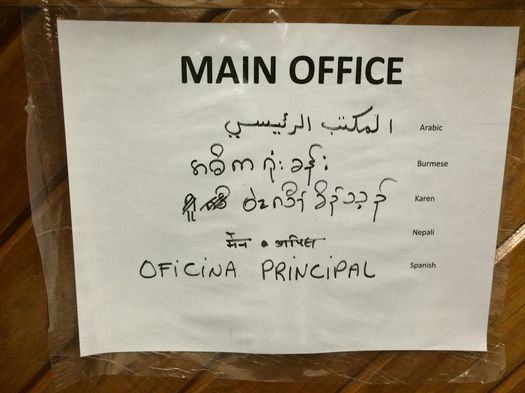 About 22 percent of the residents of New York State -- almost 4.4 million people -- are immigrants. The second-highest total of immigrants for a state in the United States, behind only California.
That's one of the bits from a report out this week from the state comptroller's office about immigrants in New York State.
There are a bunch of interesting bits in there, and here are a few of them...
Immigrants are helping to prop up population numbers upstate
Population totals in many parts of upstate have been on a long, steady decline for many years. But as the report points out, the declines would be even steeper without international migration:
Total population counts in Buffalo-Niagara Falls, Syracuse, Dutchess-Putnam, Utica-Rome, Binghamton and Kingston fell from 2010 to 2015, and would have declined more sharply if not for the addition of new residents from other countries, according to Census data. In Rochester, Albany-Schenectady-Troy, Nassau-Suffolk and Ithaca (as well as in New York City, not shown), overall population would have declined during the period if not for [international migration].
Earlier this year we looked at the same Census numbers. Between 2010 and 2015, the Capital Region's four core counties had almost 9,000 people move away to somewhere else within the United States. But over that same time, almost 13,500 people moved to the Capital Region core from outside the US.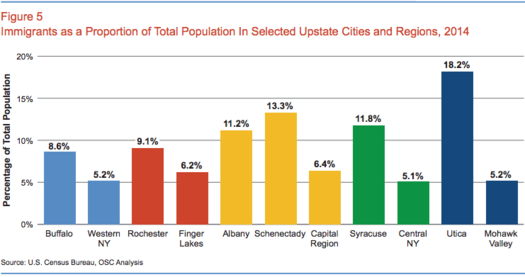 You can click on this graph for larger version.
Utica and other big upstate cities have relatively large immigrant populations
At 18 percent of total population, Utica has the highest percentage of immigrants among upstate cities, according to the OSC report.
But Schenectady (13.3 percent) and Albany (11.2 percent) also rank up there.
Upstate's big cities have relatively large portions of immigrant and first generation kids
As you might expect because of its overall immigrant numbers, Utica has the largest percentage of immigrant and first generation kids among big upstate cities at almost 25 percent. But Schenectady (#2, more than 15 percent) and Albany (#4, almost 15 percent) both rank up there, too.
In a Times Union article earlier this year, it came up that students in the district speak 53 languages other than English -- and there are now more than 1,000 students for whom English is not their first language.
New York State ranks #3 in the nation as a destination for refugees
Since 2005 New York State has been behind only Texas and California in being a destination for refugees, the report concludes based on numbers from the Department of Homeland Security.
Even so, the total compared to all immigrants isn't that big. In 2014, the number of refugees admitted to New York State was 4,100 -- compared to 141,000 immigrants receiving green cards that year.
Comparing upstate and downstate, there's a divide in the origin countries of immigrants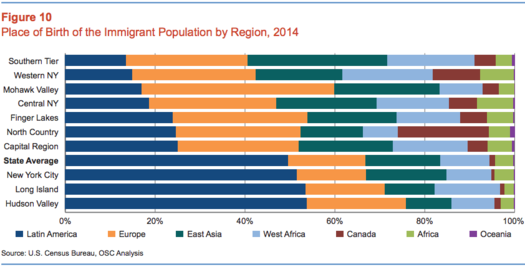 As you might be able to make out from the report graph above (click for a larger version), large portions of downstate immigrants come from Latin America. But upstate, the portion is noticeably smaller, with larger portions coming from regions such as Europe, East Asia, and West Africa.
____
Earlier on AOA: The Capital Region is growing. Slowly.
Hi there. Comments have been closed for this item. Still have something to say? Contact us.