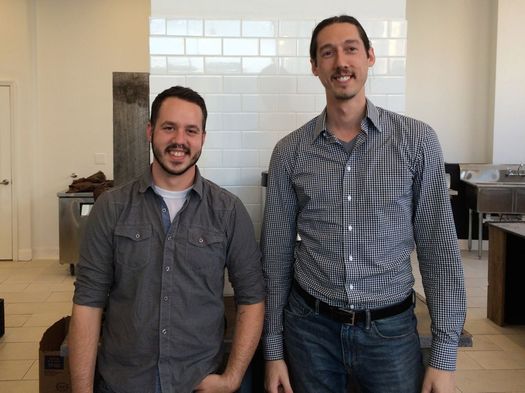 Earlier this year Stacks Espresso Bar co-owner Tyler Wrightson was in downtown Albany looking at office space when someone mentioned the retail storefronts on the street level of the Arcade Building on Broadway, the upper floors of which had recently been converted to apartments.
"It was completely busted," he said of a space in the building's northeast corner, which had been vacant for many years.
But the windows. Really big windows. Windows that provide a view in two directions out, and allow light to stream in. So he brought the crew of Stacks down from Lark Street to see it. The conclusion: "It would be killer to do something cool here."
This Monday, November 7, Stacks Espresso will open in that Arcade Building space. And the plan is to be open from 7 am to 7 pm -- seven days a week -- to serve both the daytime tide of downtown workers and the neighborhood's growing residential population.
Here's a quick peek at the space, along with a few bits from a chat with Wrightson and co-owner Ron Grieco about why they picked downtown Albany for their second location, and why they picked it now.

On Wednesday there was still some setup ahead for getting the shop ready to open. But even covered up with paper, the windows let in a of light.
Why now? And why downtown?
Wrightson and Grieco took over the former Caffe Vero on Lark Street 2.5 years ago, and have focused Stacks on high-quality and speciality coffee and coffee drinks. (Tagline on the shop's website: "Embrace your inner coffee nerd.") And they say business has been on a steady upward swing, with strong revenue growth. So they've been looking to expand.
Why downtown Albany? One of the biggest reasons is the neighborhood's recent shift toward residential, as one building after another is converted to apartments.
"I love it," Wrightson said of the transformation. "I've lived in Albany the past 15 years, mainly in the Madison/Lark area, and downtown, even five years ago, had a completely different feel. It was dead. On weekends there would literally not be a single car. Now, my wife and I moved down here, and it's night and day already."
Grieco said they were encouraged to hear from the owners of Cider Belly, which is located on North Pearl Street, that the donut shop does brisk business on the weekends, which you might not expect in a part of town that traditionally has been regarded as being active Monday-Friday.
"This is only the beginning," said Wrightson of downtown's shift. "There are so many amazing projects going on right now. I can only imagine where we're going to be at in five years."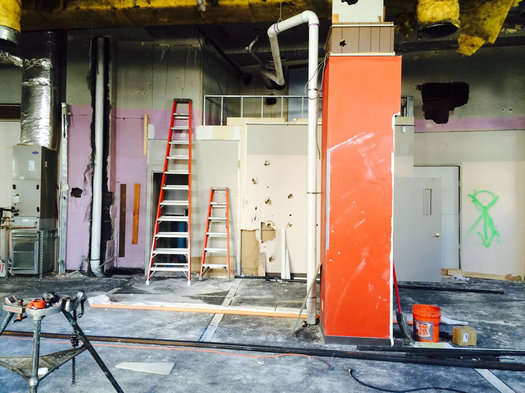 What the space looked like before renovation. / photo courtesy of Ron Grieco
Learning from the Lark Street experience
The first Stacks location is on Lark Street, between Hudson Ave and Jay Street. So they have experience making a shop work in a relatively dense, urban location.
"The biggest thing is just service," Grieco said of lessons they're planning to transfer from Lark Street downtown. "That has been our number one goal from the very start, before we even opened, the first time Tyler and I sat down, we talked about how, despite keeping a super high bar for the coffee, [service] was more important. How we treat people, and the relationships we build over the counter every single day. That remains our number one thing, that will be our number one thing down here."
As Grieco noted, a coffee shop is a volume business. If you're successful, it's because you've built up a crowd of customers who keep coming back. And relationships are a big part of that.
"It's been great to be on Lark Street because it's in the center of a residential community ... And we get a lot of the same people every day, so we've been able to develop these relationships with people. So to take that into a building where people literally live in the same building as the shop, or people work across the street every single day, we can carry that on."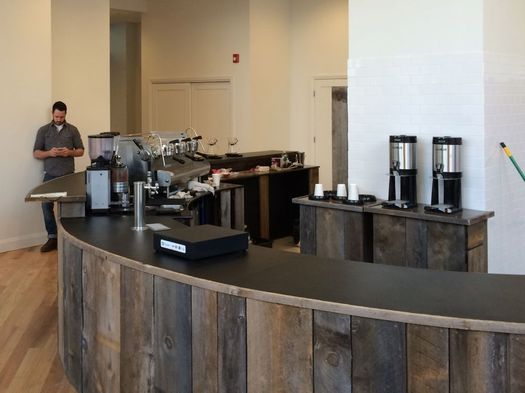 The space was designed by StudioEIQ. And the semi-circular bar that stands in the middle of the space was custom built for Stacks.
On working with the city
Ron Grieco: "I feel like it's a pretty rare thing for people to be like, 'The city was awesome to work with.' But... the city was awesome to work with. The city and the county were like, "You got a business and you need to open? We'll be there. Which is really great, and just so helpful to us."
Stacks also scored a grant from Capitalize Albany's Downtown Retail Grant Program, which assists with the costs of renovating and fitting up a space.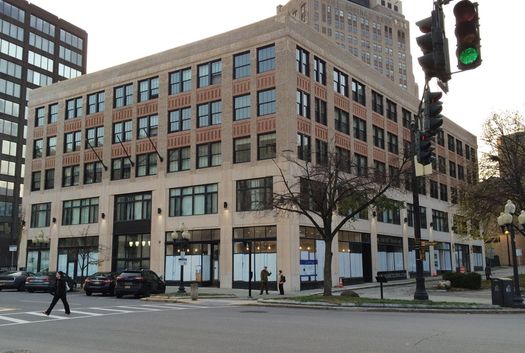 On what they'd like to see sprout up around them
As downtown Albany shifts toward a more residential, all-day neighborhood, Wrightson and Grieco said there are a few types of businesses they'd like to see established in greater numbers there.
"Short term, we need other businesses similar to ours that people just naturally need to live down here," said Wrightson. "The number one thing being an expanded grocery store. I love what Chris [Pratt] did with the Steuben Market, it's a fantastic start. But we need more things like that. To make it livable and walkable. ... Mid-to-longterm, it's all those other additional things, unique retail boutiques -- clothing and nicknacks and local things."
Added Grieco: "I'd love to see a really legit farmers' market. I'd like to see a Troy waterfront-caliber [market] or building to that. There's the one on Wednesday in the afternoon and there's the one on Thursday in the afternoon, and that's cool for us who are down here and can leave during lunch hours. But you look at the Saratoga farmers' market, obviously Troy, even the Delmar farmers' market, and they become this routine that draws people there from outside of that immediate area and it becomes a whole destination."
And another change they'd like to see: Further investment in recreational opportunities along the riverfront, which is accessible from the pedestrian bridge just across Broadway from the Arcade Building.
"We need a real attraction on the river," said Wrightson. "That is such an underutilized asset."
Opening day -- and Free Drink Day
As mentioned, opening day is Monday, November 7. Hours will be 7 am to 7 pm, seven days a week.
On November 17, Stacks will be offering any of its drinks for free -- all day -- at the Arcade Building location. And that evening the downtown shop will be hosting the Thursday Night Throwdown latte art competition in which baristas from a range of shops (and even home enthusiasts) compete for prizes. The contest is $5 to enter, and free to attend. Nine Pin will be there with cider, and Cider Belly will have donuts.
____
Earlier on AOA:
+ Apartment living in downtown Albany
+ New home for Albany Center Gallery in the Arcade Building
Find It
Stacks Espresso Bar
488 Broadway
Albany, NY 12207
Hi there. Comments have been closed for this item. Still have something to say? Contact us.