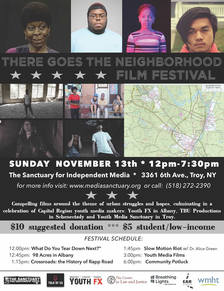 The There Goes the Neighborhood Film Festival will be at the Sanctuary for Independent Media this Sunday, November 13 with a bunch of films and talks focused on urban communities, history, and the tensions involved with redevelopment.
The quick schedule listing:
12:00 - What do you tear down next
12:45 - 98 Acres in Albany
1:15 - Crossroads: The History of Rapp Road
1:45 - Slow Motion Riot
3:00 - Youth Media Makers
6:00 - 7:30 - Community Potluck
Many of the films will be paired with talks from people who were involved with making the film and/or with the issues highlighted in them. And the youth media films will feature works from Youth FX (Albany), TBU Productions with Proctors (Schenectady), and Youth Media Sanctuary (Troy).
Tickets are $10 and available online.
Earlier on AOA:
+ 98 Acres in Albany
+ Hey there, Bhawin Suchak, YouthFX program director
+ The Rapp Road Community Historic District