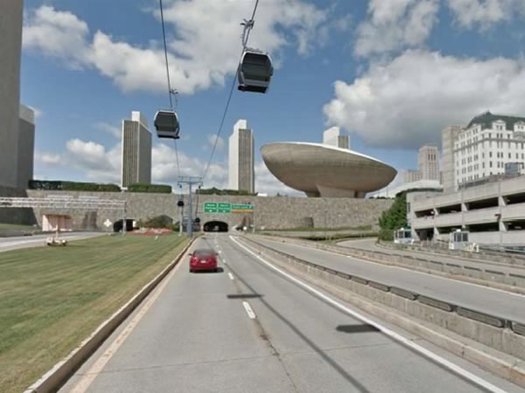 Maybe you remember a while back the idea popped up of constructing a gondola lift to ferry people between downtown Albany and the train station over in Rensselaer.
Well, the engineering firm that floated the possibility -- McLaren Engineering Group -- released a feasibility study Wednesday that concludes the project is workable, and "retains the potential of being a transformational project that will create a spark of increased mobility, tourism, and economic development in two areas of the cities of Albany and Rensselaer that are currently underdeveloped."
Here's a quick overview and a few thoughts...
Outline of the plan
Here's a general outline of the possible plan:
+ A gondola lift stretching from the Albany-Rensselaer train station to downtown Albany roughly along the path of the Dunn Memorial Bridge and the South Mall Expressway.
+ The first phase would run the gondola line from the train station to a spot on South Pearl Street near the Times Union Center.
+ Phase two would extend the line to the Empire State Plaza.
+ Estimated travel time between the train station and South Pearl Street: 4.27 minutes. Estimated travel time between the train station and the Empire State Plaza: 6.58 minutes.
+ The system would initially to be able to handle 1,200 passengers per hour. Cabins could be added to increase capacity.
+ Depending on the final design, phase one is projected to cost roughly $16.6 million-$19.5 million. Phase two would tack on an additional $9-$10 million.
+ Annual operating costs for phase one would be $1.6 million. For phase one and phase two, $2.4 million.
+ The report projects ridership "well in the hundreds of thousands each year." And it asserts construction and operating costs can be offset by passenger and advertising revenue.
+ The report lays out a range of possible funding mechanisms, from fully-private backing to public backing, to a mix of the two.
+ If funding is lined up by the summer of 2017, construction could start in 2018, the gondola could be finished by the end of 2019.
Renderings
A handful of renderings from the report about how the project might look are above in large format -- click or scroll all the way up.
A few thoughts
Potential passengers
The Albany-Rensselaer train station is the nation's ninth-busiest Amtrak station -- it had more than 780,000 passengers either boarding or disembarking at the station in fiscal year 2014. That's roughly 2,100 passengers per day over the course of a year.
How many of those people are either headed to or coming from downtown Albany? Probably quite a few. But enough for there to be "hundreds of thousands" of gondola passengers each year?
When you're a hammer...
As mentioned, McLaren Engineering Group backed this study. And it pulled in collaborators that include Doppelmayr, "the world's leading manufacturer of ropeway technologies for gondolas," and a company called Urban Gondola Systems LLC. Everyone involved in this process could very well be making a good-faith effort to be clear-eyed about the potential and costs. But getting a feasibility study from a group with nothing to gain is a good idea.
It might sound ridiculous, but...
We gotta admit: Our first thought when hearing about this idea was something along the lines of, "Uh... OK." And we're still skeptical. (You know, how about a really nice dedicated bus instead?)
But the current situation is not ideal. The historical decision to site the train station over in Rensselaer was a bad idea (even if there some context at the time for doing so), separating the rail destination from the urban center. It introduces another layer of complication for making transportation connections, one made even worse by this area's often disappointing taxi service.
So maybe there's something here to think about. And if not this, maybe there's some other alternative idea to consider.
It's more of a Shelbyville idea...
That said, the whole thing still reminds us of "Marge vs. the Monorail."

____
Earlier on AOA: New York State could be closer to allowing Uber and Lyft to operate here. Maybe. Sort of. (From this past spring -- the legislation opening the way for taxi app companies has still not made it through the state legislature.)
Hi there. Comments have been closed for this item. Still have something to say? Contact us.