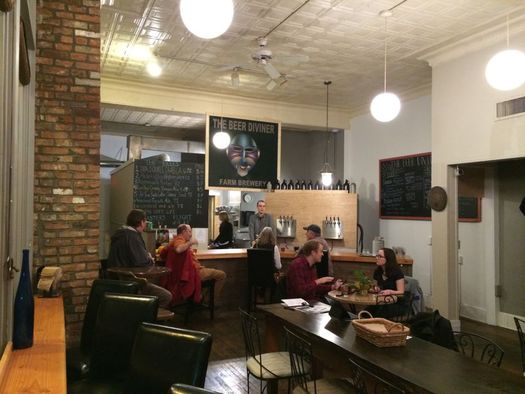 Quick follow-up on the news that Beer Diviner was opening a tap room in downtown Troy: The bar is now open at 461 Broadway (at the corner with 5th Ave) -- and the grand opening is set for this Friday.
Here's a quick look around, along with a few bits about the new place...
Photos
There are a handful of photos above in large format -- click or scroll all the way up.
The Beer Diviner?
The Beer Diviner is a farm brewery located in Cherry Plain in Rensselaer County. A few years back Casey talked with owner Jonathan Post about the operation, his approach to beer -- and how he became known as the Beer Diviner.
"It's all about being local," Emma Post -- Jonathan's daughter, and the manager of the new Troy tap room -- told us Wednesday evening about her dad's approach to brewing. "He's trying to make newer flavors with local ingredients and push the boundaries there."
She pointed to the gruit that was on tap Wednesday, that relies more on a mix of local herbs rather than hops for flavoring. (It was one of 8 beers -- well, 7 beers and Nine Pin -- that was on tap.)
Why Troy?
"We wanted to open [the brewery's offerings] up to more people, and Troy seemed like the place," Emma Post said. "There are so many spots open. And we knew some people here, people were urging to us come. Then we approached some of the other breweries here and asked what the scene was like and whether it'd be OK if we came, and they were so welcoming."
What to example
Post said they want the Troy bar space to have a "really homey feel," a place where people are comfortable meeting up with friends.
Along with the beer, there's also a food menu with items such as panini, pizza, and Belgian-style fries. And like the beer, many of the ingredients are locally-sourced.
"It's kind of like it's coming from your mom's kitchen," said Post.
Also in the plans: small events. Post said they've already lined up a few music groups, she's starting a writers reading group, and they're looking for art.
If anyone has an event like that in mind, she says they'd be interested in hosting: emma@thebeerdiviner.com.
Open hours to start are Wednesday-Friday 4-10 pm / Saturday 11 am-11 pm / Sunday 1-6 pm.
Find It
The Beer Diviner
461 Broadway
Troy, NY 12180