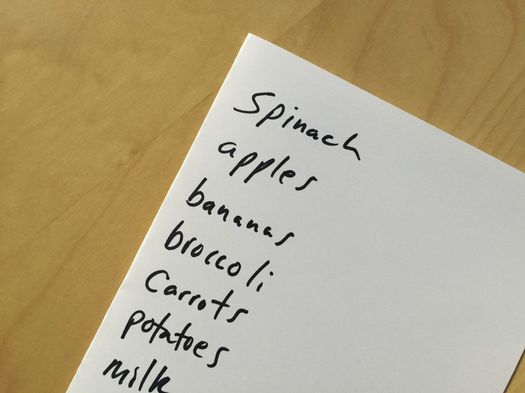 It's back: Supermarket Showdown, in which check prices for a basket of 40 items across multiple supermarkets here in the Capital Region.
The showdown has taken a few years off -- the last time we did it was in 2012 -- and this year it returns with a new basket and three new stores.
Without further ado, let's get to it...
The setup
Here's how this works: We pick a "basket" of 40 grocery items and check their prices across multiple stores. The goal is to match the items as best we can from store to store to get a snapshot of how prices compare. In some cases that works better than others -- and, as we explain below, the addition of a new set of stores caused a significant wrinkle in making like-for-like comparisons.
The stores in this year's comparison: Hannaford, Price Chopper, ShopRite, Walmart, Fresh Market, Honest Weight, and Whole Foods. For reasons expanded upon below, we've split these stores into two groups: what you might call regular or mainline supermarkets (the first four) and an alternative group (the last three).
After using the same basket of items for five years, we changed the basket this year to focus solely on grocery items. So items such as toilet paper and trash bags are out. In picking new items, we tried to compose a basket from which a household could realistically make a range of meals over the course of a week. This new basket leans more toward foods that require some sort of preparation -- a whole roasting chicken, for example -- as opposed to convenience or pre-made foods. (Though there are still some packaged or processed items in there.)
As we've mentioned in years past, your mileage will almost certainly vary if you pick a different basket of items. This is, at best, one snapshot at one moment in time taken from one angle.
The numbers
The price comparison numbers are above in large-format tables -- click or scroll all the way up.
Here's a more detailed table of the mainline supermarkets with notes and adjustments for package size.
Because of the difficulty in comparing items across the alternative group of stores, we've included those notes right alongside the prices.
The prices used above include sale prices and prices available with store loyalty cards (Price Chopper and ShopRite). They do not include prices that require a shopper to buy a minimum number of items to get an item discount. They do not take into account potential gasoline discounts from Price Chopper, nor they do take into account potential member discounts at Honest Weight.
Prices were checked November 11-13, 2016 at the following locations: Hannaford (900 Central Ave), Price Chopper (Westgate), ShopRite (709 Central Ave), Walmart (Crossgates Commons), Fresh Market (Latham), Honest Weight (Albany), and Whole Foods (Colonie Center).
Again, your mileage will almost certainly vary.
A few notes and observations
Walmart
Walmart once again had the lowest overall basket price. That's not surprising -- it's been the case every time we've done this comparison.
Comparisons, easy and hard
It's relatively easy to put together a basket of items that can be compared across the mainline supermarkets -- if you look at the price table for those stores with the detailed notes and discrepancies, you'll notice there aren't actually that many variations.
That is not necessarily the case for the "alternative" group. Fresh Market and Whole Foods weren't too far apart in terms of making like-for-like comparisons in this basket, but Honest Weight stood apart. And in that sense, the most this comparison might be able to say about this group is that they're not necessarily like each other.
This is especially true for Honest Weight. Its total basket price was much higher than the other two stores in its category, but a lot of that difference is attributable to two things: Honest Weight simply doesn't stock like-for-like items (example: it basically doesn't carry traditional deli meat) and many of its offerings are organic (even compared to Whole Foods).
As it happens, these complications in making cross-store comparisons is one of the reasons we didn't also do some of the alternative discount stores such as Trader Joe's and ALDI. (Though maybe it'd be worth trying it in the future just to confirm.)
What's organic worth?
Speaking of organic items: We only included organics in this price comparison when that was the sole option, otherwise we priced the conventional item. Despite what might be their more upscale reputations, both Fresh Market and Whole Foods stock many non-organic options, especially in packaged foods (though Whole Foods does impose some restrictions for these items -- like the use of cage-free eggs). But in the case of Honest Weight, 17 of the basket's 40 items were organic. And many of those items had higher prices than their conventional counterparts at the other stores.
So, in some sense, it's a question of how much organics are worth to a shopper.
Not like the others
And one more thing about Honest Weight: Because it's unlike these other stores, shopping there probably requires a different approach. There are some things -- like deli meat or soda -- that are probably not a wise buy there no matter what. And, frankly, you're probably not going to Honest Weight for those items anyway.
But there are also unusual opportunities there. The co-op's extensive bulk section is a good example -- it is unlike anything at the other markets, offering a wide range of hard-to-find products and the ability to buy ingredients in exactly the amount you need or want.
And there's also issue quality comparisons. One example: The ice cream we priced at Honest Weight -- Golden Organics -- was .50-$1 more expensive than the Ben & Jerry's at the other two stores. But Golden Organics is organic (and local). And, based on our experience and preferences eating both brands, it's also better that Ben and Jerry's. So, again, it's a matter of how much that's worth to you.
Pricing strategies
One of the most interesting things to us about doing this pricing comparison is the way it highlights the various pricing strategies of the stores. Quick takes on the mainline stores:
+ Hannaford: not a lot of sale prices -- presumably its prices don't change a lot
+ Price Chopper: lots of items on sale with Advantage card, some with relatively large markdowns from the listed regular price
+ ShopRite: a lot of sale items, and also quite a few "must buy (insert number)" sale prices
+ Walmart: low prices, many ending in numbers other than "9" -- and also a noticeable number of items that appear to be priced a penny cheaper than the other stores
When you line up all these prices, the ending-in-9 strategy really pops out. And Walmart's non-adherence to the strategy -- perhaps because it sets the price according to a margin target and doesn't care about whether the final price is a 9-ender -- sticks out.
Must buy (insert number)
One strategy we hadn't noticed much in previous years, but stuck out at ShopRite this year: sale prices that require the shopper to buy a certain minimum number of items. These aren't just, say, 2 for $5 sales -- they're, you must buy 2 to get the $5 price sales.
This might not seem like a big thing. And maybe it's not for a lot of people -- if you end up with a few extra jars of pasta sauce, they can sit in the pantry no problem for months. But... if you're stretching to make ends meet, being forced to buy in groups could make it that much harder. Sure, the overall price might be smaller, but it's taking up the limited amount of cash that you have now.
Shrink ray
Another thing that you notice when doing these price comparisons over many years: the size of many items has shrunk over time.
Example: In 2010, a package of Oreos was 18 oz. By 2012 it was 15.5 oz. And this year it was 15.35 oz.
More Supermarket Week 2016
+ Giving ALDI a try
+ Recalling the grocery stores of Albany's past
+ What's a bit of supermarket shopping savvy that you can share?
Hi there. Comments have been closed for this item. Still have something to say? Contact us.