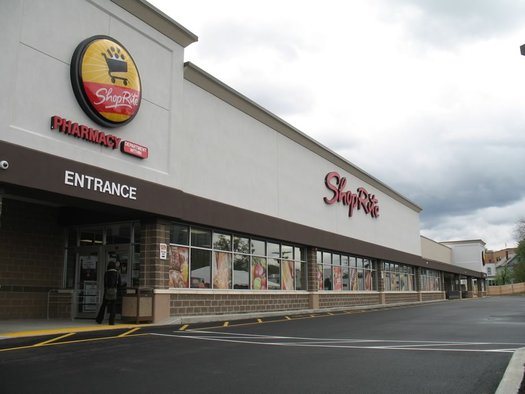 It's Supermarket Week again on AOA. All this week we'll have posts comparing, thinking, and talking about supermarkets. Hey, we all have to eat.
Yes, that grand tradition -- the Supermarket Showdown -- has returned. As we have for the past (gulp) four years, we price checked a basket of items across the local supermarket chains.
New this year: ShopRite.
Can it unseat Walmart, the four-time defending champ? And how have the other two players reacted to its arrival?
Results from: 2011 | 2010 | 2009 | 2008 (when looking at past years, please note the laundry detergent adjustment explained below)
Lowest prices have a green background.
Asterisks indicate which prices were marked as sale prices. For Price Chopper that includes the price you'd pay with an AdvantEdge card. For ShopRite it includes it's "Price Club" card. And for Hannaford that includes the "This Weekly Only" prices.
As in past years, we did our best to match prices against the same basket of 40 products. In some cases the matches aren't perfect.
Discrepancies and other important notes are below.
Fine print: Prices were collected on May 22, 2012 at the Price Chopper in Albany on Central Ave, Walmart on Washington Ave Ext, Hannaford in Albany on Central Ave, at ShopRite in Albany on Central Ave. We tried our best to compare similar items. Some items -- such as deli meat or sandwich bread -- couldn't necessarily be matched for quality. You could probably pick a different basket with different results. Different locations may also yield different results. Your mileage will almost certainly vary.
A list of the brands and sizes we checked this year (pdf).
An spreadsheet file of this year's data (xls).
Discrepancies
Shampoo: Hannaford didn't have the 750 ml size of PertPlus, so we used a prorated price based on a larger 40 oz bottle. Prorating from a smaller bottle would have resulted in a higher price.
Dog food: The Pedigree adult dog food now comes in 17-pound bags, instead of the 20-pound bags in previous years.
Cookies: Oreos now come in 15.5 oz bag, instead of a 16.6 oz bag in 2011. They came in an 18 oz bag in 2010.
Frozen vegetables: The Price Chopper price is a prorated price based on a 4-pound bag, which might have resulted in lower price.
Sandwich bread: Store brand whole wheat sandwich bread varies in size -- from 20 oz (example: Walmart) to 16 oz (example: ShopRite).
Milk: The Price Chopper price is for 1% milk, not skim.
Crackers: Triscuits now come in a 9 oz box, instead of a 9.5 oz box in 2011.
A few notes and observations
+ The basket for each store increased in price this year -- though it was a small increase at Price Chopper and Hannaford. Walmart was up more than 5 percent. (Obviously, we can't do a year-to-year for ShopRite.)
+ Buying this basket at Price Chopper would earn you a 10 cent/gallon gas discount at Sunoco, so adjust accordingly if you're so inclined. (The discount would have 30 cents/gallon under the old formula. It changed recently.)
+ ShopRite's overall basket didn't end up shockingly low or anything -- it's a bit more than Hannaford. But a few of its item prices were ridiculously low. Example: a container of Haagen Dazs for $2.27 is crazy cheap -- more than a dollar cheaper than anywhere else. It's per-pound price for chicken -- $1.77 (for a 2-pound pack) -- was also crazy low. It will be interesting to see if it continues what we're guessing is a loss-leader strategy -- or if this is just "Hey, we're new, check us out" pricing.
+ Hannaford is now the closest any of the tracked stores has ever come to matching Walmart's basket price during the last five years -- the difference this year is 5.9 percent. The previous smallest difference was 6.7 percent (Hannaford 2009).
+ As in years past, Price Chopper and Hannaford continued to stick with the x.99 pricing strategy. It looks like ShopRite generally uses that strategy, too. Walmart continues to not seemingly care about x.99.
+ In 2011, the price of butter was up about 35 percent on average compared to the year before. This year: it's down more than 25 percent.
+ If this basket represented your weekly shopping (it's probably too big, and too heavy on items such as laundry detergent), here's the difference in how much you'd spend per week and per year:
The bottom line
No surprise, Walmart is still the cheapest, but Hannaford has narrowed the gap. ShopRite is competitive with Hannaford and Price Chopper -- and, at least for now, has a few crazy low prices. Price Chopper continues to be the most expensive for this basket.
Supermarket Week 2012:
+ Delivery! Comparing ShopRite from Home and Price Chopper Shops4U
+ Annoyed in aisle 5
+ When will Trader Joe's open -- a prediction pool
Hi there. Comments have been closed for this item. Still have something to say? Contact us.