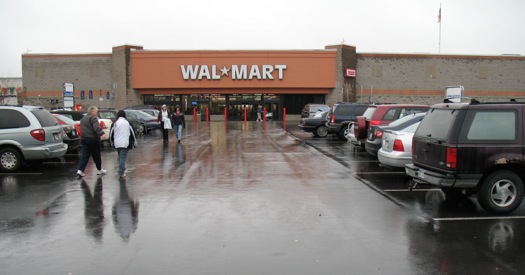 AOA's annual comparison of local supermarket chain prices is back. Walmart is the two-time defending champ -- and it hasn't even been close.
Can Hannaford or Price Chopper close the gap this year?
As in past years, we did our best to match prices against the same basket of products. In some cases the matches weren't perfect. Discrepancies are noted with (!).
Lowest prices have a green background.
Asterisks indicate which prices were marked as sale prices -- which, at Price Chopper, is the price you'd pay with an AdvantEdge card.
fine print: Prices were collected on March 28 at the Price Chopper in Albany on Central Ave, Walmart on Washington Ave Ext and Hannaford in Albany on Central Ave. We tried our best to compare similar items. Some items -- such as deli meat -- couldn't necessarily be matched for quality. Your mileage will almost certainly vary.
A list of the brands and sizes we checked (pdf).
An xls file of this data.
Discrepancies
! Walmart didn't have macs, but their loose apples are all priced at $1.27 per lb, so we used that price.
!! Walmart didn't carry the 750 ml Pert Plus so we used the price of two 350 ml bottles.
!!! Walmart and Hannaford only had 54 counts of the Tamax variety pack. Price Chopper still carried the 40 count from last year.
!!!! Prego now comes in 24 oz jars. Last year it came in 25 oz jars.
!!!!! Price Chopper didn't have the 1 lb bag of frozen veggies, so we used half the price of a 32 oz bag.
!!!!!! Walmart didn't carry the 12 oz jar of Smuckers Strawberry Jam so we used price of the 18 oz jar.
# The prices for the laundry detergent are half the listed price to adjust for the switch to 2x concentrate made between 2008 and 2009.
A few notes and observations
+ The overall cost of the "basket" was down at all three stores this year compared to last year. That's quite a contrast from the price increases last year, which ranged from 6-10 percent. (The Bureau of Labor Statistics reported in February that prices for "food at home" were down 1.5 percent from the same period the year before.)
+ Here's a chart of the 10 items with the biggest percentage price change from last year (we used the average of the prices from the three stores):
+ As we've seen in years past, Price Chopper and Hannaford tend to price items ending in 0, 5 or 9. Walmart appears willing to price items more "oddly." Interestingly, Walmart had a few items priced just a penny cheaper than the other stores. We're guessing that's not totally a coincidence.
+ One thing this price comparison doesn't take into account is the Price Chopper gas discount program. Depending on how much gas you buy (and if you buy it at Sunoco) or ride the bus, the discount could the lower cost of shopping at the Chopper.
+ If this basket of items is roughly representative of a typical weekly shopping trip (it may be a little bigger than usual and a little heavy on items such as laundry detergent), then shopping at Walmart would save you $910.52 over shopping at Price Chopper and $643.24 over Hannaford during the course of a year.
Earlier on AOA: Aldi came out on top in a 2008 comparison of non-name brand products

The Bottom Line
Prices were down at all three stores this year -- the most at Walmart. And it wins again.
Hi there. Comments have been closed for this item. Still have something to say? Contact us.