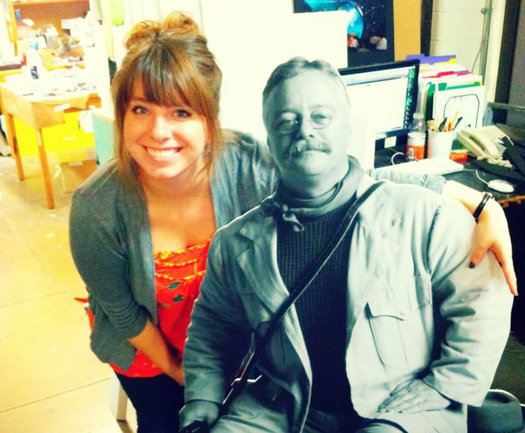 Gifts and giving are on most everyone's mind this month. So we're asking people to share some thoughts on presents, past and present, charities, and wishes for the next year.
Nicki Brown is a southerner transplanted in Albany who lives with her husband, two cats, a a dog. She's the associate director of Historic Albany Foundation, a museum fanatic, and admirer of anything that Tina Fey touches.
What gifts would you like to get this year?
My New Year's resolution for 2016 (blerg) was to focus on new hobbies and learn new skills, so I would love cooking or sewing classes. I adore cooking and it's my number one stress relief after a long day. I also want to start a supper club with friends in the New Year (which I haven't mentioned yet, hi friends!) so I want to up my game a little bit.
What gifts would you like to give this year?
My absolute favorite person to shop for is my sister. She lives in my hometown of Atlanta and gets the biggest kick out of the silliest gifts. Every year I try to surprise her with something she won't expect. This year it will be that mermaid blanket that made the rounds on the internet.

Also, a Geek Squad Tech Support membership for my Nana, who has mastered the use of emojis but constantly has questions about her computer, and pretty much everything from Henry Loves Betty for my pets.
I also tend to gift museum memberships a lot. When in doubt, go with art and culture... you can't go wrong.
What charity would you like to support?
This is the hardest question of all because there are so many great ones right around us. If I had to choose, I would pick Whiskers Animal Benevolent League. I adopted my cat Agatha from them a couple of years ago and I'm amazed by all they accomplish with just volunteers.
I am also on the board of Historic Cherry Hill and am steadfast in the belief that they are one of the best kept secrets in the region.
What is your most memorable gift?
When I was 11, my grandparents gave my sister and me a Shih Tzu puppy who we named Lily. She grew up to be the cutest dog that was the light of our lives for many years.

I mean, how do you top a puppy?
What is your wish for the New Year?
I have never really been into the glitz and glam of New Year's Eve, and on the first one that I spent with my now husband, we stayed in, drank champagne, and at midnight watched a YouTube video of all of the Times Square ball drops from the past 40 years. It's now a tradition that I love.
My wish for the New Year is to spend time making more traditions like those with people that I care about. All of my closest friends are spread out all over the country, so more travel would be great too!
____
Compiled by Deanna Fox.
More holiday gifts 2016
+ Jamel Mosely