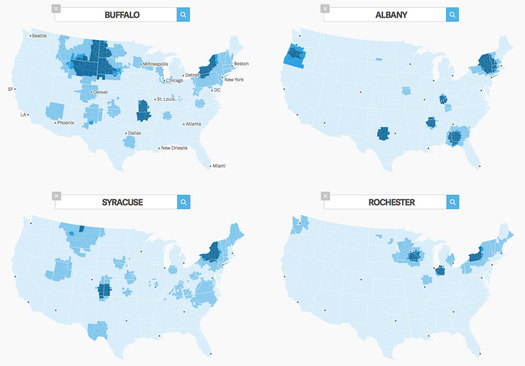 Filed under the Mental Geographies of Upstate: We were playing around with this Twitter word mapper over at Quartz during the break -- it maps the frequency of use of words on Twitter in US counties -- and dropped in the names of Upstate's major cities to get (another) smudgy sense of the regional divisions.
The aggregate map is above -- but here's a larger version.
As with other regional comparisons of Upstate, the results highlight that there appears to a dividing line of sorts that runs through Central New York -- Upstate leans toward Buffalo on the west, and toward Albany on the east. (Call it the Wegmans-Price Chopper line.)
Aside from showing the various spheres of upstate city Twitter influence (or whatever you would call it), another fun thing about the map is way it highlights other cities around the country with the same names. (And in the case of "Buffalo", maybe also the presence of actual buffalo/bison out west.)
Earlier on AOA: What if Albany is upstate, but not "Upstate"?
Hi there. Comments have been closed for this item. Still have something to say? Contact us.