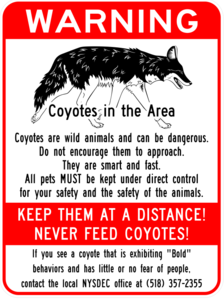 The city of Albany announced Wednesday it's posted coyote warning signs in the area of the Capital Hills golf course and Normanskill Farm following word from residents of recent coyote sightings. (The properties are adjacent to each other along the Normanskill on the city's southern edge.)
That's a sign image the city distributed. From a city Department of General Services press release:
Residents and dog owners should be mindful of coyotes when walking dogs in the neighborhood and letting dogs out in their yards. Coyotes are wild animals and they can be dangerous. Do not encourage them to approach or feed them. If you bring your pets to Capital Hills they MUST be kept under direct control for your safety and the safety of the animals.
If you see a coyote exhibiting "bold" behaviors and showing little or no fear of people, contact the local New York State Department of Environmental Conservation at 518-357-2355.
As we've mentioned before, coyotes -- specifically eastern coyotes -- have been moving into New York over the last century and seemingly popping up more frequently in this area in recent decades. The Pine Bush is a hot spot for them, and as the city noted today, they show up at Capital Hills, too. (Otto and a friend saw a coyote there one time and it was very exciting.)
Coyotoes tend to be stealthy, often capable of moving through urban areas without being detected by humans. And in forested areas? Ha, good luck with that.
Last year over at the Altamont Enterprise, Melissa Hale-Spencer wrote an interesting article about the lives of coyotes and their presence in the Hill Towns.
And please don't feed them! As former State Museum curator of mammals Roland Kays said to us years ago in an interview about animals such as coyotes and fishers and bears showing up in urban areas:
The other thing that can drive populations really high is feeding the animals. It's really important that people appreciate the animals and the rare glimpses they get, but not feed them because that causes numerous problems. You know, if you have a coyote that's used to coming into a backyard looking for food, then maybe it goes into your neighbor's backyard and they have a one-year-old kid or a dog or cat and you potentially have a problem. That hasn't been a big problem here, but it has in other regions with coyotes.
So please don't feed the animals. You're causing problems for all your neighbors. And by trying to help the animal, you could end up getting it killed. What happens is that a bear becomes a nuisance and it gets shot. And the person whose fault that was was the person who started feeding it.
Earlier on AOA: About those coyotes
Hi there. Comments have been closed for this item. Still have something to say? Contact us.