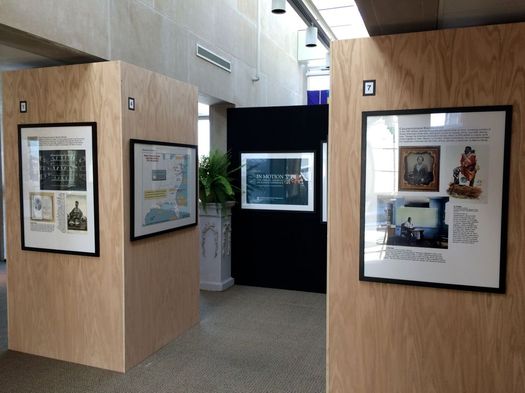 Opening this weekend at the Albany Institute: In Motion: The African-American Migration Experience, a traveling exhibit from the Schomburg Center for Research in Black Culture at The New York Public Library.
From the companion website for the exhibit:
[U]ntil recently, people of African descent have not been counted as part of America's migratory tradition. The transatlantic slave trade has created an enduring image of black men and women as transported commodities, and is usually considered the most defining element in the construction of the African Diaspora, but it is centuries of additional movements that have given shape to the nation we know today. This is the story that has not been told.
In Motion: The African-American Migration Experience presents a new interpretation of African-American history, one that focuses on the self-motivated activities of peoples of African descent to remake themselves and their worlds. Of the thirteen defining migrations that formed and transformed African America, only the transatlantic slave trade and the domestic slave trades were coerced, the eleven others were voluntary movements of resourceful and creative men and women, risk-takers in an exploitative and hostile environment. Their survival skills, efficient networks, and dynamic culture enabled them to thrive and spread, and to be at the very core of the settlement and development of the Americas. Their hopeful journeys changed not only their world and the fabric of the African Diaspora but also the Western Hemisphere.
As you might already know, one of the places changed by these migrations of Americans was the city of Albany. A contingent of people from the South -- mainly Mississippi -- moved to Albany during The Great Migration and settled in the South End. (There's now an annual Mississippi Day festival in Lincoln Park.) And it was from there that a group eventually moved out to the Pine Bush and created a new neighborhood, which is now The Rapp Road Community Historic District.
We got a chance to see the In Motion display at the Albany Institute Friday. It's not big, but there are a lot of interesting bits and is worth a look. It's on the museum's top floor, just keep heading up the main stairs. And it's free -- no admission required.
(Though if you're there, you should also check out the recently-opened Captured Moments exhibit.)
The Albany Institute advertises on AOA.