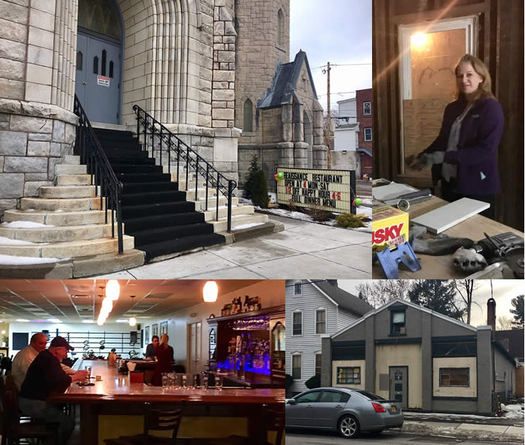 By Haley Viccaro
Schenectady's Eastern Avenue neighborhood, a residential strip not far from downtown and Union College, has been struggling for years with blighted buildings and closed businesses.
But several people are now looking past the deterioration and neglect, instead focusing on the potential behind the century-old homes and historic structures. They're investing money and time toward bringing new life to individual properties, hoping to lift the entire neighborhood.
Here's a look at a handful of people and projects.
Where is Eastern Ave?
The Eastern Avenue neighborhood is right in the heart of the city of Schenectady. It's a strip that extends from just west of downtown along Eastern Ave (thus the name) from Nott Street to Brandywine Ave, bordered by Vale Park on the south.
What's been happening
The removal of about two dozen abandoned properties in the neighborhood over the last few years -- as part of efforts by the Capital Region Land Bank, the Schenectady County Metroplex Development Authority and the city of Schenectady -- has helped pave the way for new development.
Ambitious and creative individuals like Sandra Vardine, Bonnie Novella and Mahmood Hakak are rehabilitating properties on Eastern. They envision the street in the future as a thriving residential area and arts and culture district.
"All you need to do is bring the capital in, get rid of the blight, and bring in the cafes and art galleries and apartments," said Novella, who is transforming three houses into apartments. "I hope that this area gets a nickname like 'The Eastern Avenue Arts District.' Sandy [Vardine] and I are chatting about what we're both trying to do along with Metroplex and the Land Bank. That synergy and that collaborative spirit is why it's going to work. I think that will only get stronger."
Here are a few of the ongoing projects in the neighborhood.
St. Mary's Church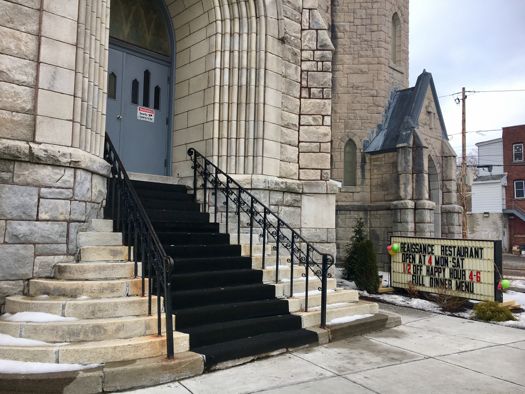 Sandra Vardine has a passion for restoring old churches and said she felt compelled to save St. Mary's at 828 Eastern. The church was founded in 1892 by Polish immigrants and closed in 2009 due to declining enrollment.
She purchased the property in 2014 for $60,000 not realizing the amount of work that would be required to restore the 20,000-square-foot building.
After a couple years of renovations, Vardine recently reopened it to the public. Although work is not completely done, she said she's excited for people to see it and to experiment with different uses for the space.
The church upstairs can accommodate 500 people. Vardine was able to recover its historic attributes, uncovering marble under the carpet of the altar and wood floor underneath the tile. She is planning to get it on the National Register of Historic Places.
"People can get married and can set up a band or play," she said. "We plan on having a couple art shows. It's a community space and can accommodate any type of event like dance. There is a group in Saratoga that lost its dance space and we're hoping to get them in here. There's so much potential and so many opportunities."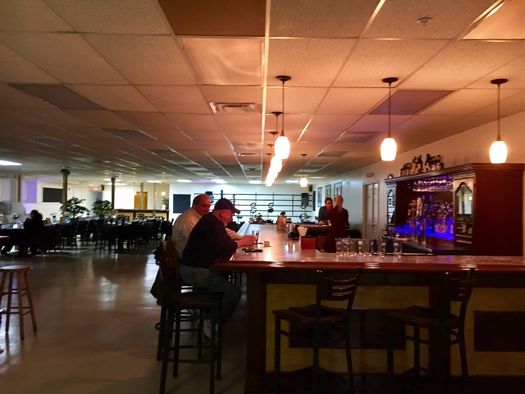 The Renaissance Restaurant at The Hall had its open house last month and is still in the soft opening phase. It's located downstairs and accessed from a side door that would go unnoticed if a wooden sign that reads "Renaissance Restaurant" weren't displayed atop its blue frame. It's open at 4 pm Monday through Saturday with a full dinner menu and happy hour from 4 to 6 pm.
The large open room has a marble-top bar on the right, high-top tables to the left and a more formal dining area toward the back. The dozen or so tables feature a vase with a few sunflowers that stand out against the black tablecloths.
The back wall facing the tables is covered with musical scores. On a recent Thursday evening a guitarist sat on a stool in front of the backdrop playing for two women eating dinner and a handful of people chatting at the high-tops and at the bar.
The restaurant features local bands and singers. It also has Latin Tuesdays with salsa dancing. Vardine said Latin Tuesdays will switch in March to Latin Thursdays with plans for a Mexican buffet.
Tapping into the church's cultural history, Vardine said she's looking to host a Polish night and a Taste of Italy event in the future. The building will also be the site of neighborhood association meetings.
"We get a nice mix of people who want to dance," she said. "It's lovely. We're more culturally oriented than the other restaurants. People want more than just downtown restaurants, they want culture."
Vardine also has her sights set on fixing the neighboring convent and vacant school off Eastern on Irving. She is working with Better Neighborhoods Inc. to do either a senior living facility or a bed and breakfast at the convent and an art gallery and work space at the school.
"If I didn't buy the church and put a roof on it we were going to lose the building," she said. "Just like the school. I did the same thing with the brownstones in Troy. It's not an investment, it's a passion for the architecture and what they were before. There was so much energy that went into these buildings. They still hold that energy."
Apartments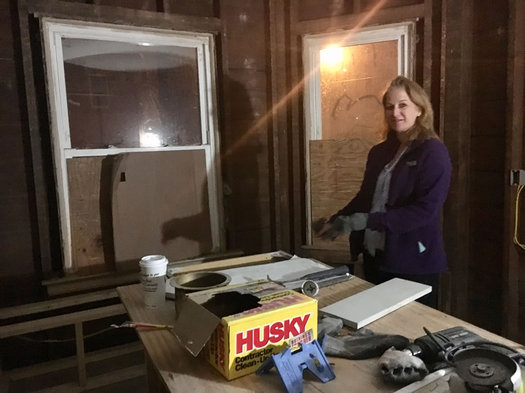 Bonnie Novella inside 854 Eastern Ave in Schenectady. She purchased the property after discovering it was part of the Breathing Lights project.
Bonnie Novella is renovating vacant properties at 762, 764 and 854 Eastern with aspirations to buy a total of 10 properties on the street and rehabilitate them.
In addition to the vacant homes, Novella said there are several zombie properties on the street that remain abandoned because they are stuck in the foreclosure process. That issue is keeping her from doing more in the area.
"It's difficult to figure out how to gain access to the properties and they are not foreclosed on yet so the land bank cannot do anything," she said. "They're blight to the community. It's hard because I would love to have a bigger impact by having more properties in a row. There is a property next to mine that is a zombie home."
Novella, along with Vardine, was part of the Breathing Lights public art project that lit up vacant homes to call attention to the issue with hopes for a solution. Vardine purchased 854 Eastern after discovering it through the project.
(Earlier: The push to breathe life into the buildings that breathed light)
Renovating the three homes has proven to be a lot of work and money. Novella is focused on keeping and enhancing their original character using reclaimed wood, sanding old doors, and installing wrought iron railings.
She is using local companies for the work including Anything But Bland Designs and Armando & Son's General Welding in Schenectady.
She said Eastern still has its challenges, including blighted homes and a couple drug houses, but people are starting to invest in the neighborhood, which is helping to slowly turn that around.
"I had my wallet stolen the other day," she said. "People are digging through cars. It's a huge inconvenience and a disappointment when you're doing work in the community. It has a reputation but I think one day it will be 'the neighborhood' that will be more affordable."
Novella sees future demand for housing on the street, which already houses many families and children, due to the proximity to downtown, Union College, Vale Park and bike paths and restaurants.
"I think overall there is a real positive energy here," she said. "I'm so optimistic."
Cafe Dialogue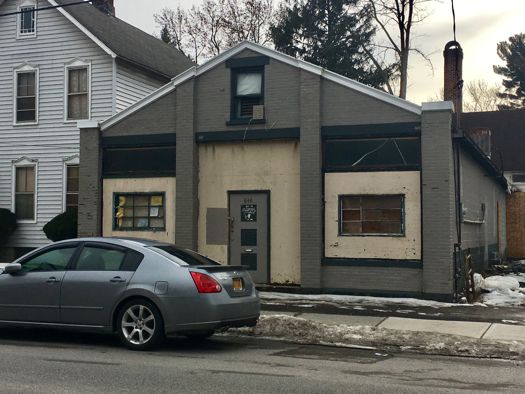 Mahmood Hakak purchased the former Copper Keg at 848 Eastern with the goal for it to be a gathering place for people of all backgrounds to talk with each other and learn from each other.
"In this time we're living in if you can't talk to each other it creates all kinds of unpleasant images of one another and brings us back to a world of animosity and hate," he said. "With all that I can at least facilitate a space, and what better than the arts?"
Like Vardine, Hakak is looking to have part of the café dedicated to displaying local artists' work. He's thinking of having one 100-foot wall feature a mural each year as part of a student art competition. The mural would be the backdrop behind the big wood bar.
The Café Dialogue will have a salad bar, healthy snacks and a wine bar. He said the café would employ a couple of people.
Hakak gutted the space and plans to keep it open with a stage and projection screen for people to dance, sing and watch films. He is also looking to host plays and fashion shows. There will also be a sitting/meeting room, a fireplace and a deck.
"The main attraction of the building for me is that it's spacious," he said. "In order to create an environment to talk to each other freely you need an open space. I'm also trying to do everything possible in the world of the arts."
Hakak is aiming to open the Café Dialogue on March 21, the Persian New Year.
In addition to the ground floor, Hakak is also building a two-bedroom apartment upstairs for people who may be traveling to stay the night.
Hakak said when he moved to the area about 15 years ago people didn't walk down Eastern Avenue. But now that's changing.
"I'm hopeful we will change the face of Eastern Avenue and Schenectady can go through a revitalization," he said.
Tribute Park
The Capital Region Land Bank demolished a couple buildings on Eastern between Lomasney Ave and Wendell Ave to make way for Tribute Park, which will be attached by a walking path to the underutilized 35-acre Vale Park.

David Hogenkamp, who works for Metroplex and is also executive director of the land bank, said the neighborhood was missing a public space for kids to play and adults to hang out.
Phase one of the project was completed last fall, which includes new sidewalks, lighting, fencing, landscaping and utilities. A fundraiser is being held to raise money for the second phase of the project, which is projected to total about $200,000, the same amount as the first phase.
"The second phase will install a splash pad for kids to cool off in the summer," Hogenkamp said. "We're hoping this summer it will be available. Too many kids are hanging out on the streets and playing in the streets so they need a place to play."
Hogenkamp said there are still a few properties off Eastern on DeGraff and Prospect that are mostly side lots that they're trying to sell to neighboring property owners.
The city recently was awarded a $1 million Restore NY grant, which will be used in part to renovate 764.5 and 739 Eastern. The funding will also go toward the renovation of the Annie Schaffer Senior Center into 30 apartments.
He said the Annie Schaffer project, on Nott Terrace by Eastern, will be mixed-income and that the land bank is working with the developer to have 10 units as affordable units.
"Eastern is just one neighborhood and these challenges exist in other neighborhoods," he said. "Eastern was our first real comprehensive look at trying to bring back a neighborhood corridor. There are still some challenge properties that come up, but we're more focused on positive redevelopment."
Haley Viccaro is on Twitter as @HRViccaro.
Hi there. Comments have been closed for this item. Still have something to say? Contact us.