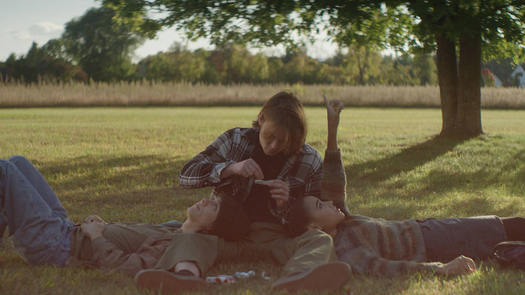 The Sundance prize-winning film that shot in this area during the fall of 2015 -- As You Are -- is set to make its local premiere at The Spectrum March 3. (Update: Here are the details.)
The film was directed by Albany native Miles Joris-Peyrafitte. And it was and co-written by Joris-Peyrafitte and Madison Harrison, both alums of the Albany Free School. It stars Owen Campbell (from The Americans), Charlie Heaton (Stranger Things), Amandla Stenberg (The Hunger Games), and veteran actors Scott Cohen, John Scurti, and Mary Stuart Masterson.
The film got positive reviews after its debut at Sundance last year, where it won a special jury prize.
Miles Joris-Peyrafitte will be at one of the March 3 screenings at The Spectrum for a Q&A. And this week got a chance to talk with him about growing up in Albany, learning to make movies as part of the YouthFX program, and what it's going to be like to have the film shown in his hometown.
The film is focused on teenagers and the experience of being a teenager. And that time of life tends to create these really powerful feelings and vivid memories. What are some of the things you remember about living here at that age?
My memories, or the memories that are more pertinent to the story, don't feel as geographically marked, maybe, because they were so internal. I also grew up traveling a lot, moving a lot because my parents did for work.
I remember something in Albany, a sort of awakening of beginning to understand the divide of the city. The Capitol and state version of the city and then the version that I knew. [Joris-Peyrafitte grew up in the Mansion and Hudson/Park neighborhoods.] And that sort of really stark difference in such a small place.
And I think that's something that really influenced the film a lot, people trying to navigate two really different forces and feelings -- the one being the predominant culture around you and then the other one being the one you create with your friends and the people who you love, and trying to navigate those two things.
Some of the biggest memories have less to do with what's in the film and more to do with the idea of making films. Because that was the place where Madison and I began making movies and fell in love with making them. So a lot of my memories are of going to the Free School with my bicycle and skateboard and then trying to figure out what movie we were going to make that day.
At the Free School both you and Madison were part of a program that's since grown into YouthFX. What role did that play in you becoming a filmmaker?
A huge one, a huge one. Because Bhawin [Suchak] and Jeff [Root], who were sort of running the media center at that time, they were in the middle of making their documentary Free To Learn. So they had this setup of a couple of editing systems for their own film that we very quickly hijacked. But they were the ones who gave us cameras, the Ironweed Collective was the first place we borrowed a camera from, down on Grand Street. And they became the infrastructure of people teaching us how to do this. Bhawin taught us iMovie and then tried teaching us FinalCut, and we were like I hate this, this is too hard. But they were always there sort of telling us it was OK.
And we never saw movies really being shot in Albany at that time. It felt really intangible. So knowing that Bhawin and Jeff were making a movie -- that they could just make a movie -- was hugely important to us. Because we felt like we could, too. It's the arrogance of being a 16 year old -- well, if they can do it, we can, too.
"And we never saw movies really being shot in Albany at that time. It felt really intangible. So knowing that Bhawin and Jeff were making a movie -- that they could just make a movie -- was hugely important to us. Because we felt like we could, too."
Really, though, that was an important thing to be trusted. And that was folded into the pedagogy of the Free School and folded into the pedagogy of YouthFX, which is young people can do things. What it takes is drive from them, but not only that, also support from the community and resources from the community to allow people people to have the chance of doing that.
And now Bhawin and YouthFX have been able to turn into a concise, clear, and pointed program that's really helping kids and teaching kids how to make films. I wish it existed in the capacity it does now when I was that age.
You came back to your hometown to make this movie ... Do you think that the film would have been different if you had shot it somewhere else?
Oh, yeah, totally. I mean, we shot some in Albany itself, we shot some in Berne, we kind of shot all around. But, yeah, there would have been differences for sure.
I think part of the reason we were able to make the movie at all was that the community was so supportive. To shoot the movie in New York City with the kind of budget we had, it just wouldn't happen. But we came to Albany and it was like, you know, we're from here and and we want to tell a story that's set here. Everyone opened their doors to us. And everyone was incredibly kind and incredibly helpful.

A behind-the-scenes making-of look at As You Are created by YouthFX.
You're having a lot of success now. The film got a lot of positive attention, it won the award at Sundance. You're represented by a big agency now. How do you think this experience has changed you?
I don't know. It's hard to say how things change you. I think as a filmmaker I won't know until I make the next film.
Having, like you said, a big agency and agents, that is definitely great and helpful and it puts you on the pulse of the industry. However the work still remains the same way, you know what I mean. Your agents or your manager aren't going to write that first page of your screenplay for you, they're not going to direct the movie for you. But they can be really helpful in putting together a film the way that industry puts films together. And that, to me, is at this stage what is critical to getting the stories I want to make made.
But that said, the work still remains. And I think that the sort of dream of getting into the industry and everything changing is unrealistic. If anything, it's just the responsibility that's on yourself and on the craft that got you there is highlighted because the stage is bigger. But the work is the same.
So, what's next?
I have a few things cooking right now, a few features that are kind of laid out. The next one I hope to be doing is called Mother's Milk. It's a thriller based around the heroin epidemic and it's about a mother kind of navigating that world and kind of noir. And it takes place in Poughkeepsie.
You're going to be in town for the premiere at The Spectrum.
Yeah, man! I'm skipping the LA premiere for it.
How is that going to feel to stand in that theater with all those people?
Incredible. I grew up going to The Spectrum. It's going to be so exciting. I was just talking about this, it's where Madison and I went to see everything. It's where my parents would bring us to see everything.
Everyone who's a filmmaker has that place or that person that's seminal to them in becoming a filmmaker. And that place is definitely that. To be able to bring it there and to share it in that space, and to have everyone communicate with the film in the way that I grew up communicating with film, it's the best.
This interview has been edited and condensed.
____
As You Are will be playing at the Spectrum as part of a regular theatrical run starting March 3. More info to come on the exact details for the opening night screening with Miles Joris-Peyrafitte.
Earlier on AOA: Hey there, Bhawin Suchak, YouthFX program director
Say Something!
We'd really like you to take part in the conversation here at All Over Albany. But we do have a few rules here. Don't worry, they're easy. The first: be kind. The second: treat everyone else with the same respect you'd like to see in return. Cool? Great, post away. Comments are moderated so it might take a little while for your comment to show up. Thanks for being patient.