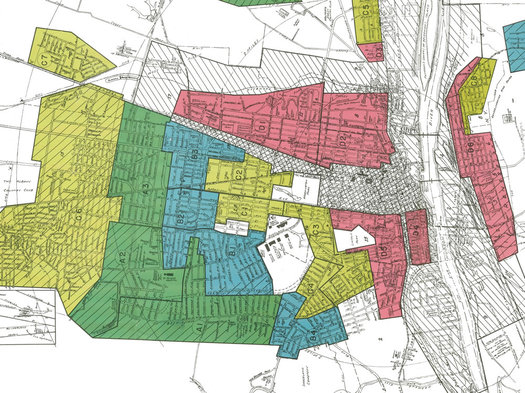 By Ann Pfau and David Hochfelder
The Digital Scholarship Lab at the University of Richmond recently published a website displaying redlining maps from the 1930s for American cities with populations over 50,000. These so-called Residential Security Maps, along with detailed descriptions of urban neighborhoods, give us insight into how the flow of bank funds into some areas -- and their denial in others -- shaped the postwar American city.
We researched the history of these maps, as well as related records pertaining to Albany, at the National Archives. Here's what we found.
The origins of redlining
The practice of banks refusing to write mortgages in sections of cities deemed "declining" or "hazardous" began with two key developments in the 1920s. The first was the Great Migration, during which millions of African Americans left the cotton fields and sharecropped farms of the rural south looking for jobs and homes in northern industrial cities.
At the same time, real estate professionals and economists developed a new theory of urban structure -- the key assumption being that neighborhoods inevitably declined over time. As federal official and leading real estate economist Homer Hoyt explained in 1939: "Usually existing residential structures deteriorate and become obsolete with the passage of time. They are occupied by successive groups of people of lower incomes and lower social standards with the result that the quality of the neighborhood declines with that of the buildings." In the eyes of Hoyt and nearly all other real estate professionals, the presence of non-white residents was prima facie evidence of neighborhood decay and the destruction of property values.
As federal official and leading real estate economist Homer Hoyt explained in 1939: "Usually existing residential structures deteriorate and become obsolete with the passage of time. They are occupied by successive groups of people of lower incomes and lower social standards with the result that the quality of the neighborhood declines with that of the buildings." In the eyes of Hoyt and nearly all other real estate professionals, the presence of non-white residents was prima facie evidence of neighborhood decay and the destruction of property values.
Starting in the 1920s, bankers began mapping cities to determine where they thought it was safe or not to make mortgages and home improvement loans. Housing and lending discrimination had become standard industry practice by the Great Depression. And New Deal housing legislation served to codify this practice, making it official government policy.
Federal intervention into the housing industry occurred for the best of reasons -- to lessen the severity of the Depression. Many families were at risk of foreclosure, and the construction industry had ground to a halt. The Roosevelt administration responded by forming two agencies that would help keep people in their homes and jump-start housing construction.
The Home Owners' Loan Corporation made bridge loans to families who were having trouble making their mortgage payments. The HOLC offered generous terms and foreclosed on properties only as a last resort. The agency refinanced about one million homes -- some 10 percent of the nation's non-farm, owner-occupied houses.
At the same time, the Federal Housing Administration transformed the mortgage market. Before the FHA, mortgages typically ran for only three to five years and required hefty down payments of half or more of the structure's appraised value. After the FHA, lenders were able to offer longer-terms loans, with only 20 percent down. This was because the FHA guaranteed mortgages -- but only so long as loans met the agency's appraisal standards.
These appraisal standards incorporated the prevailing assumption of inevitable inner-city decline, and thus favored new construction in suburban neighborhoods. After World War II, the Veterans Administration made these mortgages available to veterans as part of the 1944 Servicemen's Readjustment Act (the GI Bill of Rights). Together, FHA and VA mortgage insurance sparked an explosion of home ownership from about 40 percent of America's families in 1940 to over 60 percent by 1960.
Yet New Deal housing policy also underwrote racial discrimination. The FHA refused to guarantee mortgages in neighborhoods that were under the threat of "infiltration" by black, Hispanic, or foreign families. This policy remained in force until 1950.
Although the HOLC wound down its operations in 1951, its legacy long outlived it in the form of redlining maps. Between 1935 and 1938, HOLC consulted with realtors, builders, and bankers in cities around the country. Until the passage of fair housing and fair lending laws in the 1970s, these maps (and later versions of them drawn up by local lenders) determined where mortgage money went -- and to whom.
The Mortgage Market in Depression-Era Albany
In late 1935 and early 1936, HOLC officials interviewed prominent Albany realtors and bankers. These men regarded the city as a risky place to write mortgages because of the huge decline in property values, the incomplete recovery of wages and employment, and the perceived pattern of inner-city decay and blight.
In Albany, savings banks dominated the local mortgage market. But their terms were quite restrictive -- mortgages to run no longer than five years and for no more than half of appraised values. Bank officials regarded their primary mission as safekeeping their depositors' funds rather than facilitating home ownership. Their conservative lending policies meant that local banks wrote very few mortgages in Albany during the Depression.


Mortgage activity and loan terms of Albany's savings banks, from Feb. 1936 HOLC report on Albany.
Bankers told the HOLC that they were sitting on large amounts of savings account deposits. But their local lending activity was "almost nil," as Frederick Townsend, president of Albany Savings Bank, told HOLC officials. "Over the last ten years or more there has been a very marked movement from the city to the suburbs," Townsend observed.
Following that trend, his bank was "ready to loan" in outlying areas, but not "in such sections as are notoriously dead and buried."
The 1936 HOLC Map
These interviews resulted in the creation of a preliminary map -- drawn on a street map given out by Lodge's department store in February 1936. This map sorted the city into eight sections, graded by mortgage risk as "best," "still desirable," "definitely declining," or "hazardous."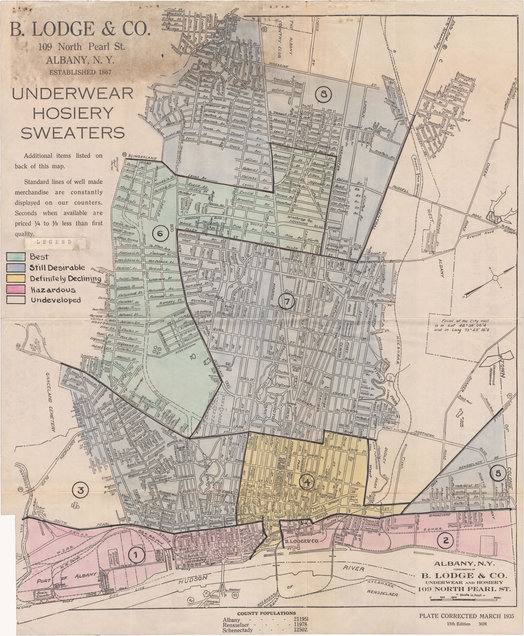 The 1936 HOLC preliminary map of Albany. Note: This map is oriented so that west is on top. (Here's a much larger version.)
The HOLC made loans to homeowners in all four zones and did not seem to practice mortgage discrimination itself. But federal officials expected the FHA and local lenders to use this map, and others like it, to determine where to make future loans. The area descriptions were similar to FHA appraisal guidelines, with respect to the age of construction, the ethnicity of residents, and the underlying assumption that neighborhoods never improved -- they remained stable or declined.
Brief section descriptions were:
Section 1: "This is one of the oldest areas of the city. The entire waterfront is given over to shipping and the portion south of Gansevoort Street is given over to industry. While the balance is largely confined to business there still remain a number of old one to three family row houses of the party wall type and of brick and frame construction. Inhabitants are, for the most part, Italians and Poles. Type of inhabitant, age of structures and expansion of business and industry make this section definitely hazardous."
Section 2: This is "quite similar to Section 1" but with fewer residential buildings "and a scattered sprinkling of Negroes among the Italian and Polish inhabitants."
Section 3: This area "is largely composed of old two family houses. The northern area adjacent to Madison Avenue, as well as Delaware and Second Avenues, are largely given over to business. Construction in the southwestern part is somewhat newer while in the southeastern portion, considerable vacant land remains but with no indication of development. Inhabitants are, for the most part, Americans with an expansion of Italians who are moving from Sections 1 and 2. While real estate trends are static they may be classed as being still desirable."
Section 4: This section includes many businesses, the Capitol, and state offices. North of Clinton the area contains "largely old one to three family row houses inhabited by Poles, Irish and, on both Second and Third Streets, by Negroes. South of Clinton Street are to be found a large number of large, old single-family houses, which have been converted into rooming houses. There are also a number of apartment houses and hotels. In this southern portion the inhabitants are mostly Americans, a goodly portion of whom are State employees. Because of the Negroes in the north and part-time occupancy by State employees in the south, this section is definitely declining."
Section 5: "East of Pearl Street are to be found a number of old, single family detached houses. West of Pearl Street there are similar dwellings but of much newer construction. Development of the latter began about 1924 and continues even today with room for further expansion near and beyond Rensselaer Avenue. Houses are entirely of a very modest type and occupied by Americans and Irish of the white collar type. This section is still desirable--particularly west of Pearl Street."
Section 6: This section had been developed after 1910. "The area south of New Scotland Avenue contains many homes which formerly sold for around $20,000. Here are also to be found many neighborhood stores, schools and churches. The portion to the north of New Scotland Avenue contained the finest homes in the city as well as some apartments and some two family residences, though not as accessible to the conveniences of the southerly part. There is a small amount of new construction taking place adjacent to the junction of New Scotland Avenue and Allen Street. Inhabitants are Americans and those of German and Irish descent. This section is by far the best in Albany and should continue to be so."
Section 7: "That portion which lies to the south of practically the New York Central Railroad was formerly the old residential section of Albany. Here are to be found many large and old single-family houses which, by degrees, have been and are being converted into smaller units. Apartment houses have been constructed in the neighborhood of Washington Park. Business, too, has expanded along Clinton Avenue and its cross streets as well as in the central section along Madison Avenue and Quail Street.... Inhabitants are largely Americans and Jews. Though static, the section is still desirable."
Section 8: This is the newest part of the city, only recently developed within last decade. "Residences are largely moderately priced structures approaching the bungalow type for which there is considerable demand and of which there is a definite shortage. Inhabitants are generally Americans of the white-collar class. This section though static is still desirable."
The 1938 HOLC Map
It is unclear how widely the 1936 map circulated. Since it was drawn onto a Lodge's map, it is likely that one or only a few copies were extant.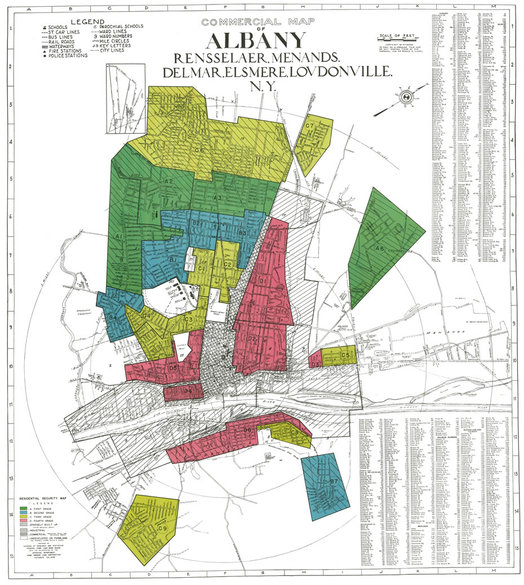 The 1938 HOLC map of Albany -- via the Mapping Inequality website, which has interactive version. Note: This map is oriented so that west is on top. (Here's a larger, cropped version that's aligned with north on top.)
A HOLC map developed in October 1938 was far more formalized and consistent with similar maps of cities across the nation. It was also more fine-grained, outlining 30 separate areas, instead of 8. This map and area descriptions are available on the Mapping Inequality website.
Introductory notes (not provided on the Mapping Inequality website) outline procedures and assumptions behind the map. According to the authors, the areas and descriptions were "carefully checked with competent local real estate brokers and mortgage lenders, and we believe they represent a fair and composite opinion of the best qualified local people."
The notes also include guidelines for assigning grades to particular neighborhoods:
+ Grade A (green) areas are "new well-planned sections of the city.... They are homogeneous: in demand as residential locations in 'good times' or 'bad.'" Realtors and lenders considered them eligible for loans with terms of 10-15 years and up to 80 percent of appraised value.
+ Grade B (blue) areas are "like a 1935 automobile--still good, but not what the people are buying today who can afford a new one." Lenders could loan up to 60 percent of appraised value in these areas.
+ Grade C (yellow) areas are "characterized by age, obsolescence, and change of style; expiring restrictions [ie, restrictive covenants] or lack of them; infiltration of a lower grade population; the presence of influences which increase sales resistance such as inadequate transportation, insufficient utilities, perhaps heavy tax burdens, poor maintenance of homes, etc. 'Jerry' built areas are included, as well as neighborhoods lacking homogeneity. Generally, these areas have reached the transition period. Good mortgage lenders are more conservative" in these areas and will loan at a lower percentage of appraised value than in A or B areas.
+ Grade D (red) areas are "characterized by detrimental influences in a pronounced degree, undesirable population or an infiltration of it. Low percentage of home ownership, very poor maintenance and often vandalism prevail. Unstable incomes of the people and difficult collections are usually prevalent. The areas are broader than the so-called slum districts. Some mortgage lenders may refuse to make loans in these neighborhoods and others will lend only on a conservative basis."
A final feature of the 1938 map requires explanation -- the crosshatched area between the riverfront on the east, Elk Street on the north, Madison Ave. on the south, and Willett St. on the west. Most of the 98-acre area that was later seized for the South Mall (now known as the Empire State Plaza) lies within this area. (The remainder of the South Mall take area, south of Madison, is in area D5.)
The crosshatched area was Albany's central business district and, therefore, was not graded on the basis of residential lending. The introductory notes describe the area as composed of "a very substantial number of structures which were originally single family residences, for the most part, of very high grade. Without exception, or at most with very few exceptions, these have been converted into rooming houses, small apartments, offices or shops and, therefore, can be regarded solely as business enterprises."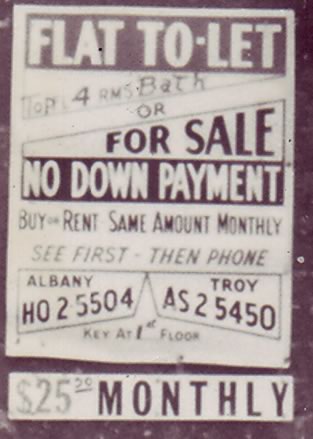 A sign for a lease-and-option contract on the building at 35 Jefferson St., July 1961. Used by permission of the Times Union.
In a later report, we will explore how redlining affected the residents of the area demolished for the South Mall. Although we have not completed our research in the New York State's property acquisition files, we have discovered that the lack of bank financing led to many off-the-books lending practices. These included the so-called lease-and-option contracts that we wrote about in a previous post.
Stay tuned. And follow our work at 98 Acres in Albany!
Historians Ann Pfau and David Hochfelder are members of the 98 Acres in Albany project team. They plan to digitally reconstruct and repopulate the South Mall area. You can follow the project on Facebook, and check out their blog.
____
Earlier on AOA:
+ Mapping a history of inequality in Albany, Schenectady, and Troy
+ Who lived in the neighborhood knocked down for the Empire State Plaza?
Hi there. Comments have been closed for this item. Still have something to say? Contact us.