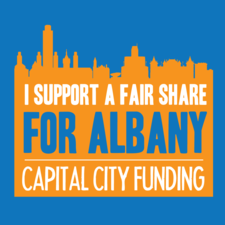 The push for the city of Albany to get that additional $12.5 million from the state continues...
The Sheehan administration, backed by the city's state legislators, formally launched a campaign called Fair Share 4 Albany Thursday in an effort to focus attention on the bid for the inclusion of the "Capital City Funding" in the state budget.
The campaign -- with its own logo (that it's on the right), website, and social media streams -- is focused on the city's low level of state municipal aid per capita compared to other big cities around the state* and it's high level of tax-exempt property. And it's urging people to call elected state officials to press the case -- it even includes tips on what to say.
The $12.5 million didn't show up in the Cuomo admin's 30-day budget amendments last week, setting off a scramble for the mayor's administration because the current budget relies on the money. Kathy Sheehan has said the city is facing the prospect of cuts to things like recreation programs and Alive at Five if the money doesn't come through.
It'll be interesting to see if 1) people actually do pick up the phone and call because of this campaign, and 2) how it's received by state leaders, especially since the city's representatives don't have a lot of clout within the state legislature right now***.
The state budget -- well, state politics in general -- always seems to include behind-closed-doors soap opera involving various vendettas and shifting allegiances. The city has a good case to make, but is that enough?
* Albany gets $128 per person in AIM, the state's main municipal aid. Buffalo, Rochester, and Syracuse all get more than $400. With the additional $12.5 million (which wouldn't technically be AIM, but let's go with it), Albany would be getting $255 per person.
** Roughly 63 percent of the city's property value is tax exempt, according to the Sheehan admin.
*** State Senator Neil Breslin isn't part of the majority coalition in the Senate. And Assembly members Pat Fahy and John McDonald are relatively new to the chamber, so they don't have a lot of seniority.
Earlier on AOA:
+ The untaxed city within the city
+ Does Albany get a fair share of state aid?
Hi there. Comments have been closed for this item. Still have something to say? Contact us.