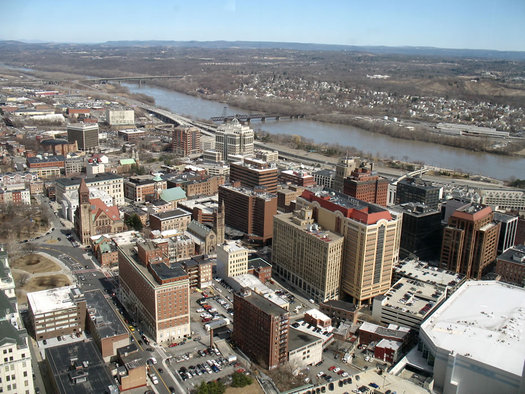 Albany mayor Kathy Sheehan released her proposed city budget for the next year on Monday. Among the many points that will surely end up being discussed is that her administration is again seeking $12.5 million from the state in what it's calling "Capital City Funding."
Whether the city of Albany gets a fair deal from the state is a contentious topic. On one hand, the city is the capital and gets all the benefits of that -- jobs, attention, associated economic activity. It also has to bear the costs and complications associated with all that activity. And much of its land is untaxable (63 percent according to the Sheehan admin) because it's owned by the state (more than half the value of that untaxable land). City leaders have long argued the state's funding for the city comes up short when everything is taken into account.
One of the main arguments the city has made is that it gets much less state aid than other big upstate cities -- and it's not even close. How big is the gap? And what would the gap look like if Albany got that $12.5 million? Or what it if got aid that was about the same as those other big cities?
Let's take a quick look at the numbers.
This whole situation might sound like an express train to Snoresville...
But the city's budget has been continually crunched in recent years -- "fiscally stressed" as the state comptroller's office describes it. And those budget issues -- along with how they relate to taxes and services -- run through the background of many different things that people often find more interesting: like what sorts of buildings get developed, or how much people pay in taxes on a house.
The numbers
They're above in a large-format table -- click or scroll all the way up.
But you'll also probably want to read the details below.
A few important details about the numbers
This sounds familiar
Yep, we did something similar almost two years ago. The result was largely the same because the aid numbers haven't changed.
The money
In this case, "the money" is the state's "Aid and Incentives for Municipalities" -- or, as pretty much everyone refers to it, AIM. It's not the only the way the state extends financial aid to cities, but it's a main way. Here are the totals for cities, towns, and villages around the state from the 2016-2017 state budget.
We're just going to look at AIM for cities, though.
The population
We're using population figures from the Census Bureau that are estimates from 2014. Yep, they're kind of old. But most cities upstate don't have populations that are shifting that quickly. (There are 2015 estimates available, but only for cities with populations above 65,000.)
More important bits regarding the poverty numbers: The Census Bureau estimates are based on a portion of the population for which poverty status could be determined during the previous 12 months. That population is often smaller than the total population of the municipality. Example: Estimates have Albany pegged at about 98,000 residents, but the poverty estimate is based on a population of about 88,000 people. So the number of people in poverty might be a bit of an underestimation. Similarly, the percent of the population in poverty is also based off this number for which poverty status could be determined.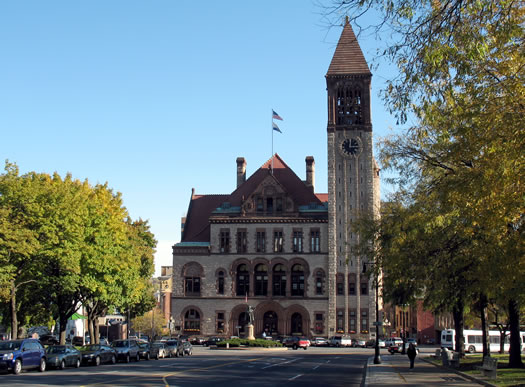 The bottom line
+ Just looking at AIM alone, Albany gets the short end of this particular stick. It's per capita rate ranks #41 among cities, and it's waaaay behind the other large cities upstate. Like, it's not even close.
+ If Albany got AIM at roughly the same per capita rate as Buffalo, Rochester, Yonkers, and Syracuse... well, the city's budget situation would look a heck a lot of better. It'd provide roughly $38 million more a year to the city. That scenario also sounds like something from a fantasy.
+ OK, but what if Albany just got AIM at the average per capita rate for cities? Then the city's looking at about $4.5 million more. That's not nothing. But it would still be set apart from the other four big upstate cities.
+ And with the $12.5 million in "Capital City Funding" (which wouldn't be AIM, but let's just go with it)? That would rank Albany #9 among cities for AIM per capita.
So what's fair?
That's a hard question, and one for which different people are going to have different answers. Sure, Albany gets the short end of AIM. But it also gets about $15 million a year in payments in lieu to property taxes for the Empire State Plaza. But it also doesn't get anything for the Harriman campus. And the state is helping to build a convention center. But the state has also said it would sell two large, theoretically attractive parcels of land in the city for new development -- it justhasn't been able to make a sale.
It will again be interesting to see how the city's leadership makes its case with the state over where this balance should be struck.
Schenectady, Troy, Saratoga Springs
+ Schenectady ranks #17 in per capita AIM. And it's getting the casino. But the city's school district has long argued that it gets the short end of state education aid payments. And in announcing his new proposed budget, mayor Gary McCarthy argued that point again recently. (School taxes are often just as much, if not more, than city property taxes.)
+ Troy ranks #9 in AIM per capita. In fact, it gets almost as much as Albany, even though it has about half the population.
+ Saratoga Springs ranks last among upstate cities in AIM per capita. It also has one of the lowest poverty rates of an upstate city.
Say Something!
We'd really like you to take part in the conversation here at All Over Albany. But we do have a few rules here. Don't worry, they're easy. The first: be kind. The second: treat everyone else with the same respect you'd like to see in return. Cool? Great, post away. Comments are moderated so it might take a little while for your comment to show up. Thanks for being patient.