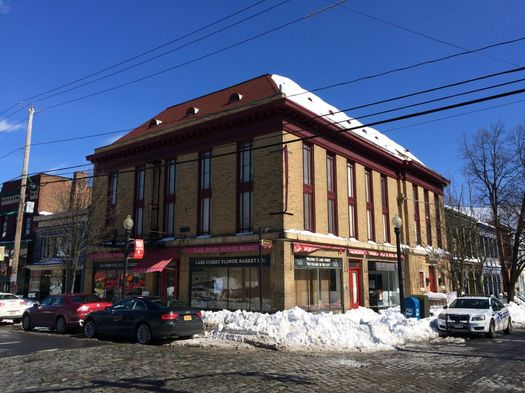 When the EBA building went up for auction last month, Justin Miller was part of a group that entered a bid of almost half a million dollars for the Lark Street landmark. And they won.
Then it sunk in what they'd done. And some panic set in. They had just put up half a million dollars to buy a century-old theater building.
Feeling the need to walk, Miller headed over to McGeary's in downtown Albany.
"Tess, I've got to talk to you," he said he told Tess Collins, the pub's proprietor and local mainstay, when he arrived. He had a glass of water. They talked. He started to feel better. "She's always a steady hand."
And this week, standing in the second-floor theater space at Lark and Hudson, he was sounding excited and optimistic about what's next for the building.
Justin Miller, an attorney, and his wife, Jennifer, have teamed up with Jeff Buell of Sequence Development -- a longtime friend -- to buy the EBA building.
The Millers started on this path while searching for studio space for Jennifer, a teacher in the Albany school district and a yoga instructor. Along the way they started talking about maybe owning an event venue of some sort. Someday.
Buell and Sequence have been working on a string of mixed-use projects in Troy and Schenectady. He said he'd been looking for something in Albany, checked out a bunch of buildings, but nothing clicked.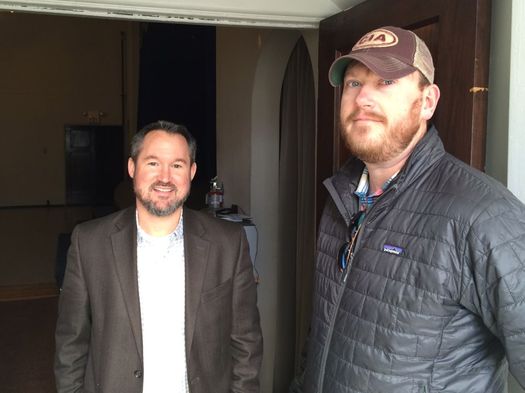 Justin Miller and Jeff Buell
Then Maude Baum, founder of EBA and the owner of the building for four decades, put the dance company's space up for auction. Miller and Buell talked it over. Maybe this could work.
Their winning bid for the building was $497,000, plus a 12-percent auction fee. They hope to close in May.
The plan
Miller and Buell said Thursday they don't have an exact plan for the building, yet. But they envision using the theater space there as some sort of multi-use venue eventually, something that would draw visitors who could also patronize some of the restaurants and bars and other businesses along the commercial strip.
"We want to make sure this building is a beacon of light on Lark Street for a very long time," said Buell. "We think there's an opportunity to fit into the Lark Street vibe."
Toward that end, they've been meeting with neighborhood groups to talk over their plans. They were at the Hudson/Park Neighborhood Association this week, and have more appearances scheduled.
"We want to listen, to start, and hear what the community wants," said Miller.
They figure to invest another $1 million in upgrades for the building, including sprinklers -- maybe an elevator, too.
Buell said the allowed capacity of the theater space is currently 200 people, but with the upgrades that number should grow.
But that's down the road a bit. The first change will be conversion of space for the yoga studio.
And the Lark Street Flower Market? Buell said they're very happy to have the shop as a tenant.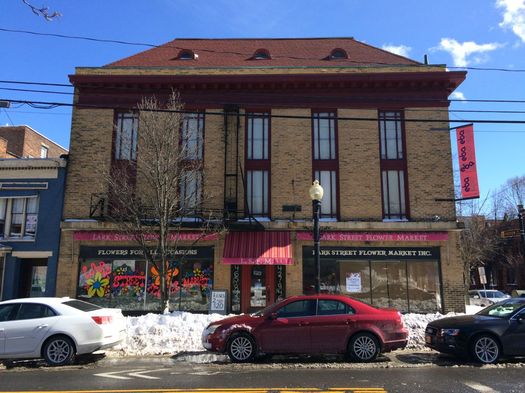 What's not in the plan
Notably absent from the plan, given recent trends in the Capital Region's downtowns, is any sort of residential conversion. (The building does already have one apartment, which they plan on keeping.)
Buell said the theater could easily be carved up into living space. And considering the rents in the neighborhood, it wouldn't be a bad idea.
"Apartments are good investments," he said, "but sometimes you have to invest in your soul."
Maude Baum interjected: "If they put apartments in here it would have ripped my heart out."
"Also, I'm afraid of Maude," Buell followed up as the group let out a laugh.
Both Buell and Miller had a lot of praise for Baum's stewardship of the building and the role her org has played in the neighborhood. They're hoping EBA will hold some events there in the future.
"We're cognizant of the legacy," said Justin Miller. "We don't take that for granted."
____
Earlier: The EBA building on Lark Street is up for auction
Find It
EBA Building
351 Hudson Ave
Albany, NY 12210
Hi there. Comments have been closed for this item. Still have something to say? Contact us.