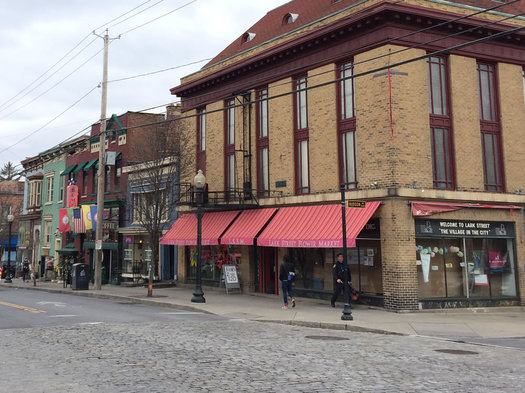 For sale: Century-old Lark Street theater. Only two owners.
The building at the corner of Lark and Hudson that houses the dance company EBA, a staple of the neighborhood since 1977, is up for auction.
Collar City Auctions will be taking bids online for 351 Hudson Ave through March 2. The building's full-value assessment in city tax records is $518,400.
Maude Baum, founder of EBA, bought the building in 1977 from the Daughters of the Eastern Star, the women's arm of the Masons. She's been running the dance company and classes out of the space ever since. And she says the company will continue.
"There are lots of places to hold classes, there are lots of places to perform, there are lots of places to rehearse," said Baum. "I'm OK with it. I'm sort of at the point where it's time for a change."
Baum says the building was on the market a few years ago, but the only interest was from developers who wanted the land, but not the building. They soon discovered that demolishing the building would not be cost effective.
"It's built like a Mack truck," said Baum. "The beams are 15-inch metal studs so it's structurally sound. It's in excellent shape. We just finished shingling, there's a new boiler, and a new tin ceiling in the theater."
Baum said the company applied for a state Main Street grant, with a plan to put in apartments and offices, but it was turned down. So she's turned to an online auction.
"Who knows, maybe someone will buy the building and want to lease the space back to us, or share it with us somehow. Anything could happen."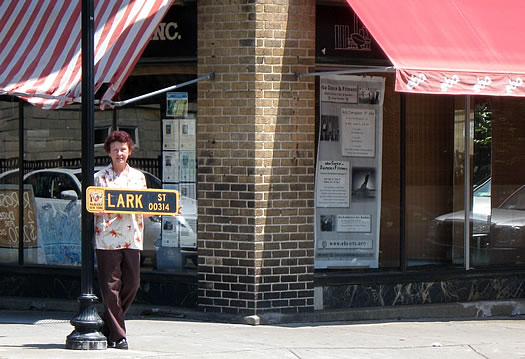 As Baum told us a few years ago while reflecting on how Lark Street has changed during the last four decades: "The neighborhood is beautiful now compared to what it was. It still has a little bit of a weird attraction for the underbelly, but not anything like it used to.
We spoke with Baum a few years ago about how Lark Street had changed in the years since EBA opened its doors. She told us the presence of a theater and a performance company helped to change the fortunes of the street. Today she says she'd be happy to stay around Lark Street if the opportunity arose, though she realizes that changing times and the parking situation have made it difficult.
"When we started here in 1977, we were the only place for adults to take a dance class. Now there are lots of places."
She said the upkeep on the place just became overwhelming.
"When we moved in in 1977, we had $150,000 to pay employees. Now that kind of operations money is very difficult to come by."
For now, everything is operating normally at EBA. It's holding its regularly-scheduled rehearsals, performances, and classes until the bidding closes in March. After that, Baum said she and her board of directors are wide open to possibilities.
"Everything that has happened here is still in my heart -- all the artwork and performances -- they re still inside of me," she said. "What's the difference if you look at a photo here or you look at it someplace else."
She added, wistfully, about selling the building: "Apparently it's supposed to happen. It's just supposed to happen. And I'm OK with it."
____
Earlier on AOA
+ Lark Street, 35 years ago
+ Thinking about the future of Lark Street
+ Ideas for Lark Street's longterm future
Find It
EBA Building
351 Hudson Ave
Albany, NY 12210
Hi there. Comments have been closed for this item. Still have something to say? Contact us.