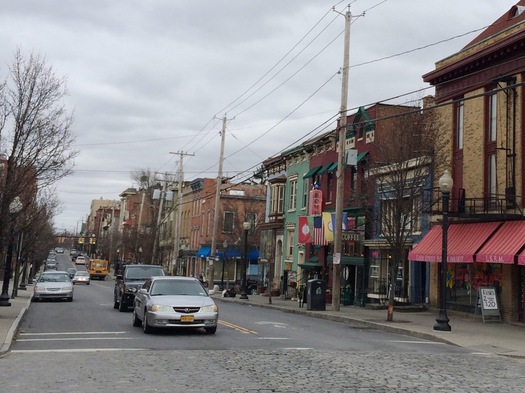 By Sandy Johnston
In my previous post, I took a crack at explaining some of the dynamics behind the economic and cultural malaise that many people feel is afflicting Albany's Lark Street.
But since every good analysis of a problem demands a solution, here's a followup: What can Lark do to get its mojo back in the face of significant competition?

Embrace urbanity
So Lark may not be the one-of-a-kind regional destination it once was. But there is now significant competition in the commercial category of "hip urban areas" precisely because it has something the rest of the region lacks -- that urbanity. What makes Lark -- and yes, other regional downtowns as well -- feel different, what gives them a niche and puts them in competition with each other in addition to (instead of?) suburban strip malls is the feeling of being part of a city. It follows, then, that Lark's task is to enhance that feeling of urbanity -- to not just be the hip urban area, but to be the best urban commercial area.
So how does one go about that? A few thoughts: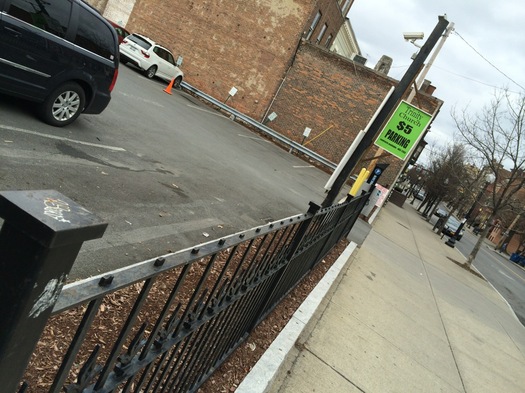 Manage, don't increase, parking
Because it always comes back to this. One of the most common comments in AOA's Lark interviews was that parking is a challenge. However, as I've written on my personal blog, the issue with parking in the Center Square/Lark area isn't so much that there's not enough as that the existing supply is exceptionally poorly managed. Land devoted parking is deadly to street life in an area that thrives on urbanity; it actively detracts from the urban feeling, and by attracting more car traffic, puts pedestrians -- the lifeblood of any walkable commercial area -- at risk.
So the challenge for Lark is to find ways to better utilize existing parking infrastructure rather than adding. A unified parking map showing available public and private parking, on and off street, would be a great start. Government, or the BID, or SOMEONE must also take a more active role in persuading the several local private lot and garage owners who together control 500-600 spots to advertise their services to Lark-goers. Surely, some central broker can work out a deal to standardize pay parking rates across the neighborhood; correctly regulating parking pricing (including pricing formerly free spots) is a key strategy for any area with a claim to be urban.
Make Lark more pedestrian friendly
Sure, Lark ranks among the most walkable and pedestrian-friendly areas of Albany, and indeed the whole Capital Region. But it's far from perfect. It's easy to forget given this incredibly mild winter, but Lark is an obstacle course when there's snow and ice on the ground. Property owners need to understand that not clearing snow is not only illegal and unethical, but is actually detracting from their ability to do business. Several local intersections -- especially the complex, busy ones at Lark/Madison/Delaware and Lark/Washington- -- could benefit from some pedestrian-considerate design treatment.
Embrace diversity
I was somewhat disturbed to see comments in AOA's previous piece -- both from interviewees and in the comment section -- that spoke in nasty terms about various kinds of undesirables who the speaker understood as detracting from Lark's appeal. Unfortunately, similar feelings emerged during the recent controversy over the bus stop CDTA wanted to locate in front of Iron Gate Café (to be clear: Iron Gate's owners took the high road and made it clear they would not engage in that kind of rhetoric, but the comments made online and at meetings did not reflect that level of principle).
Look: diversity is an intractable part of urbanity. Trying to sanitize the diversity out of the crowd that takes advantage of Lark's commercial offerings and walkability every day can only hurt the neighborhood's economic prospects. A Lark that feels sanitized is a Lark that can't compete with suburban shopping malls because it replicates their trademark feel rather than valuing the authenticity of urban life.
Return to fundamentals
One of the most common threads in dialogue about Lark's future -- among AOA interviewees, in the comment section, and on the Hudson/Park listserv, which I subscribe to -- is people expressing their desires about wanting to bring specific kinds of stores or businesses to Lark. I get it. Like others, I'd love to see a Stewart's in the former Ben & Jerry's space. And as a vegetarian and a faux meat aficionado, I was hugely excited to hear Berben & Wolff's plans. But I can't help but feel that the effort to get just the right mix of commercial concerns on Lark is the wrong approach.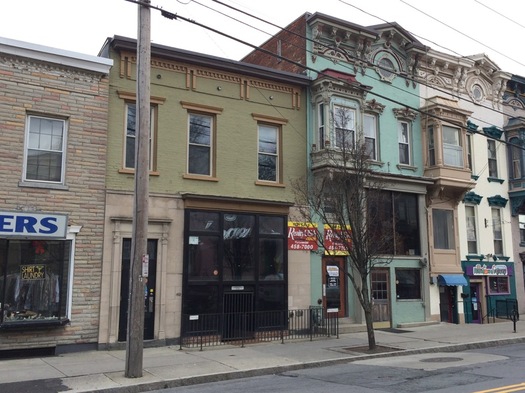 Like many planners and urbanists, I owe some of my insights into this dynamic to Jane Jacobs. She is often celebrated as a preservationist, but Jacobs had a quasi-libertarian bent when it came to urban economies. One of her key insights was that urban economies are inherently, desirably, messy and "inefficient" (that is, involving frequent turnover of businesses). Indeed, Jacobs delighted in pointing out the inevitable failure of attempts to manage "efficient" economies that would be stable and prevent firm failure.
Part of the malaise affecting Lark is simply the messiness typical to any urban economy; businesses on Lark have opened and closed not just because of "the economy" but because of things particular to that business such as management, space issues, or a simple desire to change the business model.

The corollary to Jacobs' principle of inefficient urban economies is that rather than trying to establish and preserve a particular mix of businesses, planners and other stakeholders need to work on creating the best possible underlying fundamentals to allow businesses to rise and fall in a healthy manner while maintaining a neighborhood's economic vitality. Basics such as infrastructure, mobility, and zoning will go a lot further in the long term than anything else.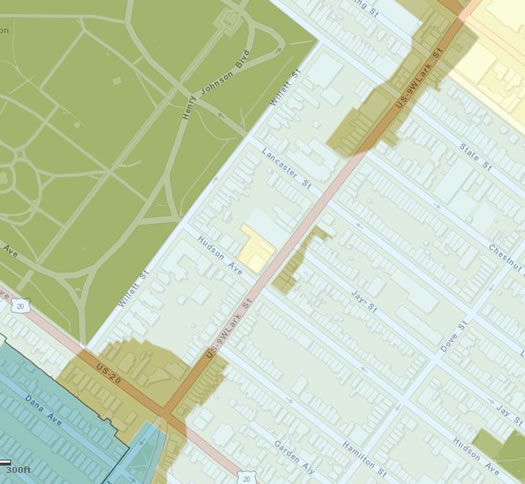 Zoning map of the Lark Street area, from Albany's GIS zoning map. R-2C (Multi-Family Medium Density Residential District) zones in blue, C-1 (Neighborhood Commercial District) in olive green, C-0 (Commercial Office District) in yellow.
Take, for example, zoning. Currently, Lark Street is covered by several different use zones. Those differentiations reflect a suburban-style understanding of separated land use that doesn't logically apply to Lark, with its richness of multiple-use buildings. Luckily, Albany's zoning is in the process of being changed. Hopefully, the ReZone Albany process -- which is moving toward implementing form-based codes (focused on shape and feel rather than use) in several areas -- can bring something like that, or at least a consistent, mixed-use zone--to Lark.
If the area is to embrace the urbanity that has made it successful, it needs a framework that enables that, rather than holding it back.
So that's my call to the BID, to the neighborhood organizations, to other business owners: let's focus on the fundamentals. Make Lark a place we can all be proud of in the long term.
Sandy Johnston is finishing up his Master's in Regional Planning and a certificate in Urban Policy at UAlbany. He blogs at www.itineranturbanist.wordpress.com and is a vocal presence on Twitter @sandypsj. Before moving to Albany, Sandy had lived in New Jersey, Oregon, Iowa, Connecticut, Chicago, Jerusalem, and New York City. Sandy lives in Center Square/Hudson Park with his partner Gabriella, a state worker, and their two cats. You can reach Sandy with comments or complaints through his website.
Earlier on AOA:
+ Lark Street and the competition among the Capital Region's hip urban areas
+ Thinking about the future of Lark Street
+ What if tearing down I-787 could actually improve traffic?
+ The latest chunk of the Rezone Albany project is up for a public look
Say Something!
We'd really like you to take part in the conversation here at All Over Albany. But we do have a few rules here. Don't worry, they're easy. The first: be kind. The second: treat everyone else with the same respect you'd like to see in return. Cool? Great, post away. Comments are moderated so it might take a little while for your comment to show up. Thanks for being patient.