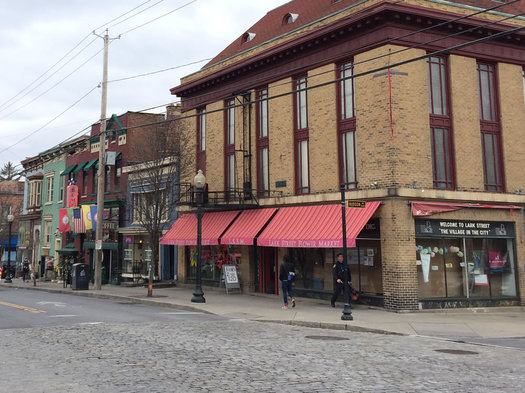 By Sandy Johnston
In January AOA ran a piece with a variety of thoughtful responses about the future of Lark Street. I'm grateful to be given the opportunity to chime in a little, as a planner and as a resident of the neighborhood.
As a relative newcomer (I've been on Dove Street since August 2013), I can't claim to have experienced what many people seem to regard as Lark's heyday; but, as is probably apparent if you've read my writing before, I believe strongly that while localized familiarity matters, comparative experience is highly useful as well.
Though reasonable people disagree on the extent of the problem, there seems to be a general sense that Lark Street is suffering from something of a commercial and cultural malaise.
But why? Surely there are multiple factors, but perhaps we can identify a primary one. In the spirit of Hanlon's Razor, I think the most obvious answer is probably the biggest single factor: the stagnation of Lark, perceived or real, is intimately linked to the exciting growth of other neighborhoods in the Capital District that offer similar cultural amenities.
Lee Cohen of The Daily Grind wrote in his comment on the original article: "The big difference now are cities like Troy and Schenectady are resurrecting from the dead. People are feeling the excitement of cities coming back, businesses opening, apartments being renovated, just like they did on Lark Street."
I've just returned from brunch in downtown Schenectady as I write this, and the revival of that area as a competitor to Lark on the "hip and artsy" scale is clear, as is that of downtown Troy.
Pete Saunders has written eloquently at the Corner Side Yard about the ways that the problems of cities with lower demand for urban neighborhoods and amenities are different from those of higher-demand areas. The gist of his argument is that if overall regional demand for an amenity --usually housing in his examples, but hip urban commerce in ours -- is low, increasing supply in one discrete area can detract from the flow of investment, resources, and creativity to others.
To test the hypothesis that this effect is at work on Lark, I aggregated Census data that counts the number of workers in the arts, entertainment, recreation, accommodation, and food services industries -- the kinds of jobs I associate with a healthy Lark -- and tracked them over time in geographic areas roughly representing the greater Lark area, downtown Schenectady, and downtown Troy. The interface I used is only updated through 2014, so it won't include the most recent results -- and Census data should always be approached with caution at this small a scale, anyhow -- but the trends are certainly informative.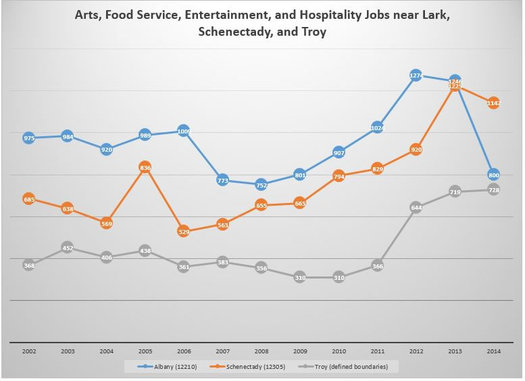 Data from Census LEHD, through the OnTheMap interface. "Lark Street" (blue line) is defined as the 12210 zip code; downtown Schenectady (orange) as 12305; and downtown Troy (gray) as a polygon bounded by the Hudson River, Poesten Kill, the ridge line, and roughly Hoosick Street. (Here's a larger version of the graph.)
Hmm, what have we here? "Hip" employment almost doubled from 2002 to 2014 in both downtown Troy and downtown Schenectady. Indeed, Troy's "hip" economy seems to have almost doubled just in a three-year stretch from 2011 through 2013. As of 2013, downtown Schenectady's arts, food, and accommodation economy was roughly the same size of that of the area around Lark Street, despite Albany's larger and wealthier population.
Lark was able to keep up through 2013, growing its "hip" economy at an impressive 28 percent rate from 2002-2013. After 2013, though, something more negative happened. It's exceedingly likely that the 46 percent drop in Lark-area entertainment and hospitality jobs in just one year that is reflected here is a data artifact -- and in a few years, we will know for sure. What is clear is that Lark no longer enjoys the regional dominance in this economy that it once did -- and that it has stagnated, whether to a more or less dramatic extent -- as a result.
It's not a stretch to imagine that once upon a time, Lark Street would have captured all or most of that growth in the "hip" economy of the Capital Region. But now it has competition. And that's not a bad thing!
It's not a stretch to imagine that once upon a time, Lark Street would have captured all or most of that growth in the "hip" economy of the Capital Region. But now it has competition. And that's not a bad thing! The overall quality of life in the Capital Region is undoubtedly boosted by having more economically vibrant urban neighborhoods. Ideally, having some level of competition means a community like Lark Street can't sit on its laurels; it forces each municipality, each neighborhood, each store and each restaurant to up its game. But encouraging competition between geographic areas has, perhaps, run up against one of the still-fundamental realities of the Capital Region: despite a reviving demand for urban living, this is still a mostly suburban region, and one with a fairly mediocre housing and real estate market.
That means that -- for the moment -- a limited demand for "hipness" and urban-style commerce is being divvied up between more geographic subareas than has been the case for most of the past 40-50 years. Indeed new competitors, such as Albany's Warehouse District, are emerging all the time. That's not necessarily a bad thing. But it means that there are real challenges facing Lark Street.
In my next post, I'll take a crack at how to think about solving some of those challenges. Update: And here's that next post: Ideas for Lark Street's longterm future.
Sandy Johnston is finishing up his Master's in Regional Planning and a certificate in Urban Policy at UAlbany. He blogs at www.itineranturbanist.wordpress.com and is a vocal presence on Twitter @sandypsj. Before moving to Albany, Sandy had lived in New Jersey, Oregon, Iowa, Connecticut, Chicago, Jerusalem, and New York City. Sandy lives in Center Square/Hudson Park with his partner Gabriella, a state worker, and their two cats. You can reach Sandy with comments or complaints through his website.
Earlier on AOA: What if tearing down I-787 could actually improve traffic?
Say Something!
We'd really like you to take part in the conversation here at All Over Albany. But we do have a few rules here. Don't worry, they're easy. The first: be kind. The second: treat everyone else with the same respect you'd like to see in return. Cool? Great, post away. Comments are moderated so it might take a little while for your comment to show up. Thanks for being patient.