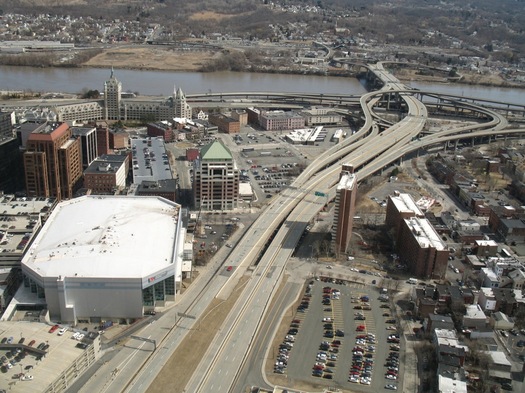 By Sandy Johnston
The future of I-787 often pops up in conversations about downtown Albany - specifically, the desire that many people apparently have to see the elevated highway torn down.

There's a currently a longterm effort by a group of state and local agencies to study this overall topic. And you're probably already familiar with some of the potential benefits the tear-it-down crowd touts: A boulevard replacement would reconnect the city with the waterfront. It could improve air quality, especially in some underprivileged areas. And it could open up considerable portions of land for development.
Of course, one of the counter arguments is that 787 is necessary to handle the large amounts of traffic that flow into Albany each weekday, and tearing it down would tip downtown into traffic gridlock.
But what if it was just the opposite -- what if tearing down 787 could actually make traffic in Albany flow more smoothly and efficiently?

To be clear, as someone who moved here from larger cities, I am legally restricted from complaining about traffic congestion in the Capital Region. But that doesn't mean that it's not an occasional pain -- or that eliminating as many problems as possible isn't a good idea.
Since concerns about traffic are often an excuse for not tearing down an urban freeway, perhaps I can even disprove some myths. Here's the case.
787 is part of a network that (thankfully) wasn't finished
The first thing to remember is that 787 and its connector to the Empire State Plaza, the South Mall Arterial (SMA), are disconnected stubs of a larger freeway network that was thankfully never finished. As such, the design of the highway suffers from a few limitations, including, most prominently, limited access that requires some very loopy trips. Take, for example, the route taken by CDTA's 114 bus on its trip from the Albany-Rensselaer train station to downtown Albany: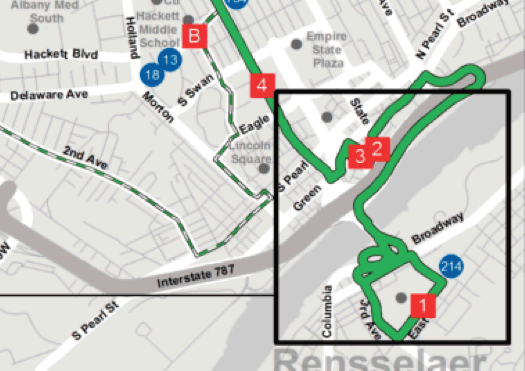 image: CDTA
Its lack of access points helps create congestion
Since access to the freeway network is so limited, traffic jams often back up at the few entrances while other roadways sit empty. For example, as workers for the state and Albany Medical Center leave between 4 and 5 pm, Swan Street (the street the runs along the west side wall of the ESP) often backs up from the SMA entrance at Hudson Ave all the way to (and often through) the intersection with Madison Ave two blocks away. Why? Because other options for accessing the freeway network in most directions are very limited. The Google Maps proposed alternative for northbound travel, for example, requires traveling all the way down Madison, a loop under 787, and then travel along the waterfront for several blocks before a driver can actually access the freeway.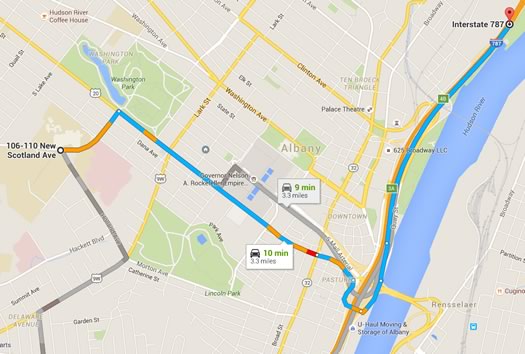 image: Google Maps
So that illustrates one of the potential advantages that tearing down Albany's urban freeways could hold for traffic: opening up numerous potential new access points to the freeway network. Here's a concept of what that might look like: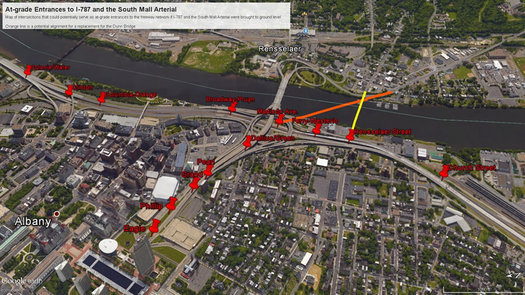 There's a bigger version above in large format. / base image via Google Earth
Even a boulevard replacement for 787 and the South Mall Arterial wouldn't incorporate an intersection at all of these points -- but surely there would be more access than there is today. And that could be a major benefit for the entire network.
787 is drawing traffic that could be spread across other roads
Meanwhile, here's a picture I took of Broadway in downtown Albany at rush hour last month: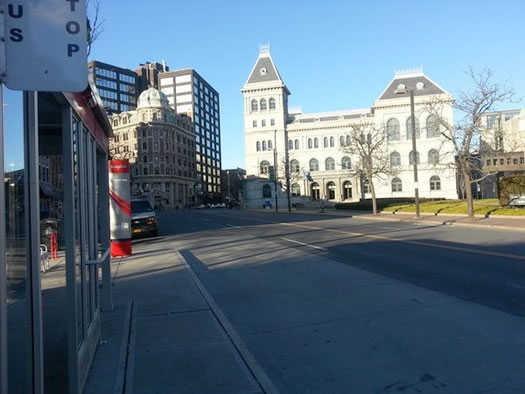 This picture nicely illustrates one of the primary lessons that ongoing research has uncovered about how urban freeways function in the broader road network: they distort traffic patterns, sucking traffic away from the grid system and towards themselves. That is perhaps the most important conclusion of research carried out primarily at UConn by Jason Billings, first in his master's thesis and then in a joint publication with noted transportation scholars Norman Garrick and Nicholas Lownes. In short, the research found that traffic impacts from freeway teardowns are typically not as severe as feared, in large part because the existing road network near a freeway often has ample capacity to absorb spillover traffic. (An important addendum is that relatively few drivers need switch to transit for a teardown to work, and that some trips just disappear.)
We see that same dynamic at effect in Albany. Drawing on Eric Fischer's stunning visualization of traffic count data for Mapbox, you'll notice that 787 and the SMA carry (by Albany standards) large volumes of traffic, while the surface arterials see relatively little.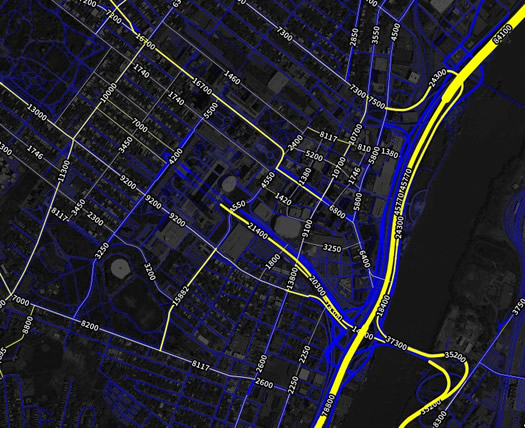 image: Mapbox
The road most closely parallel to 787, Broadway, carries only 6,400 cars per day at its busiest point--far below what should be expected from a two-to-four-lane urban arterial. South Pearl Street carries only 2,600 cars per day, a stunningly low total. This suggests that even if a surface boulevard that replaces 787 and the SMA has significantly lower capacity than the freeway -- and if you've ever seen Lake Shore Drive in Chicago or the West Side Highway in New York City, you know a boulevard can carry levels of traffic well higher than those 787 sees -- the street grid would be able to absorb the spillover traffic with limited resulting congestion.
Redistributing -- really, re-balancing -- traffic from 787 to the surface network could even provide significant economic benefit to Albany merchants; drivers who hop on the freeway are drivers who never see or try the wide variety of shops, restaurants, and the like potentially available on the streets of Albany.
Every situation is unique
Having spent a good chunk of last summer researching freeway teardown projects, I can say with confidence that the main conclusion of researchers has been that the existing data set is not big enough to create an iron law of freeway teardowns. Each situation is unique; often, it's hard or impossible to predict the exact effects of a teardown in advance.

However, there also seems to be enough evidence for me to think that tearing down the urban portions of 787 and the South Mall Arterial and replacing them with something more modest and friendlier to an urban environment should not cause many congestion problems -- and may actually help Albany's traffic.
Sandy Johnston is finishing up his Master's in Regional Planning and a certificate in Urban Policy at UAlbany. He blogs at www.itineranturbanist.wordpress.com and is a vocal presence on Twitter @sandypsj. Before moving to Albany, Sandy had lived in New Jersey, Oregon, Iowa, Connecticut, Chicago, Jerusalem, and New York City. Sandy lives in Center Square/Hudson Park with his partner Gabriella, a state worker, and their two cats. You can reach Sandy with comments or complaints through his website.
Earlier on AOA:
+ Four takeaways from the kickoff for the study about the future of I-787
+ Thinking about the future of the South End
Hi there. Comments have been closed for this item. Still have something to say? Contact us.