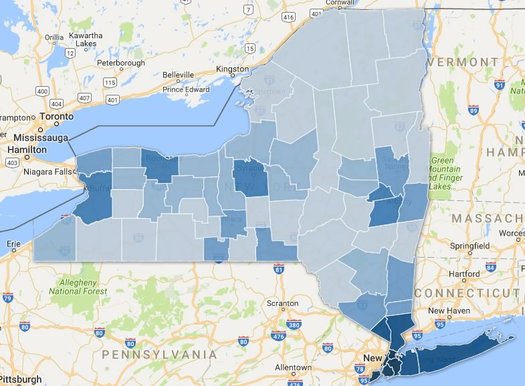 Here's a bonus track from last week's post about the slow population growth of the Albany metro area -- and the melting populations of many upstate counties.
That map above depicts counties by population density. The deeper the blue, the more people per square mile of land. It's pretty much you'd expect. But we had the numbers leftover so we figured we'd roll the map together.
As we mentioned last week, there's been an urban/rural split in the state over the last handful of years for population growth -- basically, counties with higher population densities have added people, while counties with lower population densities have lost. (With a few notable exceptions)
So we grouped the state's population by county density and it makes this divide very clear -- let's have a look, along with a clickable map...
Look up
The clickable map and the table are at the top in large format -- click or scroll all the way up.
Elsewhere
One more thing: We mention the role of jobs -- or the lack of jobs -- last week in reference to the population bleed from many upstate counties. A new set of stories by the Investigative Post this week highlights that issue as part of wider discussion about the state's efforts to grow the economy, with tepid results. Many areas of upstate have either seen very low job growth, or even losses, since 2010.
Hi there. Comments have been closed for this item. Still have something to say? Contact us.