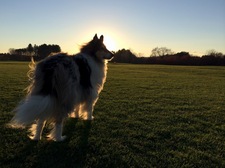 Jeff asks via Twitter:
Seeking recs on dog behavior training; mainly to correct fear of children. Jody crushed the 2012 topic but retired & moved.
I'm open to individual training/classes, but most offerings seem to be general training & behavior. Specifically need work w/ kids/strangers
Jeff's reference to "the 2012 topic" was a question back then about puppy classes. (Props to Jeff to searching first before asking.)
Training can make a huge difference for a dog -- and the dog's people. It can help everyone be happier and calmer. It really is worth the effort.
So, got a suggestion for Jeff and his dog? Please share! And a sentence or two about why you're recommending a trainer or class can be a big help.
Hi there. Comments have been closed for this item. Still have something to say? Contact us.