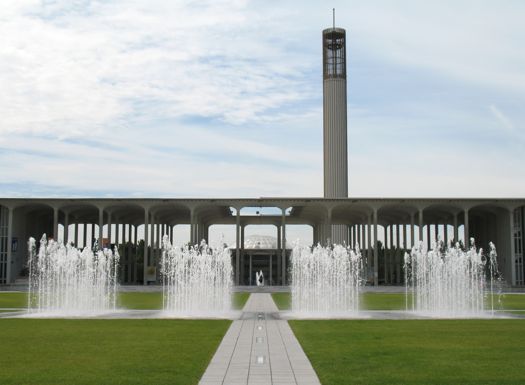 One of the most notable features of the big blob of legislation that finished off the state budget is the new plan for free tuition at SUNY and CUNY schools for students from families making up to $125,000 a year -- the Excelsior Scholarship. It starts phasing in this fall.
The idea has gotten a lot of attention no just here in New York, but across the nation, in part because of provisions such as the requirement that students live and work in the state for a certain number of years after graduating.
Here's a quick scan of a bunch of commentary about the free tuition plan, much of it skeptical...
Cheers
"By providing tuition-free college to thousands of middle class New Yorkers, we are restoring the promise of the American Dream for the next generation and forging a bold path forward of access and opportunity for the rest of the nation to follow."
-- Andrew Cuomo statement
"Let's celebrate New York State getting something important done that we wanted to do nationally. A great step for progressives."
-- Hillary Clinton on Twitter (she also appeared with Cuomo for the ceremony honoring the program)
"The savings in the governor's plan for a four-year student happens to be the same as what the average student loan debt coming out of college in New York State is, about $29,000 is the average student loan debt. You're giving a benefit of at least $25,000 for four-year schools. So if you put that all together, that's real, tangible savings for kids and families across the state. "
-- Jim Malatras, former state director of operations for Andrew Cuomo and now president of the Rockefeller Institute, on Here and Now
Skepticism that it will help the students most in need
"If you're really concerned about students who are not attending because of the reality or the perception of unaffordability, this is not the way to help them ... This is going to cost money, and it will make some parents happy, but I don't see it moving the accessibility needle."
-- former SUNY chancellor D. Bruce Johnstone to the New York Times
"There are political debates to be had around whether a less monetarily generous program that also includes wealthier families is more durable. I'm sympathetic to them. But a way to marry both could be to provide 'first-dollar' support for students who receive Pell Grants - ensuring that tuition is taken off the table and Pell Grants can be used for living expenses entirely - while maintaining the last-dollar structure for wealthier students."
-- Mark Huelsman, policy analyst at the left-leaning think tank Demos
"The point of free college, as expressed by supporters, is to make higher education as universal as secondary education. To this end, free college does something that other college affordability schemes have failed to do: It cuts through the jargon and promises something palpable. Unfortunately, without serious design considerations, free college tuition could have the effect of furthering stratification by providing a benefit to those who can already afford college without opening new doors to those who never thought college possible."
-- Zakiya Smith -- Lumina Foundation, former adviser to Barack Obama and Hillary Clinton -- in the Washington Post (about)
"Parents with incomes close to $125,000 will need to somehow avoid earning a small raise or bonus that would push them even a dollar over the limit. And since the tuition program counts total family income, parents with income close to the limit will also need to discourage their college-bound children from working. It's a pretty neat trick to craft a college scholarship program that creates a work disincentive for some students and a career advancement disincentive for their parents."
-- EJ McMahon of the right-leaning Empire Center
"To make matters worse for poor students, the governor's proposal may actually make it more difficult for disadvantaged students to get into college. As the Excelsior Scholarship makes public colleges in New York State cheaper for state residents, more and more students will begin choosing public colleges over private alternatives. If capacity at SUNY colleges doesn't increase to meet the new demand, colleges will get increasingly selective, which will push the lowest-achieving students, who often happen to be from poorer families, into lower-quality options."
-- Beth Akers, senior fellow at the right-leaning Manhattan Institute and co-author of Game of Loans: The Rhetoric and Reality of Student Debt, in the New York Daily News
"The budget includes $163 million in funding for the program, which is probably far below the amount of money needed to fund all students. Judith Scott-Clayton of Teachers College estimated that an earlier version of the program could cost about $482 million per year. Even requirements that students complete 30 credits per year and clawbacks for students who leave the state after graduation (more on that later) may not bring the cost down enough--particularly if the program is successful in increasing enrollment at public colleges. The budget has a provision that allows awards to be cut or allocated via lottery if funds run short, which is a distinct possibility if the state faces another recession. Needless to say, this would be a PR nightmare for the state."
-- Robert Kelchen, assistant professor of higher education at Seton Hall University
On the requirement that students who get the grant stay in state afterward
"New York spends $1 billion on college financial assistance. There is a brain-drain problem ... We have to get away from educating people and then having them move away. We want to create a climate for business and new jobs."
-- State Senate Republican spokesman Scott Reif, in the NY Post
"New York doesn't need to do this in order to reap a strong return on its investment. About 80% of New Yorkers will stay in the state anyway and New York is going to gain plenty of new residents by offering college for free. Yes -- brain gain is the way to deal with brain drain --attract more people, and create a generation of grateful New Yorkers who will stay in state in order to give this opportunity to their kids. Trying to trap and punish the 20% or so who work or even more outside New York because they have to costs more than its worth. And by the way, this requirement doesn't help Upstate -- people can still move downstate and not have their grant turned into a loan."
-- Sara Goldrick-Rab, professor of higher education policy and sociology at Temple University
"It might help the state's economy if we had more math and science majors sticking around after college. But this plan has no requirement for a particular major. Instead of engineers and scientists, we could wind up with a bunch of liberal arts majors who aren't qualified to fill high-paying, high-skill jobs."
-- Daily Gazette editorial
"What's fascinating and/or horrifying about the free-tuition plan is that it so perfectly illustrates all that's wrong with state government, where nothing can ever be simple and straightforward. There always has to be a stipulation (or two or three) that adds to the state's massive bureaucracy. It also shows the consequences of making policy behind closed doors and under the frenzy of a budget deadline. Nobody gets to think through the ramifications of poorly conceived ideas. They get lost in the chaos."
-- Chris Churchill in the Times Union
About some of the other strings
"The program's 30-credit requirement - which has been criticized by some - is a research-proven strategy to raise GPAs, increase retention rates and ultimately boost college completion in the state. Further, this built-for-completion scholarship is a call to action to institutions to make structural changes that put more students on track for on-time graduation, providing a better return on investment for taxpayers and saving New York families millions of dollars in the process."
-- Tom Sugar, president of the org Complete College America (about)
About the effect on private colleges
"Introducing a conditional and unguaranteed 'free' tuition plan, and a potentially unworkable and modest plan for students who attend a not-for-profit college or university will confuse and potentially mislead families at the moment when students are making the decision on what college to attend. As we have said from the beginning, while "free" tuition makes for an effective sound bite, it does not make for sound public policy."
-- Mary Beth Labate, president of the Commission on Independent Colleges and Universities in New York
"Once this is out there and implemented, possibly some of the more precarious institutions will go under ... And what that will do is cause millions of dollars of lost economic impact on the local community where the college is located."
-- Daemen College president Gary Olson to Inside Higher Ed (Daemen is in Amherst, near Buffalo)
____
Earlier: The proposal for free tuition at New York's public colleges
Say Something!
We'd really like you to take part in the conversation here at All Over Albany. But we do have a few rules here. Don't worry, they're easy. The first: be kind. The second: treat everyone else with the same respect you'd like to see in return. Cool? Great, post away. Comments are moderated so it might take a little while for your comment to show up. Thanks for being patient.