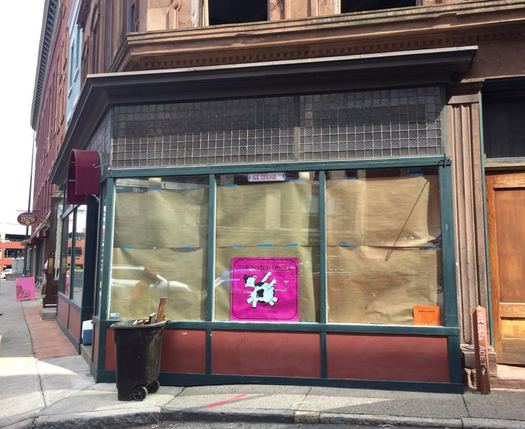 A quick mention relevant to your ice cream interests: The Dutch Udder Craft Ice Cream is opening a storefront in downtown Troy at 282 River St. (It's the spot on the corner with the Franklin Street alley near the Market Block.) The opening is planned for May, according to the company's Facebook page.
The people behind Dutch Udder are Kehmally Karl and Jeff McCauley, who started the business as a side project and now have a commercial kitchen space in Cohoes. They've been building the business methodically, developing new flavors and selling ice cream from a cart at events and pop-ups. (You might remember they were finalists in the 2015 AOA Startup Grant contest.)
We've sampled their ice creams and sorbets on multiple occasions and they're very good. An example: They make a Nine Pin cider sorbet that's really smooth and nice.
We're hoping to get a few more details about what's in store for the Troy location.
Earlier on AOA: Follow up: The Dutch Udder Craft Ice Cream