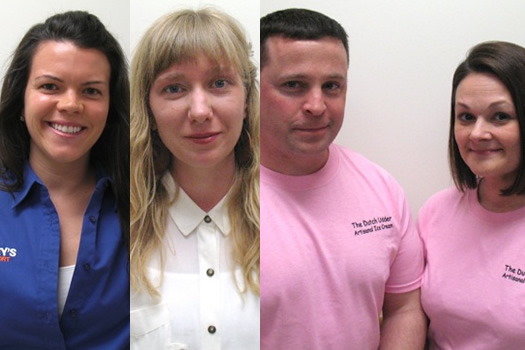 The field for this year's AOA Startup Grant was deep.
Many of the entries would have been worthy finalists, but there could only be three. And each of the finalists would have been a worthy winner, but there could only one.
Monday evening at the College of Saint Rose we found out which project took the prize.



Judges
The three judges for this year's contest:
+ Lissa D'Aquanni: director of community relations at the Community Loan Fund of the Capital Region, and former small business owner.
+ Rhea Drysdale: founder and CEO of Troy-based online marketing firm Outspoken Media.
+ Duncan Crary of Duncan Crary Communications.
And here are some thoughts about, and advice for, each of the finalists from the judges...
Jerzey's Dog Resort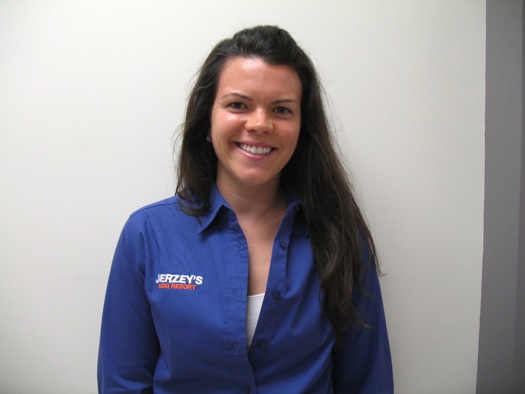 Kristine Lambracht is planning to operate an upscale boarding and dog day care facility with indoor and outdoor play yards in Saratoga County (application). Her project won the crowd voting.
Business approach: "I've been involved in corporate America for four years now and the one thing I like the least about that is that you're not able to focus your attention and energy on what you truly love and what you're interested in. So, that's what I love most about being an entrepreneur is being able to do that."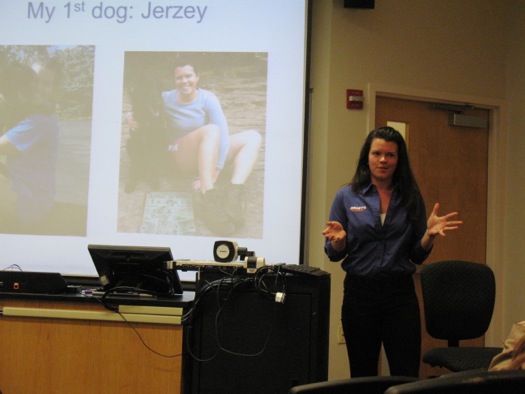 Judges' thoughts
The judges were impressed by Kristine -- they described her as smart, driven, polished, and very organized. And they pointed to her corporate experience as an indication she'll handle the financial side of the business well. They were optimistic about her ability to continue the dog boarding business she's taking over (with plans to adapt to her concept).
They were not so enthusiastic about her current level of experience working with dogs. They were happy to see that she's been taking training courses, and interning at boarding operations, but they said they'd like to see her get more direct, hands-on experience dealing with many dogs -- especially since she aims to scale up the operation she's buying.
Judges' advice
Continue to get hands-on experience working with different types of dogs.
Consider bringing in a consultant for dog behavior and training.
Give some thought about how to manage staffing needs, so she doesn't burn out.
Put more effort into refining her branding and messaging.
Flower Scout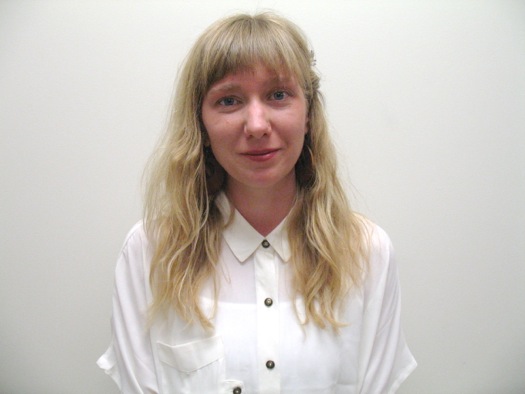 Colie Collen operates a floral design business, and she's building a tiny flower farm on a vacant lot in Troy (application). Flower Scout placed third in the crowd voting and was the Editors' pick for the final.
Business approach: "Something that's really important to me is that the community in which I live be interested in my business. So, it's only grown as people have asked for things that then I've started to offer. Maybe that's naive -- some of your market is not your peers, or your community -- but it's important to me as a structuring principle."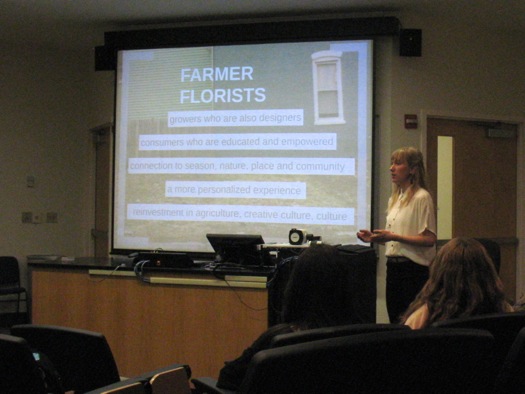 Judges' thoughts
The judges were intrigued by Colie's plan to build a flower farm in Troy. And they were interested in how the farm lot could serve the business and the community -- not just as a source of flowers, but also as a place for events and as an opportunity to provide work experience for teens. They were also impressed by Colie as a strategic thinker, her experience working on other farms, and her ability to form relationships with other small businesses in Troy and Albany.
If Flower Scout won the grant, Colie said the money would go toward buying a hoop house, which would allow the farm to produce flowers both earlier and later in the season. The judges liked that the grant money would go to a key piece of equipment for the business.
A potential weakness at this point, as identified by the judges: her grasp on the financials. They would have liked to have seen some more detail about some of the numbers involved.
Judges' advice:
Take a business course.
Talk with an accountant to work through the numbers and plot a financial strategy.
Start to reach beyond her currently-established networks of people in order to widen her potential customer base.
Refine logo and branding.
The Dutch Udder Artisanal Ice Cream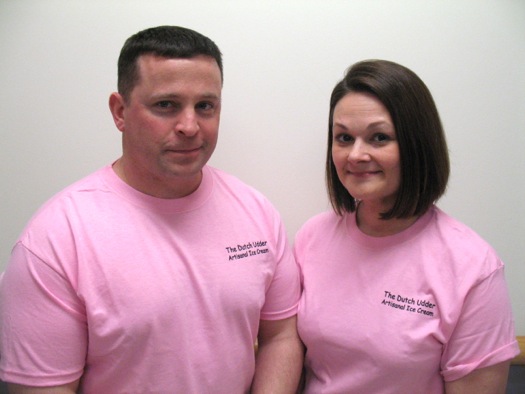 Kehmally Karl and Jeff McCauley are starting an ice cream company in Cohoes, aiming to incorporate local ingredients -- as well as brewing ingredients -- in unique flavors (application). The Dutch Udder placed second in the crowd voting, just four votes out of first place.
Business approach: Kehmally Karl: "My goal, as cheesy as it might sound, is to make life a little sweeter, one scoop at a time, with quality premium ice cream and quality service. I want to bring back the customer-is-always-right philosophy while incorporating quality local ingredients any chance we get, incorporating other local businesses -- tying in everyone as a community, working together symbiotically."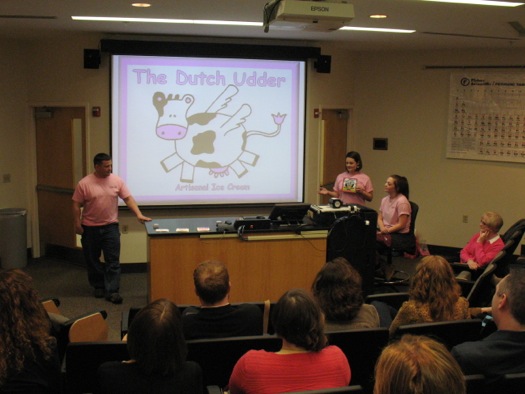 Judges' thoughts
The ice cream Dutch Udder brought for people to sample -- a Nine Pin cider sorbet, a brunch-themed flavor, and an ice cream flavored by hops -- was delicious. The judges said Kehmally and Jeff have a good product and an obvious passion for what they're doing. And they have no doubt the Dutch Udder will be producing ice cream within the next year.
But the judges also saw significant room for Kehmally and Jeff to refine their business approach -- especially by creating a clearer focus on what could potentially set Dutch Udder apart from the competition. The judges thought there could be an opportunity to differentiate the company by focusing on the brewing-themed ice cream flavors. It's just that right now Kehmally and Jeff were looking at going too many different directions at once.
Judges' advice
Get business training in order to create a more focused business plan. That plan can then serve as a roadmap for the company.
And the winner is...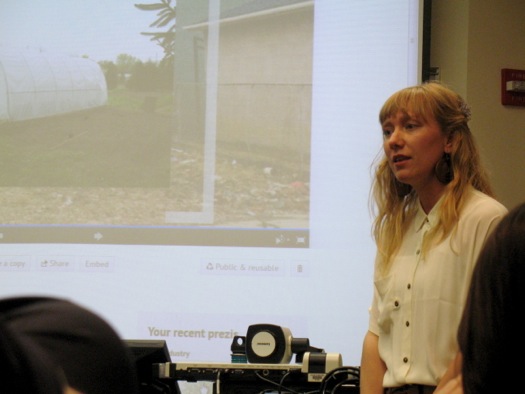 Flower Scout
The judges were very optimistic about about Colie Collen's readiness to grow Flower Scout into a bigger business. And the things that maybe she didn't quite have a handle on right now -- like some of the financial planning aspects -- they were confident she would figure them out. (They also reiterated a desire to see her create a business plan.)
They also were enthusiastic about how Flower Scout could affect its surrounding community in Troy -- by putting an empty lot back into productive use, potentially helping property values around it, and as an outlet for providing work skills training. The judges saw the grant as not just an investment in the business, but also in Troy itself.
Remarked one judge of Colie Collen's project: "There's just so much thought that's going into this that's beautiful."
But, wait, there's more
As the judge's pick, Flower Scout gets the $1,500 startup grant. Thanks to Lissa D'Aquanni, the Community Loan Fund of the Capital Region will also be offering Colie Collen a free business planning class.
The Albany-Colonie Chamber of Commerce has also stepped forward to offer the Dutch Udder free enrollment in Janet Tanguay's Entrepreneur Boot Camp.
And thanks to Rhea Drysdale, Outspoken Media will be offering Kristine Lambracht $1,500 in in-kind services to help her refine the online branding and messaging for Jerzey's Dog Resort.
Thanks to these organizations for the bonus prizes!
Thank you
Thank you to everyone who submitted an application for this year's grant. As we've said before, there were many strong project ideas. Please keep us updated as those projects move forward.
Big thanks to John Dion from the Huether School of Business at the College of Saint Rose for providing coaching to this year's finalists.
Thank to our judges -- Lissa D'Aquanni from the Community Loan Fund, Rhea Drysdale from Outspoken Media, and Duncan Crary of Duncan Crary Communications.
And this year's AOA Startup Grant wouldn't have been possible without the sponsorship of Staff Ciampino & Company P.C., Certified Public Accountants, the College of Saint Rose, and prize money from Berkshire Bank. Thank you for making this possible.
Hi there. Comments have been closed for this item. Still have something to say? Contact us.