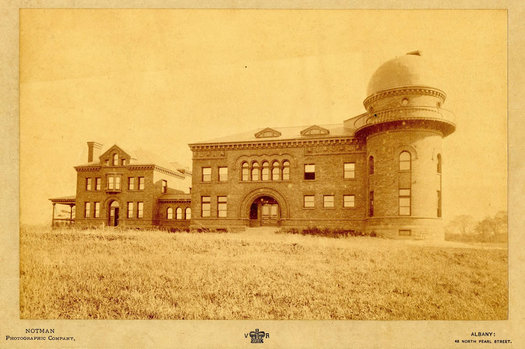 Speaking of observatories... Albany had an observatory. In fact, the observatory still exists... just not in Albany.
The Dudley Observatory was once located at different spots in the city of Albany -- in north Albany, and then on the triangle of land between New Scotland Ave, South Lake, and Myrtle. (The Capital District Psychiatric Center is there now.)
That photo above is from the former observatory building on South Lake. From The Dudley's history blog, Counting Stars:
The second building is Dudley's most famous, and it was one of the most iconic buildings in Albany at the time. It showed up in postcards and maps of the era. It was an imposing Romanesque structure of red brick, two stories tall with an observatory tower at the western end. To the east was the residence of the director and temporary housing for visiting astronomers. In the center were the rooms for the computers, the library and the rooms for the resident astronomers.
And those computers? People -- usually women. (Yep, like in Hidden Figures.)
The observatory sold the building to Albany Med in the 1960s (it later caught on fire), and moved to an office on Fuller Road. It's now located at miSci in Schenectady.
photo via The Dudley Observatory
Hi there. Comments have been closed for this item. Still have something to say? Contact us.