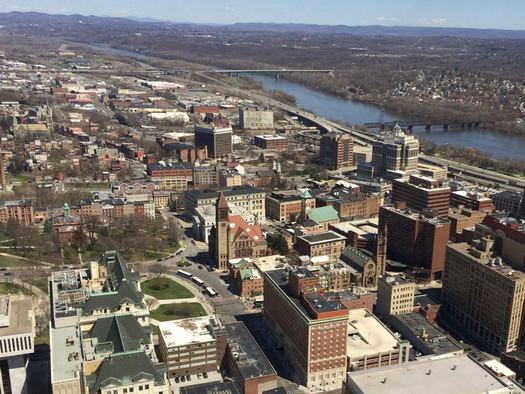 What can the city of Albany do to encourage more affordable housing?
That's the question at the center of a debate that continues to simmer as the city heads toward the approval of the huge overhaul of its zoning, a process that touches on all sorts of important topics. What sorts of businesses can open where? How late can they be open? How can old buildings be adapted for new uses? How can neighborhoods suffering from disinvestment gain new life?
This current debate is focused on something inclusionary zoning, a proposal in which developers would be required to include affordable housing units in some developments.
Here's a look at what that would involve, along with a bunch of thoughts about housing in the city.
What is inclusionary zoning?
Here's the basic idea: A city decides it wants to prompt the creation of more affordable housing, so it institutes zoning requiring that some portion of the units in new housing developments must rent at levels deemed "affordable" according to a formula. Typically, this formula is based on a percentage of the the area's median income.
So, here's a made-up example: Big City declares that all new housing developments with more than 100 units must include at least 10 percent of the units as "affordable" units. And it defines affordable as a rent (plus utilities) that's no more than 30 percent of the monthly income for a household earning 80 percent of the area's median income. If the median income for Big City is $50k, that translates to the mandated affordable units having monthly rents (including utilities) of $1,000. (Here's the math.)
As housing prices in many big cities around the country have increased dramatically in recent years, inclusionary zoning has gotten more attention. From a very thorough 2016 review of the topic by the Urban Land Institute:
Interest in IZ approaches is surging. New York City recently enacted the nation's most far-reaching policy, which is projected to drive development of 12,000 new below-market units over the next several years--substantially more if a recently lapsed tax incentive expected to accompany the program is revived.3 San Francisco voters in June of this year endorsed a major expansion of the city's existing IZ policy. Proposals to put IZ in place are advancing in Atlanta, Detroit, Los Angeles, Nashville, Pittsburgh, Portland, and Seattle, among a number of other cities. Across America's northern border, the provincial government of Ontario announced in March 2016 its intent to pass legislation that would enable its cities to enact IZ.
That report also notes: "IZ can be a complicated and controversial policy approach." We'll get to that in a second.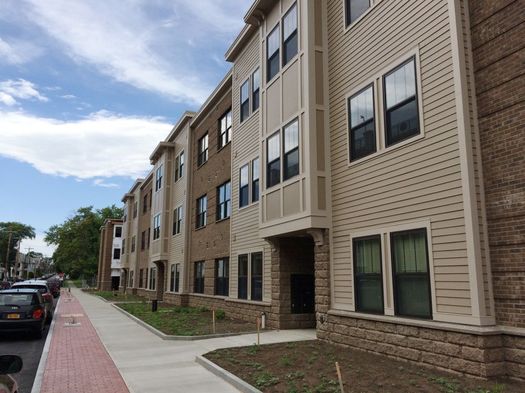 Market-rate apartments in the Park South redevelopment area along Morris Street. Rents for a one-bedroom apartment start around $1,200.
What's on the table in Albany
The proposed overhaul of Albany's zoning codes -- Rezone Albany -- does not currently include an inclusionary zoning requirement. But it does include incentives for including affordable units in new developments. It offers developers the opportunity to build an extra floor on a building -- and relaxes the parking requirements for a project -- if the new residential or mixed-use development or redevelopment meets a few requirements:
+ 20 percent of the units are affordable
+ And in this case, affordable means the rent would not exceed 30 percent of the monthly income for a household with income 80 percent of the city median income.
The city's median household income in 2015 was $40,949, according to Census Bureau estimates. So that would mean developers would qualify for the incentives if the set-aside units had a rent (plus utilities) of $819.
Housing advocates and multiple members of the Common Council -- Dorcey Applyrs (Ward 1) and Kelly Kimbrough (Ward 4) have been notably outspoken -- have argued these incentives aren't enough and called for a full-on inclusionary zoning provision in Rezone Albany.
And at a Common Council committee meeting Wednesday evening, Applyrs proposed that Rezone include an inclusionary zoning provision that require new developments of more than 50 units to set aside 5 percent of the units as affordable at 80 percent of the city's median income.
Chris Spencer, the city planning director, said he would work through those numbers with Clarion Associates -- the consultancy that's been aiding the city on Rezone -- to see if it would be feasible to include such a requirement. Spencer was also clear that if such a requirement were included, the city would have to carefully review its effects during the year following the implementation and must be willing to adjust if it appears the requirement was having adverse effects.
The argument(s) for it
"People need places to live. This is a real serious problem, here in Albany and all over the country, really," Kelly Kimbrough said following Wednesday's meeting. "And as the council, if we don't in a sense force [developers] to comply or set aside these units, it's not going to happen. It's just not going to happen."
Kimbrough -- who represents a ward on Albany's north side that includes North Albany and the Warehouse District -- is a member of the city's affordable housing task force and on the board of the Albany Housing Authority. And he said a key problem in the city's affordable housing picture is not that people don't have a place to live -- it's that they're just paying too much relative to their income, with some people paying more than half their income for rent.
And as he sees it, inclusionary zoning is one way for the city do something about the situation -- even if it might make things a bit more difficult for developers.
"I understand that developing is a business and people need to make money, but this is about people," he said. "And it might sound corny or wishy-washy or whatever, but people need a place to live and I'm responsible for people in the city and I want to do something, I want do something now. We've missed a lot of opportunities over the years, we've had a lot of development. No better time than now."
"We as a city should be setting a tone that if you want to come into this city and develop -- and we desperately need development -- we also need to be mindful of the people who live here, the residents, and creating diverse communities."
Dorcey Applyrs -- who represents a ward on Albany's south side -- said Wednesday that she sees the addition of an inclusionary zoning provision in Rezone as a way of sending a message about the priorities of the city.
"We as a city should be setting a tone that if you want to come into this city and develop -- and we desperately need development -- we also need to be mindful of the people who live here, the residents, and creating diverse communities," she said. "So this is about the vision we want to set for our community ... and I think taking a strong stance out of the gate is very important on this particular issue."
She described the 5-percent requirement as a baby step. But it's a way of putting the idea in place for the future.
"We've seen with other cities what happens when you get so caught up on attracting developers and the boom happens and that point it's too late in some cases," she said. "So there are a lot of cities in retrospect who are saying, wow, we should have been more mindful about the implications of our decisions early on. The development has happened, but what we see is gentrification and these homogenous communities. And so if there's an opportunity to put some parameters in on the front end -- we can only go up from here, so why not."
Both Kimbrough and Applyrs said that if inclusionary zoning does not end up being part of Rezone, they would have to at least think about voting against it.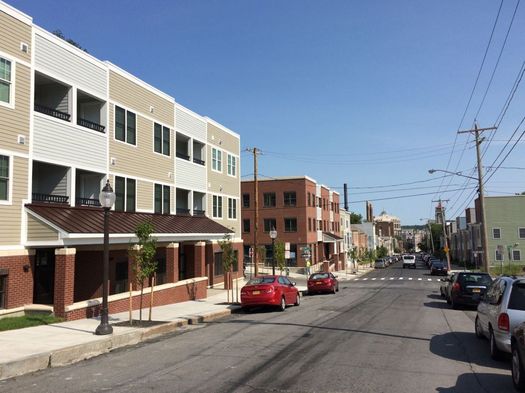 The Sheridan Hollow redevelopment, one of the significant affordable housing projects in the city over the last decade.
The argument(s) against it
The argument from skeptics of adding inclusionary zoning in Albany boils down to one line: The market here won't support it.
Don Elliott of Clarion Associates told the Common Council's planning committee two weeks ago that Albany's residential development market is not strong -- "If you have to offer incentives, it's a soft market." -- and adding to the cost of development, which is what an inclusionary zoning provision would do, runs the real risk of discouraging new projects in the city. He cited an analysis that looked at a 10-percent inclusionary zoning requirement for theoretical projects under three different scenarios here and none of them turned a profit -- even if the land was free and there were tax breaks.
So the concern is that the development momentum the city has gained in recent years with projects like the multiple residential conversions downtown will come to a halt because developers won't see enough return on their investment.
"I'm very concerned that if we were to mandate inclusionary housing, we'd see a huge drop-off in development in the city of Albany. We have to be realistic about this market."
"Unfortunately, I think for the city of Albany, making it mandatory -- using the stick approach -- is not the right approach at this point in our city's evolution," mayor Kathy Sheehan said last week after the announcement of the city's new vacant building rehabilitation program. "So we're looking at the carrot approach, including incentives for affordable housing. I'm very concerned that if we were to mandate inclusionary housing, we'd see a huge drop-off in development in the city of Albany. We have to be realistic about this market. We have consulted numerous experts on it, we've really looked at the numbers, and we believe that the carrot approach that we are suggesting and has been built into the zoning code is the right way to go."
The mayor pointed to the city's affordable housing task force an example of efforts on the part of the city to understand the housing situation.
"Because we have thousands of units of public housing -- thousands -- between the 2,400 units the housing authority owns, the 2,200 vouchers that are out there, we also have a significant portion of low-income tax credit housing across the city," she said. "But we do know there are waiting lists, that there are people who don't have access to that. We know that there are problems with reimbursements with the vouchers that people get from DSS. That's where there's a real affordability gap. So we're really looking to understand where those gaps are. And we have plenty of housing that should be able to address those gaps, and it's [about] driving investment in those neighborhoods and a focus on getting those buildings back into productive use."
The impact
Actual, real world markets are complicated and figuring out cause and effect within them can be tricky. But a 2016 review of studies of inclusionary zoning programs in many cities around the country by the Center for Housing Policy concluded that the requirements have generally not cut down on the supply of new residential development, and had at most a modest effect on prices.
That review also concluded that the number of affordable units prompted by the programs was also small. And if the past is any guide to the future (always a big IF), that would seem to be the case here as well.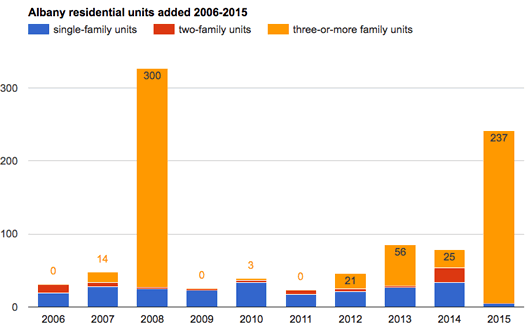 The number of residential units added in the city of Albany over a 10-year span. The number of units in buildings with three-or-more units are noted for each year. (That big blip in 2008 is The Alexander on Washington Ave.)
Over the last 10 years, the city of Albany has added 656 new residential units in buildings with three or more units. Even if all those projects were 50+ unit projects (and most of them were not), that would mean just 33 new affordable units under a 5-percent requirement.
Do you believe in the market?
One of the underlying issues to this whole discussion is how much people believe in the ability of "the market" to solve some of the problems of supply.
"Have you ever known a market that cared about people? Really, truthfully, it's about money."
In the view of inclusionary zoning skeptics, the city should make it easier for developers to build new residential because adding more units to the mix -- even if they're high-end units -- will increase the overall supply and relieve some of the pressure on rents farther down the scale. (One of the goals of Rezone Albany is to remove some of the barriers to residential development by instituting concepts such as mixed-use zones and live/work spaces.)
"In a perfect world, yeah. Is it possible? Yeah. Anything's possible," when we asked Kelly Kimbrough about whether he buys that argument. But: "Have you ever known a market that cared about people? Really, truthfully, it's about money ... We're trying to help the little people as well as make sure we don't affect the big people too much. My concern is lower-income people right now for the housing issue."
Jobs and skills
Part of what makes an issue like housing so complicated is that it's tangled up with a bunch of other difficult problems. And one of those is jobs. Because if you look at Albany's affordable housing problem from one perspective, it's not really a problem of housing -- it's a problem of jobs and income.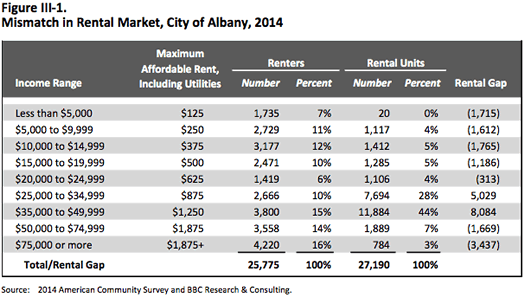 From the BBC report.
A 2016 study of the Albany housing market by the BBC Research & Consulting as part of Rezone found large gaps in the number of affordable rental units for people on the lower end of the income spectrum in the city -- basically any household with less than $25,000 of annual income. These are households that can afford rents of $625 or less.
New housing isn't going to be able to address that need because it's just going to be too expensive, at least not without a significant subsidy. And it's going to be tough to fix up older stock to rent at those levels, too.
So this isn't a short term solution, but the longer game here also has to focus on helping people gain education and skills so they get on track for higher paying jobs.
Taxes
The issue of taxes runs behind pretty much every issue in the city of Albany and housing is no exception. And while discussion of the issue if often framed by how (relatively) high taxes affect people on the upper end of the income spectrum, they impact people at every point on the distribution. The city's high taxes make it less attractive for new development, curbing the expansion of housing supply. High taxes get folded into the price of rents. And the city's taxes also make owning a home more expensive, meaning a person has to earn that much more to buy a home. That, in turn, keeps people renting.
Are there other ways to work this problem?
All these words are basically highlighting that there's no easy solution the city's housing situation. And that means the way out is probably going to include working the problem from a bunch of different angles. Some other ideas that are worth thinking about: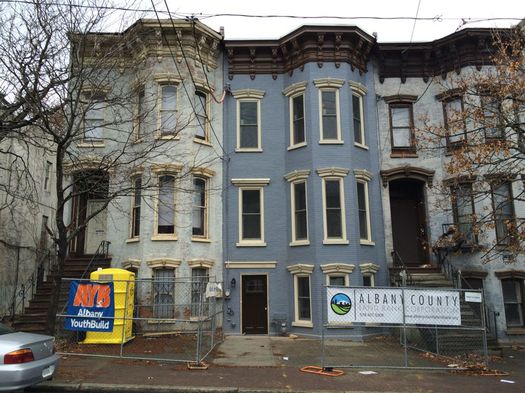 A Habitat rehab project on Clinton Ave.
+ Habitat for Humanity Capital District has, with its partners, managed to put together a significant affordable housing development in Sheridan Hollow, with both new owner-occupied homes and rentals. And lately it's been focusing on doing rehabs of existing buildings in the neighborhood. Habitat has been able to pull off these projects, in part, by relentlessly working the costs involved -- getting the price of a total gut rehab down to about $55 per square foot. That's about half of what something like that usually costs. So, are there ways to support and expand the Habitat model? Are there ways to just encourage Habitat to keep doing more of this sort of thing?
+ One of the goals of Rezone Albany is making it easier to all sorts of people to do things in the city -- whether that's a homeowner wanting to build a deck to a developer wanting to build new housing. And many of the provisions in Rezone would expand the possibilities for new housing. Some of those include new mixed-use areas -- like the Warehouse District -- and others are ideas like allowing live/work spaces. There's a review of Rezone built-in into the plan. And if some of these provision do end up making it easier to add housing, it'll be worth looking into how they might be expanded.
+ The roots of the neighborhood disinvestment and the vacant building problem -- including redlining and discrimination -- are long and deep. To what extent are some of those forces still playing out? Are there better ways to help people in these neighborhoods get access to lending and capital to become homeowners or to fix up rundown properties?
+ The city recently started a Vacant Building Rehabilitation Program -- that includes an affordable housing requirement for new rentals in rehabbed buildings -- backed by $1 million in one-time funding. If that ends up working out, are there are other sources of money to back that? What about private, non-profit, or institutional support?
+ Are there ways to better encourage owners sitting on empty buildings or vacant lots to put that property back into use? The Albany Argus has been pushing for an idea that would make it more expensive to sit on vacant land.
+ Parking. It always comes back to parking. One of the major expenses of building in tight urban areas is finding or building parking. So what if the city just... didn't require it? At the very least, it's worth looking at.
Hi there. Comments have been closed for this item. Still have something to say? Contact us.